It's really rather stunning that in such a tiny book as The Mark of the Christian by Francis A. Schaeffer, there would be so much to be convicted about, if one's heart is tender toward Christ. If one's eyes are open to one's own condition and if one's ears are willing to hear the Truth. God gives us a "final apologetic" according to Schaeffer. That final apologetic is unity…an acknowledged godly oneness in the Church.
Right now as we continue to experience the aftermath of the election, we're increasingly hearing calls for healing a divided America. Healing divisions and coming together as one nation. Unity.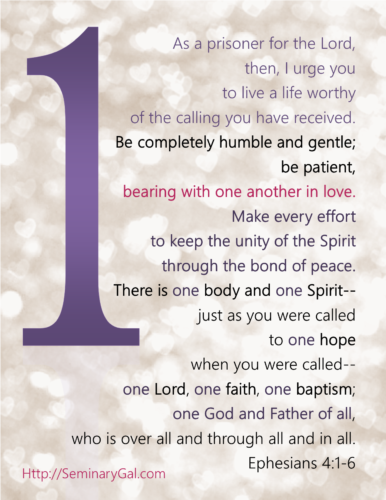 Again, the temptation is to settle for a 666 of imperfection, a forged and imperfect unity through compromise. That's not what God calls the Church to do. That's not what godly leaders ought to settle for…if they're following God. To that point Schaeffer writes,
"But there is something even more sober. And to understand it we must look at John 17:21, a verse out of the midst of Christ's high priestly prayer. Jesus prays, 'That they all may be one; as thou, Father, art in me, and I in thee, that they also may be one in us: that the world may believe that thou hast sent me.' In this, his high priestly prayer, Jesus is praying for the oneness of the church, the oneness that should be found specifically among true Christians. Jesus is not praying for a humanistic, romantic oneness among men in general. Verse 9 makes this clear: 'I pray not for the world, but for them which thou hast given me; for they are thine.' Jesus here makes a very careful distinction between those who have cast themselves upon him in faith and those who still stand in rebellion."
That final apologetic of unity is this: that the watching world won't need to believe that the Father sent the Son, that all the claims of Christ are true, that He is the Way, the Truth, and the Life unless the world can see some kind of evidence of the reality of the oneness of the Church. If the Church cannot agree on something so fundamental as our being one in Christ, then everything else we have to say is garbage.
So, Christians who voted for Trump and Christians who voted for Clinton, it's time to vote for Christ and the final apologetic of unity. If you're black first or white first or Asian first or gay first or Democrat first or Republican first, then you're not focusing on the right thing…if you're actually a Christian. For Christians, it's Christ ALONE.
You, my true brothers and sisters in Christ, have distinctions that melt away under the powerful reality of the final apologetic called unity. If you're in Christ, then what joins us together is far greater than anything that divides us.
We will never achieve unity in the culture if we can't first figure out how to do it as Christians who already have clear instruction on unity:
Ephesians 4:1 As a prisoner for the Lord, then, I urge you to live a life worthy of the calling you have received. 2 Be completely humble and gentle; be patient, bearing with one another in love. 3 Make every effort to keep the unity of the Spirit through the bond of peace. 4 There is one body and one Spirit– just as you were called to one hope when you were called– 5 one Lord, one faith, one baptism; 6 one God and Father of all, who is over all and through all and in all.
Far more important than … what divides Christians … is the One who unites us. Let's start there, with unity, and model it for those still in rebellion, okay?