The coronavirus has devastated businesses- large and small- which are core to the US and global economies. Everyone has felt the pain on a consumption level. We cannot shop like we once did, and for some, that means panic and hoarding.

Some people have been insulated from pain on their income earning–for example, hedge fund managers who bet against the economy, public sector/government workers who still get paid whether we reopen or not, and those who are heroically working in essential businesses so our economy doesn't have an entire meltdown economically, medically, or socially as part of a larger world.
I have likened this "closing of the economy" to a medically-induced coma,
necessary to preserve life while giving us time
to stabilize and make adjustments to achieve a new normal: America 2.0
I am no economics expert, but I read a lot and think a lot. One of the podcasts I found particularly helpful regarding the coronavirus and the future of business was WarRoomPandemic and their interview about the economy with Dallas Mavericks' owner and Shark Tank "shark", Mark Cuban.

(For those of you who fear I'm too political, please don't let that stop you from watching this particular segment and please don't get wigged out by Steven K. Bannon. His podcasts have been cutting edge on what the research and journalism worldwide reveal about the coronavirus.)

Mark Cuban obviously was willing to share his wisdom and opinion there. In the first segment he raised some really important issues about what reopening looks like in reality and how businesses will someday be identified brand-wise by what they did during coronavirus and how they treated their employees. It reminds me of that scene in "It's a Wonderful Life" where there was a run on the bank and how George Bailey treated people during a time of great panic.

In the second segment of @WarRoomPandemic with Mark Cuban which I highly recommend everyone watch, Cuban outlines what America 2.0 will look like with his predicted top 3 growth areas: artificial intelligence, robotics, personalized medicine, (adding in all advanced technologies). He insists that our future will require new ways of approaching commerce as we move forward. Hence, what I'm outlining below regarding positive lessons from coronavirus for business.
On an economic level:
Parts of our economy which are often overlooked or belittled have been revealed as "essential."  Mike Rowe of "Dirty Jobs" was ahead of his time. We should give thanks to God for these people.
Everyone's job is essential to him/herself and we should pray for those in need right now.  No one should have to suffer because the Chinese Communist Party didn't keep their virus safely contained.
Some jobs are system-essential ones like supply chains of food and medicine of which we all benefit down the line.  We need to keep our supply chains local, free, and open.  Big learning lesson.
Shop in the ways you can locally.  Buy American whenever you have the option.
Tip well…even if you normally do…do it even more extravagantly if you're able.
Trusting hostile governments with our investment portfolios is a bad idea.  Revisit your investments.
Letting hostile governments purchase significant parts of American real estate and enterprise is a bad idea.
Trusting hostile governments with our health and food safety is a bad idea.
An economy built primarily on leisure/entertainment is weaker than an economy built on manufacturing and agriculture.  But we are refreshed by sports and entertainment which is why they remain important to revive to full economic strength.
Monetary policy is complicated, and God understands it better than any of us. He even knows what's been done in secret.  Those robbers hidden behind balance sheets will not escape eventual justice.
Economies can be rebuilt.  People can be rehired. God is able.  We honored Him with valuing people's lives.  He will repay what the locusts took away.
We will need updated models of operation within every type of business for America 2.0
New or ancillary business options with contingency regulation easing will help the next time we need to interrupt business whether for pandemics, mass-tragedy, or weather events.
There's a psychology to economies and optimism is contagious.  Fear and discouragement are enemies of God's people. Be optimists. Believe by God's will all things are possible! He is faithful!
Economic war is–and has been a reality–with numerous nations.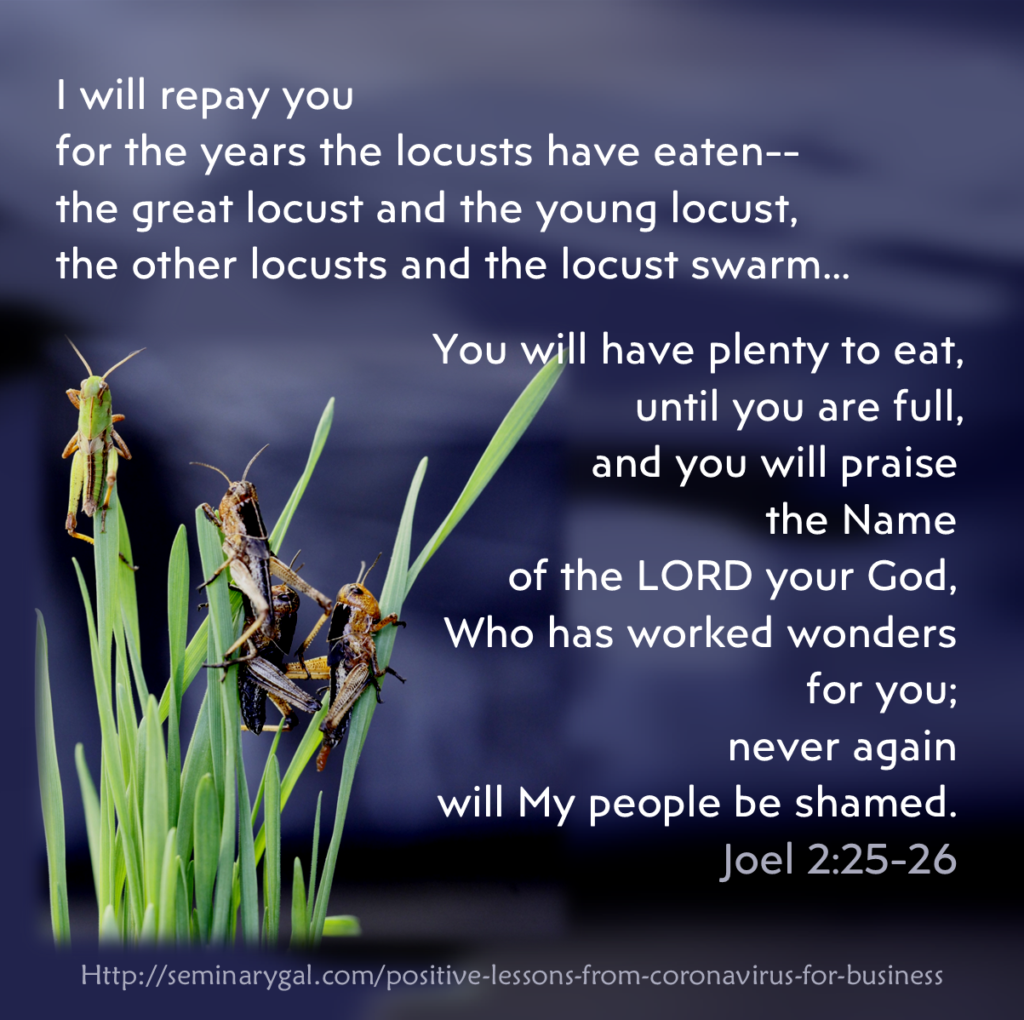 To all my friends who are small business owners and have suffered greatly during the pandemic, I'm so sorry you are bearing the weight of this and the devastation of your life's dreams.

Do I believe the economy will recover? Absolutely!!!
Will Trump do it a second time? No.
Because God is the One who did it the first time and
He'll do it again because we're passing the test,
proving to ourselves and testifying that life is more valuable than money.

God will repay what the locusts have taken away.
This I believe with all my heart.
This series so far has included 100+ positive lessons from coronavirus as overarching principles, personal applications, societal lessons, and things we can learn about government . There have been lessons for the Church, too. There are so many positive lessons if we're willing to look for them, digging deep, mining for them as if they're precious metals or gemstones. Let's not waste this opportunity to grow and become better through this pandemic.
===
To be continued…