Sober is a word most of us associate with one thing:
substance abuse.
But another word in the Greek often translated as self-control is a word also meaning sober.
Of a right or sound mind.
In Titus, various forms of the word and its synonyms are used frequently.  The Apostle Paul has just finished pointing out characteristics of false teachers, ones whose lives lack in self-control and right thinking.  About them Paul says, "In fact, both their minds and their consciences are corrupted" (Titus 1:15).  To guard his coworker Titus against such an outcome, Paul writes:
Titus 2:1 You must teach what is in accord with sound doctrine. 2 Teach the older men to be temperate, worthy of respect, self-controlled, and sound in faith, in love and in endurance. 3 Likewise, teach the older women to be reverent in the way they live, not to be slanderers or addicted to much wine, but to teach what is good. 4 Then they can train the younger women to love their husbands and children, 5 to be self-controlled and pure, to be busy at home, to be kind, and to be subject to their husbands, so that no one will malign the word of God. 6 Similarly, encourage the young men to be self-controlled.
Clearly it doesn't matter what age group or gender.  A sober self-control is a one-size-fits-all attribute.
7 In everything set them an example by doing what is good. In your teaching show integrity, seriousness 8 and soundness of speech that cannot be condemned, so that those who oppose you may be ashamed because they have nothing bad to say about us. 9 Teach slaves to be subject to their masters in everything, to try to please them, not to talk back to them, 10 and not to steal from them, but to show that they can be fully trusted, so that in every way they will make the teaching about God our Savior attractive. 11 For the grace of God that brings salvation has appeared to all men. 12 It teaches us to say "No" to ungodliness and worldly passions, and to live self-controlled, upright and godly lives in this present age, 13 while we wait for the blessed hope– the glorious appearing of our great God and Savior, Jesus Christ, 14 who gave himself for us to redeem us from all wickedness and to purify for himself a people that are his very own, eager to do what is good. 15 These, then, are the things you should teach. Encourage and rebuke with all authority. Do not let anyone despise you.
In every case, Scripture is what creates that sound mind and results in sober, right, and self-controlled actions.  Rekindle that sober self-control.
Give it up for Lent: Ungodliness and unsound thinking
Questions from Titus 2:1-15.
Self-control isn't limited to men or women, young or old. It's good for us no matter what our generation or line of work. Self-control doesn't just happen. It must be learned and exercised.   How do we learn self-control?
Imagine self-control and sober thinking as the reins used to control a horse's movements. How do they work together to keep us moving well instead of just persisting at a standstill? Identify the ways example, sound doctrine, and godly living, etc. work together with saying "No".
What happens if everything is just "No" without the positives of grace?
Is it the law and rules that produce self-control? If not, what does produce it?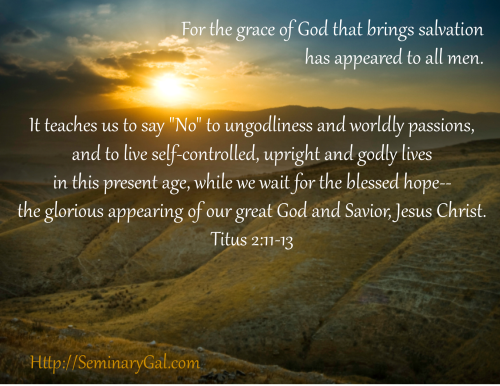 ReKindle is the 2016 Lenten devotional series from Seminary Gal.
To receive these devotionals to your email inbox throughout Lent, please fill in your email address in the space provided on my Home Page in the sidebar (right) and respond to the verification email.  If you already receive devotionals and articles, no need to do anything else.  You'll get them automatically.  Thank you!  Or log onto the SeminaryGal Facebook page and see them reprinted there.
Acknowledging that former years' devotional series remain popular, Be Still and Know that I AM God can be obtained through the archives beginning in March 2014 and With Christ in the Upper Room  is archived beginning February 18, 2015.