The anger of the Pharisees was growing. They had been called out publicly for their hypocrisy…by this uncredentialed Jesus, no less! They were enraged and secretly making preparations to deal with this guy once and for all.
Jesus was doing likewise. He had His own "once for all time" event nearing. In an earthly battle in the spiritual realm, both sides prepare. The disciples would need to carry on after His death and they were getting very nervous about all the people who had Jesus on their enemies list. Jesus knew they didn't know the half of it.
Luke 17:1 Jesus said to his disciples: "Things that cause people to stumble are bound to come, but woe to anyone through whom they come. 2 It would be better for them to be thrown into the sea with a millstone tied around their neck than to cause one of these little ones to stumble.
It's bound to come Jesus says, so be prepared…to forgive. WAAAT? Prepare to forgive, not fight?
Luke 17:3 So watch yourselves. "If your brother or sister sins against you, rebuke them; and if they repent, forgive them. 4 Even if they sin against you seven times in a day and seven times come back to you saying 'I repent,' you must forgive them."
The disciples looked at Jesus with sober acknowledgement that Jesus never said things He didn't mean. He'd said, "You must forgive them." Must is unambiguous. They looked at their own resources to make it happen and realized they didn't have what it takes. They looked at Jesus and said the only thing they could. The apostles said to the Lord, "Increase our faith!" (v. 5)
They were catching on. The ability to forgive is fostered in relationship with God through faith in Christ! Only this will carry them through the difficult days ahead. Jesus, appreciating their progress, pushed a step further.
Luke 17:22 Then he said to his disciples, "The time is coming when you will long to see one of the days of the Son of Man, but you will not see it. 23 People will tell you, 'There he is!' or 'Here he is!' Do not go running off after them. 24 For the Son of Man in his day will be like the lightning, which flashes and lights up the sky from one end to the other. 25 But first he must suffer many things and be rejected by this generation.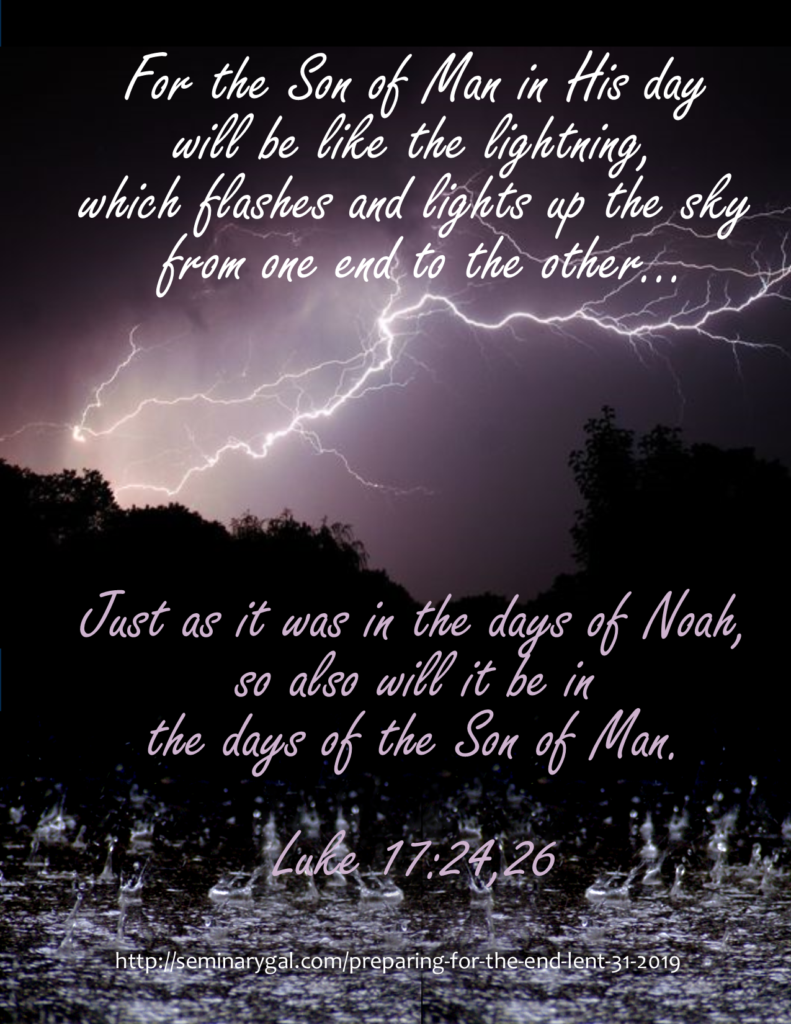 Wait a minute, thought the disciples, I thought the Messiah was going to come—one big battle–and THAT was the end! But what? First, He must suffer and be rejected by this generation? We thought He was going to save this generation.
Luke 17:26 "Just as it was in the days of Noah, so also will it be in the days of the Son of Man. 27 People were eating, drinking, marrying and being given in marriage up to the day Noah entered the ark. Then the flood came and destroyed them all. 28 "It was the same in the days of Lot. People were eating and drinking, buying and selling, planting and building. 29 But the day Lot left Sodom, fire and sulfur rained down from heaven and destroyed them all. 30 "It will be just like this on the day the Son of Man is revealed.
Think about it: 
To Jesus' disciples, they thought He was the Messiah, the King, and overthrow would bring the kind of vindication, redemption, and restoration promised in Scripture.  It bothered them that Jesus is telling them a different plan…one that involved suffering.  Why might that be different than what they thought following had meant? 
In Luke 17:31-37, Jesus tells them that it will be like the days of Noah and how it will be when the rapture of the saints happens.  He tells them specifically not to go back to retrieve anything?  Why might Jesus tell them that?  Why did He say to remember Lot's wife? 
In the two examples Jesus provides (days of Noah and the days of Sodom) people were doing everyday things.  How did everyday things not include faith in God? 
What are some things you can do to place Jesus Christ and faith in Him at the center of your everyday?
Lord Jesus, forgive us for having expectations of You that aren't what You've planned at all. Forgive us for arrogantly believing that You must do this or that on our timeline. Forgive us for failing to keep You at the center of everything we do in these last days. Increase our faith for the forgiveness we must offer and give us clear awareness of our need for forgiveness which is found only in You. Thank You for Your love, mercy, and grace. Amen.
If you're already signed up on my Home Page sidebar to receive posts, you'll get the 2019 Lent Devotionals automatically. Or you can "Like" Seminary Gal on Facebook and they'll be delivered to your Facebook news feed. If you haven't signed up, today is a great day to do so. Advent and Lenten devotionals remain among my most popular offerings. You don't want to miss this great look at the Easter story to prepare your heart for Easter! Understanding that prior years' devotionals remain popular,