The hymn "Joyful, Joyful, We Adore Thee" is actually a well-known classical composition by Ludwig van Beethoven (1770–1827) arranged with hymn lyrics.
The lyrics were written in 1907 by Henry J. van Dyke.  About the lyrics, he wrote:
These vers­es are sim­ple ex­press­ions of com­mon Christ­ian feel­ings and de­sires in this pre­sent time—hymns of to­day that may be sung to­ge­ther by peo­ple who know the thought of the age, and are not afraid that any truth of sci­ence will de­stroy re­li­gion, or any re­vo­lu­tion on earth over­throw the king­dom of hea­ven. There­fore this is a hymn of trust and joy and hope.
This is the light in which I include "Joyful, Joyful" in Overcomer's Week.  Opposition to the Christian worldview can seem to come in the form of scientific discoveries or political realities, but the true Overcomer sees all of this in light of the Kingdom.  We need neither to hide from these realities nor to fear them.  We trust in God.  We remain joyful in hope; patient in affliction; and faithful in prayer (Romans 12:12).
It is fitting, therefore, that Edward Hodges adapted Beethoven's beautiful Symphony No. 9 in D minor, Op. 125, specifically the "Ode to Joy" to form the musical accompaniment to these van Dyke lyrics of hopeful joy.  The original lyrics to "Ode to Joy" were from a poem by Friedrich Schiller on the universal brotherhood of man under a benevolent Creator.
But what's beyond remarkable was the way in which this lovely symphony was composed by another Overcomer.  Beethoven began to lose his hearing in 1796, at around age 26.  By the time he composed Symphony No. 9 in D minor, Op. 125, he was completely deaf.  Many music critics believe this final complete Beethoven symphony to represent the pinnacle of his symphonic achievements.  Others believe that is too little praise for a work such as this.  They consider "The Symphony of Joy" or simply "The Chorale" to be the greatest musical piece of all time.
Hymn or poem, set to the loveliest classical composition, it is among my favorites written by Overcomers.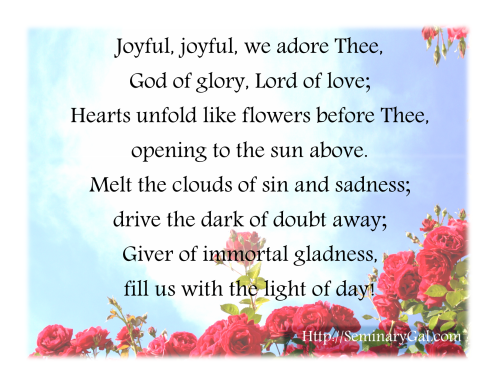 Joyful, joyful, we adore Thee, God of glory, Lord of love;
Hearts unfold like flowers before Thee, opening to the sun above.
Melt the clouds of sin and sadness; drive the dark of doubt away;
Giver of immortal gladness, fill us with the light of day!
All Thy works with joy surround Thee, earth and heaven reflect Thy rays,
Stars and angels sing around Thee, center of unbroken praise.
Field and forest, vale and mountain, flowery meadow, flashing sea,
Singing bird and flowing fountain call us to rejoice in Thee.
Thou art giving and forgiving, ever blessing, ever blessed,
Wellspring of the joy of living, ocean depth of happy rest!
Thou our Father, Christ our Brother, all who live in love are Thine;
Teach us how to love each other, lift us to the joy divine.
Mortals, join the happy chorus, which the morning stars began;
Father love is reigning o'er us, brother love binds man to man.
Ever singing, march we onward, victors in the midst of strife,
Joyful music leads us Sunward in the triumph song of life.