Confession: I have read Jane Austen's Sense and Sensibility a bazillion times. It's one of several books that form my nighttime please-shut-off-my-mind reading ritual. Some people read the Bible to turn their minds off, lay down their burdens, and set their hearts on a path of restful peace. I can't do that. The tragic flaw of ministry is that the Bible becomes work and it turns my mind on. Not that I mind it. It's just reality that I really enjoy this type of work. (Judge not! LOL) Anyway, the excessively romantic Marianne (one of the sisters in the book) has a dogma she lives by –that a first love is the only love and a forever love. Jilted in that love, one can never love again. She learns at the end of the book to embrace falling in love one more time, having nearly died from the pain of a former love rejected.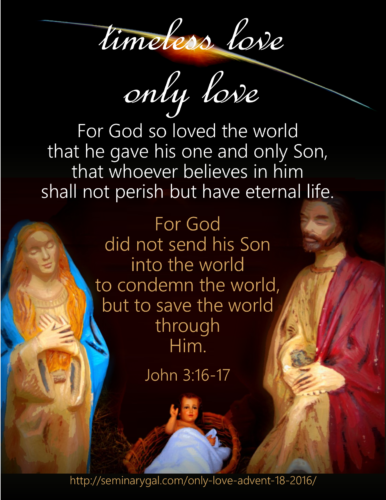 At the risk of ruining my reading ritual, I've been thinking a lot about love.
Why did Jesus come as a baby at Christmas?
Only love explains that.
Only love could cause Jesus to leave the glory of heaven to enter our earthly pain.
Only love could rescue the Image of God so dear to His Father, a love rejected when Adam and Eve rebelled against Him.
Only love was worth the sacrifice and pain of Incarnation and death.
Only love makes forever worth it.
And only love of His Father compelled Christ.
Many people personalize John 3:16 to make it say that Jesus died for … me. (Most don't intend the implication lurking in the background, that it's because I'm important and God loves ME). But the truth is God didn't do it for me, my flesh, my soul, my happiness, or my person. God did it because buried deep underneath everything I bring to the table–all my sin and flesh and (intentional or not) personal rejection of His love–God did it because no credit to me, I bear His Image. That's why Jesus had to come and no one else could do the job. God's Image was at stake and Jesus loves the Father (John 14:29-31).
For God so loved the world that he gave his one and only Son, that whoever believes in him shall not perish but have eternal life. For God did not send his Son into the world to condemn the world, but to save the world through him." (John 3:16-17)
Only love could do that.
Reflect today on how God loves us with an only love, a forever love, a redemptive love, and a forgiving love.
===
Join me for Advent 2016 Devotionals called Timeless: the Message of Christmas for All Ages beginning November 27, 2106. Timeless hope, encouragement, grace, peace, and love will be ours as we look into the Word, see the face of our Lord Jesus, and experience restoration in His presence. His goodness and His Gospel are truly Timeless.
Advent began November 27, 2016. If you're already signed up on my Home Page sidebar to receive posts, you'll get the Advent devotionals automatically. If you haven't signed up, today is a great day to do so. Advent and Lenten devotionals remain among my most popular offerings. You don't want to miss this great way to prepare your heart for the true meaning of Christmas!