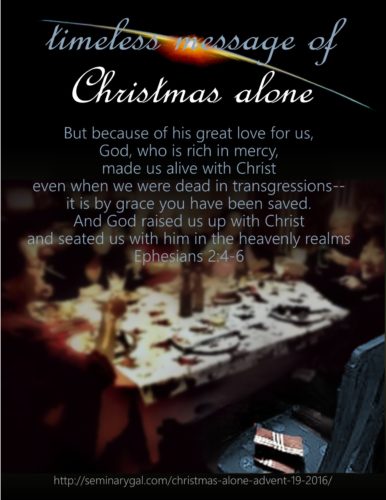 I've had cause recently to think about love, yes, but also about how many people are spending Christmas alone … or with an empty seat at their table. We can acknowledge that it's a Hallmark version of Christmas (or Walmart or Target…take your pick) that shows a family happily gathered around the tree, delicious and festive foods, party finery, great big gifts, and celebrations.
For many of us, however, Christmas comes with a certain degree of sadness. For us, we'll have a blue Christmas…a Christmas alone.
How do we get through it?
Many of you, my dear readers, have heard this story before, but please indulge my telling it again. There is a ministry purpose to it. In 1998, my third child, Julia Marie, was stillborn on my due date of December 22nd. About that Christmas alone, with a fresh wound of deep, deep sadness, I recently told a friend: "Christmas 1998 remains the most profound, beautiful, symbolic, and truly joyous Christmas we've ever had as a family…
We found that when everything else fell away, we had the most joy when we had the least to be happy about."
Why would I say such a strange thing?
It is because Julia's death was a reminder that apart from the birth of Christ to be our Savior, we're totally without options for our own salvation. The birth of Christ means that I'll see Julia again and she'll see me! She's alive—more than I am—because she's alive in heaven and that would not be the case except for Christmas alone.
For without the birth of Christ there would be no death of Christ.
Were it not for the Christmas alone, I wouldn't have the clear vision of the kind of love it takes for God to send His Son. For the kind of love it takes for Christ to step down from heaven into our world. And the kind of love it took to be born to die so that a Christmas alone—for me, for you– isn't the end of the story, but a chapter in why we can still have joy to the world. You see, it's Christmas: the Savior comes. Let earth receive her King!
For reflection, consider how the birth of Christ was necessary in order for His tomb to be empty and our Lord risen.
Ephesians 2:4 But because of his great love for us, God, who is rich in mercy, 5 made us alive with Christ even when we were dead in transgressions– it is by grace you have been saved. 6 And God raised us up with Christ and seated us with him in the heavenly realms in Christ Jesus, 7 in order that in the coming ages he might show the incomparable riches of his grace, expressed in his kindness to us in Christ Jesus.
===
Join me for Advent 2016 Devotionals called Timeless: the Message of Christmas for All Ages beginning November 27, 2106. Timeless hope, encouragement, grace, peace, and love will be ours as we look into the Word, see the face of our Lord Jesus, and experience restoration in His presence. His goodness and His Gospel are truly Timeless.
Advent began November 27, 2016. If you're already signed up on my Home Page sidebar to receive posts, you'll get the Advent devotionals automatically. If you haven't signed up, today is a great day to do so. Advent and Lenten devotionals remain among my most popular offerings. You don't want to miss this great way to prepare your heart for the true meaning of Christmas!