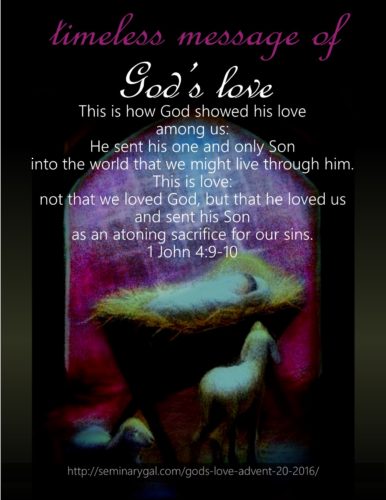 We live in an age in which feelings and facts have traded places in forming our understanding of reality. A modern generation says, "I feel…" far more often than they say "I think…" or "I believe." The latter two are fact-based, doctrine, and logic-reasoning means of processing information and responding to it. True biblical love is more than a feeling. But it's also more than just knowing about God's love .
I confess to this being my greatest ministry struggle: to really understand what God's love is…and to feel like I'm loved by Him. Oh, the doctrine is perfectly clear:
Lamentations 3:22 Because of the LORD's great love we are not consumed, for his compassions never fail.

John 3:16 "For God so loved the world that he gave his one and only Son, that whoever believes in him shall not perish but have eternal life.

Romans 5:8 But God demonstrates his own love for us in this: While we were still sinners, Christ died for us.
God's love is too big for any human to wrap his mind around completely. It's too big to be contained in any human heart. But amazingly enough, it all fit perfectly inside a little baby named Jesus who was sleeping in a manger.
For further reflection on this Timeless message of the Gospel, consider how God's love and justice meet in the person of Christ: 1 John 4:8 Whoever does not love does not know God, because God is love. 9 This is how God showed his love among us: He sent his one and only Son into the world that we might live through him. 10 This is love: not that we loved God, but that he loved us and sent his Son as an atoning sacrifice for our sins. 11 Dear friends, since God so loved us, we also ought to love one another. 12 No one has ever seen God; but if we love one another, God lives in us and his love is made complete in us. 13 We know that we live in him and he in us, because he has given us of his Spirit. 14 And we have seen and testify that the Father has sent his Son to be the Savior of the world. 15 If anyone acknowledges that Jesus is the Son of God, God lives in him and he in God. 16 And so we know and rely on the love God has for us. God is love. Whoever lives in love lives in God, and God in him. 17 In this way, love is made complete among us so that we will have confidence on the day of judgment, because in this world we are like him. 18 There is no fear in love. But perfect love drives out fear, because fear has to do with punishment. The one who fears is not made perfect in love. 19 We love because he first loved us.
===
Join me for Advent 2016 Devotionals called Timeless: the Message of Christmas for All Ages beginning November 27, 2106. Timeless hope, encouragement, grace, peace, and love will be ours as we look into the Word, see the face of our Lord Jesus, and experience restoration in His presence. His goodness and His Gospel are truly Timeless.
Advent began November 27, 2016. If you're already signed up on my Home Page sidebar to receive posts, you'll get the Advent devotionals automatically. If you haven't signed up, today is a great day to do so. Advent and Lenten devotionals remain among my most popular offerings. You don't want to miss this great way to prepare your heart for the true meaning of Christmas!