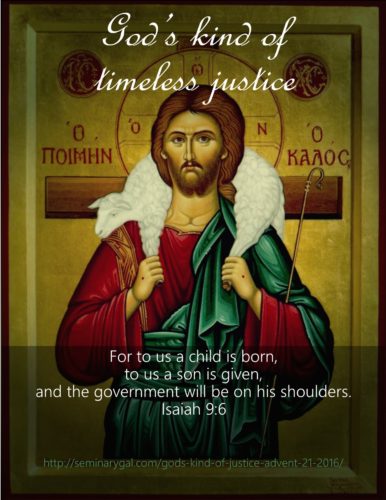 God's Kind of Justice is the whole reason for Christmas. Somehow, God had to hold onto His holiness, His Law, His love, His mercy, His wrath, and His justice–all at the same time in order to be perfect. God's justice goes beyond any parent's "tough love" in which those being disciplined actually experience the consequences of their actions for their own good.
Why is it not "tough love"?
Because Jesus didn't do anything wrong. Ever.
God did something completely unexpected with the birth of Christ. The process began by which He would accomplish justice by taking our punishment upon Himself at the Cross and offering the free gift of forgiveness back to us without partiality. God's Kind of Justice is not something the world readily understands.
Luke 15:1 Now the tax collectors and "sinners" were all gathering around to hear him. 2 But the Pharisees and the teachers of the law muttered, "This man welcomes sinners and eats with them." 3 Then Jesus told them this parable: 4 "Suppose one of you has a hundred sheep and loses one of them. Does he not leave the ninety-nine in the open country and go after the lost sheep until he finds it? 5 And when he finds it, he joyfully puts it on his shoulders 6 and goes home. Then he calls his friends and neighbors together and says, 'Rejoice with me; I have found my lost sheep.' 7 I tell you that in the same way there will be more rejoicing in heaven over one sinner who repents than over ninety-nine righteous persons who do not need to repent.
God couldn't force forgiveness on us any more than He could force love on us or force us to love Him. That kind of force isn't Love and isn't really just either. God's Kind of Justice is a different kind. His justice is an equality of opportunity that He purchased when He purchased our freedom. And He offers it freely, but it still requires a response on our part.
John 3:7 "Do not marvel that I said to you, 'You must be born again.' 8 "The wind blows where it wishes and you hear the sound of it, but do not know where it comes from and where it is going; so is everyone who is born of the Spirit."
God's offer and our response complete the circuit. God's offer is sufficient all on its own. He took all the punishment and He offers all the forgiveness. We bring nothing to the table but a willingness to receive. Will you receive the Christ Child and the forgiveness He was born to make possible?
For reflection, read again this passage in Isaiah, looking specifically at the concept of God's Kind of Justice. Isaiah 9:1 Nevertheless, there will be no more gloom for those who were in distress. In the past he humbled the land of Zebulun and the land of Naphtali, but in the future he will honor Galilee of the Gentiles, by the way of the sea, along the Jordan– 2 The people walking in darkness have seen a great light; on those living in the land of the shadow of death a light has dawned. 3 You have enlarged the nation and increased their joy; they rejoice before you as people rejoice at the harvest, as men rejoice when dividing the plunder. 4 For as in the day of Midian's defeat, you have shattered the yoke that burdens them, the bar across their shoulders, the rod of their oppressor. 5 Every warrior's boot used in battle and every garment rolled in blood will be destined for burning, will be fuel for the fire. 6 For to us a child is born, to us a son is given, and the government will be on his shoulders. And he will be called Wonderful Counselor, Mighty God, Everlasting Father, Prince of Peace. 7 Of the increase of his government and peace there will be no end. He will reign on David's throne and over his kingdom, establishing and upholding it with justice and righteousness from that time on and forever. The zeal of the LORD Almighty will accomplish this.
===
Join me for Advent 2016 Devotionals called Timeless: the Message of Christmas for All Ages beginning November 27, 2106. Timeless hope, encouragement, grace, peace, and love will be ours as we look into the Word, see the face of our Lord Jesus, and experience restoration in His presence. His goodness and His Gospel are truly Timeless.
Advent began November 27, 2016. If you're already signed up on my Home Page sidebar to receive posts, you'll get the Advent devotionals automatically. If you haven't signed up, today is a great day to do so. Advent and Lenten devotionals remain among my most popular offerings. You don't want to miss this great way to prepare your heart for the true meaning of Christmas!