While I've been doing my charity garden walk preparation all the way to its conclusion, I've been doing a lot of reflecting about how the end can be a comfort…knowing it is finished and there's nothing more one can do.  Oh, I reflect on lots of things, especially sermons I've heard recently.  It's part of the curse of seminary in that you can't just passively listen anymore, you think about everything that's said.  You think about it while it's being said, but also days, weeks, even months later.
One of the things that I've been pondering is the great benefit of knowing how it all turns out in the end.  Jesus' victory is a comfort to those of us who know Him as Lord.
The pastor I was listening to gave an example of a championship game which he couldn't watch while it was happening so he recorded it to watch later.  He said he usually tries to avoid having a spoiler of the final score and to watch the game as if it is happening now.  But sometimes, he ends up knowing the score before he watches it.  Knowing the final score helps to relieve the white knuckle time of 3-2 counts, one's team being down by runs in the top of the 9th or 6 points in the final minutes of the 2nd half.  Knowing that your team wins lets you simply enjoy the ride and marvel how your team gets there.
With the Christian life, it ought to be the same way. 
We ought to be able to enjoy the ride and trust God to see us through because we know the end.  It's a comfort since we have confidence that God wins.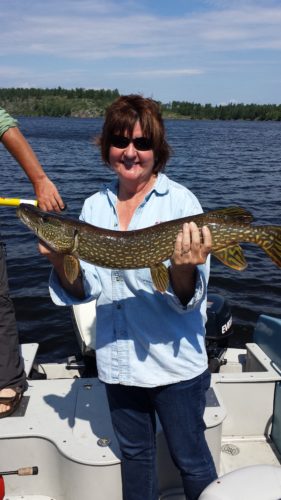 I was continuing to think about this idea in light of a brief trip my husband and I took to fish in Canada.  I went from fishing for men to fishing for fish.  Or as my son joked, "Give a man a fish and he'll eat for a day.  Teach a man to fish and he'll eat for a lifetime.  Let a man fish for men and his work results will be eternal."
The Northern pike I caught didn't know when it took the minnow that it would be hooked, that it would fight it with everything it had but fail, that I would enjoy hauling it into the boat, that our guide would teach this woman how to hold it for a photo, but that it would be released back into the water to live another day.  At the time of being hooked, it probably thought its world was coming to an end.
So, when every system in the US seems to be falling apart and good Christians are fighting the corruption with everything we've got; when ISIS seems to be scattershot all over the world bringing terror to every nation of planet Earth; when we hear of earthquakes and floods, hurricanes and tornadoes, mudslides and forest fires; when wars and despots are on the increase and in their wake, they leave behind only the dead, the persecuted, and the refugee, and when we see the life of this Earth pass before our eyes, we look to Jesus.  Knowing that He's already victorious and the end of time ushers an eternity worth living for is a comfort.  He told us ahead of time (Matthew 24).
He told us not to worry and He gave us a vision of the end of the story.
Revelation 21:1 Then I saw a new heaven and a new earth, for the first heaven and the first earth had passed away, and there was no longer any sea. 2 I saw the Holy City, the new Jerusalem, coming down out of heaven from God, prepared as a bride beautifully dressed for her husband. 3 And I heard a loud voice from the throne saying, "Now the dwelling of God is with men, and he will live with them. They will be his people, and God himself will be with them and be their God. 4 He will wipe every tear from their eyes. There will be no more death or mourning or crying or pain, for the old order of things has passed away." 5 He who was seated on the throne said, "I am making everything new!" Then he said, "Write this down, for these words are trustworthy and true." 6 He said to me: "It is done. I am the Alpha and the Omega, the Beginning and the End. To him who is thirsty I will give to drink without cost from the spring of the water of life. 7 He who overcomes will inherit all this, and I will be his God and he will be my son."
Knowing the End is a Comfort to all whom Jesus knows as His followers!