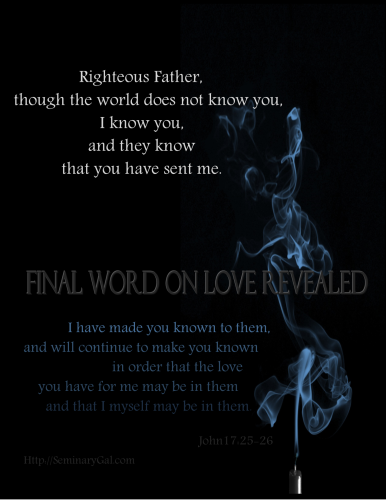 John 17:25 "Righteous Father, though the world does not know you, I know you, and they know that you have sent me. 26 I have made you known to them, and will continue to make you known in order that the love you have for me may be in them and that I myself may be in them."
On Holy Saturday, the Light of the World was extinguished. 
Jesus' body was dead. 
Cold.  In a grave.
A dead Christ was the greatest expression of the love the Father has for us.  Not because we deserve it, but expressly because we didn't.  Not because there's something romantic about dying for love, but because it was in His death that God did battle and reclaimed His image bearers from the grips of mortality.
Christ's death was not the end for us. 
His death was the beginning.
Death was the battlefield and Jesus went immediately from dying on a Cross to a grave in accordance with the dust you are and to dust you will return of all humanity.  After all, the wages of sin is death and someone had to pay for our sin.  This Someone, Jesus, had no sin of His own for which to pay.
But the tomb is also the place in which Jesus' perfection (as both Son of God and Son of Perfect Man) did battle in the spiritual realm and secured the hope that would be ours as a supreme expression of God's love for us.
The Easter morning empty tomb and the Resurrection weren't the battle.  They were the celebration proving the battle was over.  Better yet, the battle was won.  Jesus secured victory over death in the heavenly realms and reclaimed God's image from the brink of hell.  Death was plundered of all its claims.  "These image-bearers belong to Me!" says God "Bought and paid for!"
Death stands empty-handed and totally defeated.
In our Scripture passage today, Jesus concludes His High Priestly Prayer and has given His final instruction to His disciples before His Crucifixion.  Final words on Love Revealed.  Very soon, however, it will be lost in the smoke of the Light of the World extinguished.  The disciples will be frightened and confused by the rapidity of the horrific events from now until He's buried.
And now on Holy Saturday, all we can see is a tomb with a big stone blocking the way.  But God—with His perfect knowledge and x-ray vision—smiles upon the victory being won.  He smiles at the testimony of His perfect love and justice, mercy and wrath, and punishment and forgiveness—all achieved and wrapped up in one Perfect Jesus, God's Love Revealed!
The devil and the world could never have imagined such a perfect plan or a sure defeat for them.  They thought mankind was hopelessly lost in sin and death.  And we were.  They thought man had no future as anything but a sinner deserving of wrath.  They thought man had totally blown it with God!  But they hadn't counted on Jesus.
1 Corinthians 15:57 But thanks be to God! He gives us the victory through our Lord Jesus Christ.
* * *
Give it Up for Lent: Thinking the darkness is winning.
Put it On for Lent: Trust that God is at work even when we can't see and we don't know.
For further thought:
Lots of men were crucified.  That couldn't possibly have been the whole of the wrath of God against all sin.  How often do we view the events of the Crucifixion as the worst of it?  What might be some reasons we think that?
Read

Luke 12:4 "I tell you, my friends, do not be afraid of those who kill the body and after that can do no more. 5 But I will show you whom you should fear: Fear him who, after the killing of the body, has power to throw you into hell. Yes, I tell you, fear him." 

Now read

Matthew 10:28 "And do not fear those who kill the body, but are unable to kill the soul; but rather fear Him who is able to destroy both soul and body in hell." 

What does this say about physical death versus spiritual demise?
What happened as a consequence of Jesus' saying

  "'Father, into your hands I commit my spirit.'  When he had said this, he breathed his last."

 (Luke 23:46)?  What happened next?  What do you think Jesus was doing in the spiritual realm while His body was dead on the Cross and later, cold in the grave?
* * *
Thank you for joining me for the 40 day Lenten devotional series With Christ in the Upper Room.  The posts are archived in the February through April 2015 sidebar location, if you want to review them.  If you are on the email distribution list, you will continue to receive sermons and new devotionals as they appear.  The next devotions will be on the topic of Spiritual Formation and will begin later this spring.  Happy Easter!