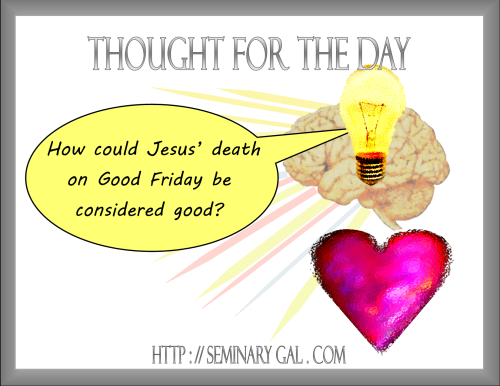 Today is Good Friday which hardly seems "good" on a surface level. Sure didn't seem that way to the disciples of Jesus at the time. Jesus is arrested. He is tried. He is beaten and bloodied. Forced to wear a crown of thorns and carry His own cross onto which He would be nailed as He suffered an excruciating death and gave up His spirit.  Jesus was obedient to death.
We have been discussing obedience and you know what? Jesus modeled it perfectly. 
John 14:28 "You heard me say, 'I am going away and I am coming back to you.' If you loved me, you would be glad that I am going to the Father, for the Father is greater than I. 29 I have told you now before it happens, so that when it does happen you will believe. 30 I will not speak with you much longer, for the prince of this world is coming. He has no hold on me, 31 but the world must learn that I love the Father and that I do exactly what my Father has commanded me. "Come now; let us leave".
Love God and love man. Obey God's command and overcome the world as you love others. This is true victory in faith and something we could all rekindle in our own lives. That same thought from verse 31 is also what it says in 1 John 5:1 Everyone who believes that Jesus is the Christ is born of God, and everyone who loves the father loves his child as well. 2 This is how we know that we love the children of God: by loving God and carrying out his commands. 3 This is love for God: to obey his commands. And his commands are not burdensome, 4 for everyone born of God overcomes the world. This is the victory that has overcome the world, even our faith. 5 Who is it that overcomes the world? Only he who believes that Jesus is the Son of God.
How many of us think we can love God without obeying Him or without loving our siblings in the Christian faith? Scripture makes it plain that the world learned Jesus loved the Father by Jesus' obedience to Him. Why would we be any different?
Give it up for Lent: thinking you can love God without loving all your brothers and sisters in Christ
Questions regarding John 14:28-31 and 1 John 5:1-5
On this Good Friday, how do we see Jesus' love and obedience in action?
Nearly 2000 years after the fact of the Crucifixion, how does this still form the greatest example of love and obedience even known to man? What overcoming and victory were evident at the Cross?
Have you ever been passed over by a fellow Christian, snubbed for their small group, maybe unfriended on Facebook, or ignored in a restaurant because they really don't like you? It's fairly common. What does our passage say we ought to do regarding our siblings in Christ?
In what ways is the command to love our neighbor an easy command to overlook? Maybe believing that it doesn't seem like it matters because it doesn't involve God? What does our passage say about that?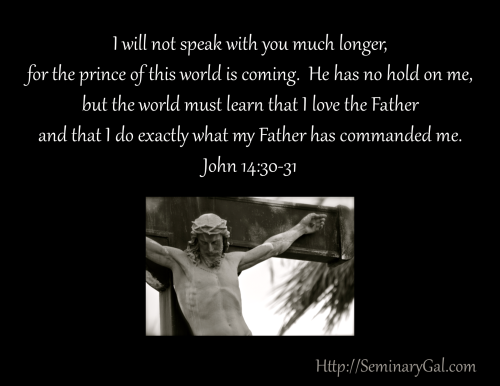 Tomorrow is the final day of ReKindle, the 2016 Lenten devotional series from Seminary Gal.
To receive further devotionals to your email inbox, please fill in your email address in the space provided on my Home Page in the sidebar (right) and respond to the verification email.  If you already receive devotionals and articles, no need to do anything else.  You'll get them automatically.  Thank you!  Or log onto the SeminaryGal Facebook page and see them reprinted there.
Acknowledging that former years' devotional series remain popular, Be Still and Know that I AM God can be obtained through the archives beginning in March 2014 and With Christ in the Upper Room  is archived beginning February 18, 2015.