Romans 8:18 I consider that our present sufferings are not worth comparing with the glory that will be revealed in us. 19 The creation waits in eager expectation for the sons of God to be revealed. 20 For the creation was subjected to frustration, not by its own choice, but by the will of the one who subjected it, in hope 21 that the creation itself will be liberated from its bondage to decay and brought into the glorious freedom of the children of God. 22 We know that the whole creation has been groaning as in the pains of childbirth right up to the present time. 23 Not only so, but we ourselves, who have the firstfruits of the Spirit, groan inwardly as we wait eagerly for our adoption as sons, the redemption of our bodies. 24 For in this hope we were saved. But hope that is seen is no hope at all. Who hopes for what he already has? 25 But if we hope for what we do not yet have, we wait for it patiently.
Hope doesn't save. Hope joins the party hosted by Grace and Faith. And no, this isn't a sorority event, it's how salvation works. Grace is God's action shown to all mankind in Jesus Christ and His offer of forgiveness. Faith joins in and is our part even if it is a gift of God for us to believe. Hope is what we receive as a result of God's grace working with our faith.
Do you realize that all of this (except for God's grace) is invisible?
Faith, you can't see it.
Hope, you can't see it, but grace?  It was visible.  The grace of God in Jesus Christ is seen every time we remember the Cross and His death for our sins.
Do you want to rekindle your hope?
As the hymn goes,  Turn your eyes upon Jesus, look full in His wonderful face, and the things of earth will grow strangely dim in the light of His glory and grace.
Give it up for Lent: Graceless Hope
Questions for Romans 8:18-25
Consider all the seen and unseen things in this passage. Our sufferings are very real and visible. The glory that they're producing in us won't be revealed until later. Is it already there but invisible?
The creation groans. We groan. But someday what happens? (v. 21)
This passage teaches that our bodies, too, will be redeemed. Our bodies will be resurrected and that is a hope we someday will experience. How does the hope of glory to be revealed differ from the hope of resurrection?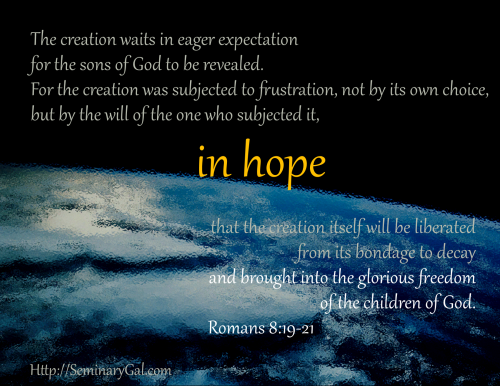 ReKindle is the 2016 Lenten devotional series from Seminary Gal.
To receive these devotionals to your email inbox throughout Lent, please fill in your email address in the space provided on my Home Page in the sidebar (right) and respond to the verification email.  If you already receive devotionals and articles, no need to do anything else.  You'll get them automatically.  Thank you!  Or log onto the SeminaryGal Facebook page and see them reprinted there.
Acknowledging that former years' devotional series remain popular, Be Still and Know that I AM God can be obtained through the archives beginning in March 2014 and With Christ in the Upper Room  is archived beginning February 18, 2015.