Courage rekindled is the antidote to fear.
I listen to the Apostle Paul encourage the believers at Corinth: 1 Corinthians 16:10 If Timothy comes, see to it that he has nothing to fear while he is with you, for he is carrying on the work of the Lord, just as I am. 11 No one, then, should refuse to accept him. Send him on his way in peace so that he may return to me. I am expecting him along with the brothers. 12 Now about our brother Apollos: I strongly urged him to go to you with the brothers. He was quite unwilling to go now, but he will go when he has the opportunity. 13 Be on your guard; stand firm in the faith; be men of courage; be strong. 14 Do everything in love.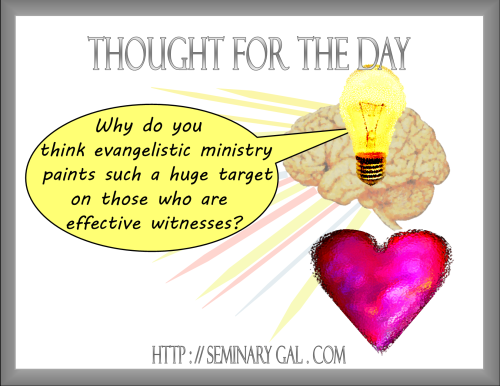 It might surprise many of you to learn that on a daily basis, I'm pretty discouraged. Carrying on the work of the Lord basically draws a target on your back, and the more faithful you are, the more you witness, and the more you stand firm, the bigger the target gets and the more the insults, rejections, and failures will try to chip away at one's confidence and courage.
Being female, I get an expanded target inside the Church as well. I'm getting used to it but I still don't like having a target at all.  It's just one of those things that people don't tell you when you go to seminary with a call of God on your life: you'll get a target on your back that only grows bigger if you do the work of God properly.
I can resonate with King David. 1 Samuel 30:1 David and his men reached Ziklag on the third day. Now the Amalekites had raided the Negev and Ziklag. They had attacked Ziklag and burned it, 2 and had taken captive the women and all who were in it, both young and old. They killed none of them, but carried them off as they went on their way. 3 When David and his men came to Ziklag, they found it destroyed by fire and their wives and sons and daughters taken captive. 4 So David and his men wept aloud until they had no strength left to weep. 5 David's two wives had been captured– Ahinoam of Jezreel and Abigail, the widow of Nabal of Carmel. 6 David was greatly distressed because the men were talking of stoning him; each one was bitter in spirit because of his sons and daughters. But David found strength in the LORD his God.
Q:  Who was talking of stoning David?

A:  Chosen people he had the task of leading. That is who was turning on him.

Q:  Where did David turn for courage rekindled?

A:  The LORD his God.
Give it up for Lent: Reliance on man for your strength and joy
Questions regarding 1 Corinthians 16:10-14 and 1 Sam 30:1-6
In 1 Cor 16, why does Paul feel it is necessary to circle the wagons around Timothy? Why might the believers there not have accepted him? It might help to read 1 Timothy 4:12 and 2 Timothy 1:7-14
What is particularly discouraging about being rejected by fellow believers?
In 1 Corinthians verses 13 and 14, there are 5 commands for the Christian, with courage as the centerpiece. How is our courage rekindled?
In 1 Samuel 30:1-6, everyone wept. How did fear and bitterness turn the brothers to thoughts of stoning David? How did David deal with the same feelings?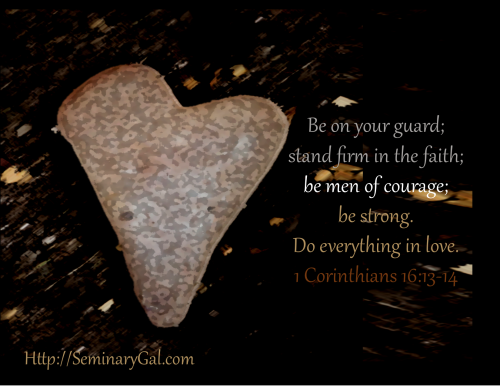 ReKindle is the 2016 Lenten devotional series from Seminary Gal.
To receive these devotionals to your email inbox throughout Lent, please fill in your email address in the space provided on my Home Page in the sidebar (right) and respond to the verification email.  If you already receive devotionals and articles, no need to do anything else.  You'll get them automatically.  Thank you!  Or log onto the SeminaryGal Facebook page and see them reprinted there.
Acknowledging that former years' devotional series remain popular, Be Still and Know that I AM God can be obtained through the archives beginning in March 2014 and With Christ in the Upper Room  is archived beginning February 18, 2015.