What was in it for God? Why did God do the Incarnation?

Did He do it only for us?
Romans 5: 6 You see, at just the right time, when we were still powerless, Christ died for the ungodly. 7 Very rarely will anyone die for a righteous man, though for a good man someone might possibly dare to die. 8 But God demonstrates his own love for us in this: While we were still sinners, Christ died for us.
I'd like to go out on a limb and suggest that while God did the Incarnation for our benefit, God also did it for Himself. God's Image was at stake. And God's Image looks like Love. The Incarnation was God's supreme love on display—His perfect Love in His perfect Image, Jesus Christ.
1 John 4: 8 Whoever does not love does not know God, because God is love. 9 This is how God showed his love among us: He sent his one and only Son into the world that we might live through him. 10 This is love: not that we loved God, but that he loved us and sent his Son as an atoning sacrifice for our sins.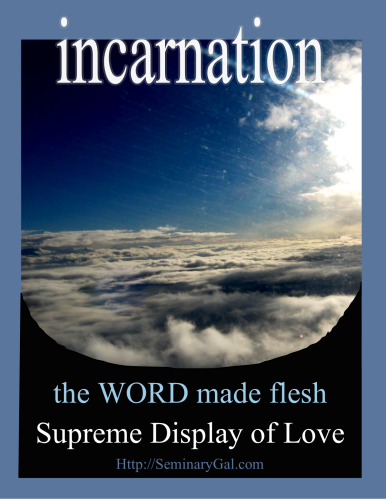 11 Dear friends, since God so loved us, we also ought to love one another. 12 No one has ever seen God; but if we love one another, God lives in us and his love is made complete in us. 13 We know that we live in him and he in us, because he has given us of his Spirit. 14 And we have seen and testify that the Father has sent his Son to be the Savior of the world. 15 If anyone acknowledges that Jesus is the Son of God, God lives in him and he in God. 16 And so we know and rely on the love God has for us. God is love. Whoever lives in love lives in God, and God in him. 17 In this way, love is made complete among us so that we will have confidence on the day of judgment, because in this world we are like him. 18 There is no fear in love. But perfect love drives out fear, because fear has to do with punishment. The one who fears is not made perfect in love. 19 We love because he first loved us. 20 If anyone says, "I love God," yet hates his brother, he is a liar. For anyone who does not love his brother, whom he has seen, cannot love God, whom he has not seen. 21 And he has given us this command: Whoever loves God must also love his brother.
Reading this passage, what was in it for God?
He rescued His Image-bearers from surely dying. His Image in us is preserved by His love.
He exerted His sovereignty even while our free will is upheld. His authority and power remain unchallenged and our free will was not violated.
He maintained His Image as loving and His judgments as holy–all at the same time. His character of holiness is unaltered.
He amplified love to its completion, perfection, and fullness. His love is displayed as supreme.  This cannot be underestimated.
Thought for the day: It doesn't diminish God's supreme and sacrificial love for God to have gained from the Incarnation as well.
Questions for pondering:
Had God just let His Image go to waste, what would that say about God?
If God had just ignored our sin, what would that say about His character?

John 15:13 "Greater love has no one than this, that he lay down his life for his friends."

How do Jesus' words alert us to the supremacy of God's love and what God might have gained from Jesus' death for our sins?
======
Sometimes technology is imperfect and I'm sorry.  I have no idea why yesterday's devotional ended up listed as "missed schedule" and it just decided not to publish in time for the mail delivery.  Yesterday's is probably along with today's instead.  Life is like that, I guess.  Thanks for understanding.
Incarnation (2015 Advent Devotional Series) began November 29th.  By way of reminder, if you haven't signed up yet, you can receive these devotional studies in your email throughout Advent 2015 by entering your email address on the SeminaryGal.com home page in the space provided in the sidebar.  Or "Like" the SeminaryGal Facebook page to access them there.  If you like these devotionals, I'd really appreciate your letting others know so I can continue to spread the Good News far and wide.  Blessings to you, in Christ always, Barbara <><