John 15:1 I am the true vine, and my Father is the gardener. 2 He cuts off every branch in me that bears no fruit, while every branch that does bear fruit he prunes so that it will be even more fruitful. 3 You are already clean because of the word I have spoken to you. 4 Remain in me, and I will remain in you. No branch can bear fruit by itself; it must remain in the vine. Neither can you bear fruit unless you remain in me. 5 "I am the vine; you are the branches. If a man remains in me and I in him, he will bear much fruit; apart from me you can do nothing. 6 If anyone does not remain in me, he is like a branch that is thrown away and withers; such branches are picked up, thrown into the fire and burned. 7 If you remain in me and my words remain in you, ask whatever you wish, and it will be given you. 8 This is to my Father's glory, that you bear much fruit, showing yourselves to be my disciples.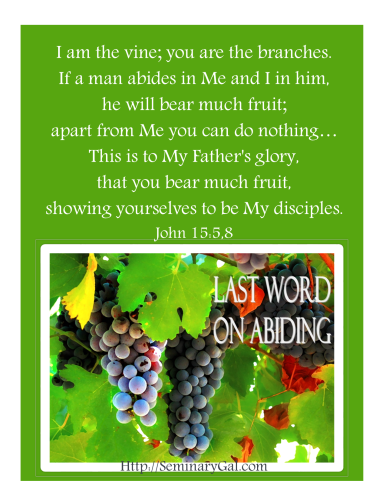 Yesterday, Jesus said "Come now; let us leave."  While there is some uncertainty where they went immediately as they left, we now enter into a second thematic section of the Upper Room Discourse, even if they aren't in the Upper Room per se.
This second section focuses on the testimony, the fruit if you will, of the life of a genuine Christ-follower.  Jesus gives us the image of a vine bearing fruit and stresses the importance of abiding.
Previously we saw we show the world that we are disciples by loving one another. 
This is action-based. 
We choose to love others and love God.
Now we show ourselves and others that we are disciples by bearing fruit for Christ. 
This is abiding-based. 
All we do is abide.
A branch doesn't have to work at doing all the fruiting, it happens as the vine does its work in a branch fully connected.  The branch simply bears the fruit the vine produces.  If you cut a branch off a tree, it will not produce apples awaiting the yard waste hauler.  But if a branch stays on the tree, or a branch stays connected to the vine, apples or grapes or figs or cucumbers get produced by the tree or the vine.  It's as if the branch and the vine are one…and the fruit is evidence that the connection is real.
Remember the other day we had that confusing statement?  John 14:20 On that day you will realize that I am in my Father, and you are in me, and I am in you.
Connected.  Like a branch into a vine.  Not complicated at all, really. 
That connection is called abiding and it is our key to producing fruit.
* * *
Give it Up for Lent: Thinking you can be disconnected and still be a disciple
Put it On for Lent:  Abiding
For further thought:
If a connected apple branch bears apples and a connected grape branch bears grapes, what does a connected Christian produce?
If loving others is the testimony to the world, what kind of fruit would demonstrate to ourselves, God, and the world that we are disciples of Jesus Christ?
In verse 7, is Jesus promising to be our personal genie?  If not, what kinds of things does He mean by "whatever you wish"?
What might be the kind of fruit that is to the Father's glory?
* * *
You can receive these devotional studies in your email (Monday through Saturday during Lent) by entering your email address on the SeminaryGal.com home page in the space provided in the sidebar.  Let's meet With Christ in the Upper Room.