John 15:9 "As the Father has loved me, so have I loved you. Now remain in my love. 10 If you obey my commands, you will remain in my love, just as I have obeyed my Father's commands and remain in his love. 11 I have told you this so that my joy may be in you and that your joy may be complete. 12 My command is this: Love each other as I have loved you. 13 Greater love has no one than this, that he lay down his life for his friends. 14 You are my friends if you do what I command. 15 I no longer call you servants, because a servant does not know his master's business. Instead, I have called you friends, for everything that I learned from my Father I have made known to you. 16 You did not choose me, but I chose you and appointed you to go and bear fruit– fruit that will last. Then the Father will give you whatever you ask in my name. 17 This is my command: Love each other."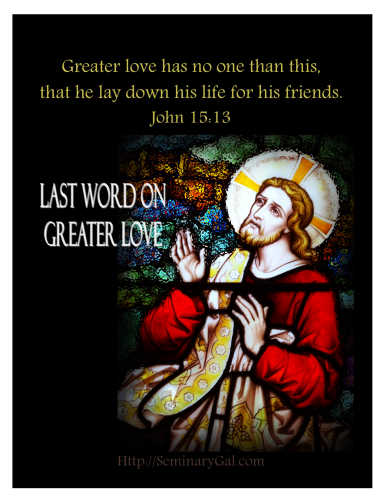 With Christ in the Upper Room, the disciples are being shown the full extent of the love of Christ.  "As the Father has loved me, so have I loved you."  That's a greater measure of love, for sure!
Love is mentioned 9 times in this short passage.
Commands are mentioned 5 times.
Obedience is mentioned directly or indirectly 3 times.
Friendship is presented 3 times as well.
Joy is mentioned twice and so is fruit.
What connects them all is abiding in the love of Christ, in His greater love! 
The word abiding is translated as remaining in the NIV but irrespective of translation, the key to abiding/remaining in His love is obedience to His commands.
Re-read today's passage, pondering every line.  It is full of important ideas.  Most of all, however, Jesus is showing them the full extent of His love, His greater love.
* * *
Give it Up for Lent: an intellectual Christianity full of doctrine and rules but suspiciously lacking in love for others.
Put it On for Lent: Greater love
For further thought:
What types of things cause us to become disconnected from the love of Christ?
What would laying one's life down for his friends look like in your life and mine?  What does it mean in practice?
If your life lacks joy (as distinct from happiness which is more surface and environmental), what types of things can you do to have complete joy?
Have you ever met someone who claimed to be Christian…who always spouted doctrine, but whose spirit had an element of meanness?  Someone, perhaps, who demeaned or defamed other people or called them names?  Read

1 John 2: 3 We know that we have come to know [Christ] if we obey his commands. 4 The man who says, "I know him," but does not do what he commands is a liar, and the truth is not in him. 5 But if anyone obeys his word, God's love is truly made complete in him. This is how we know we are in him: 6 Whoever claims to live in him must walk as Jesus did. 

What does Jesus command in today's passage?
How does it make you feel to know you were chosen by God?
* * *
You can receive these devotional studies in your email (Monday through Saturday during Lent) by entering your email address on the SeminaryGal.com home page in the space provided in the sidebar.  Let's meet With Christ in the Upper Room.