John 14:27 Peace I leave with you; my peace I give you. I do not give to you as the world gives. Do not let your hearts be troubled and do not be afraid. 28 "You heard me say, 'I am going away and I am coming back to you.' If you loved me, you would be glad that I am going to the Father, for the Father is greater than I. 29 I have told you now before it happens, so that when it does happen you will believe. 30 I will not speak with you much longer, for the prince of this world is coming. He has no hold on me, 31 but the world must learn that I love the Father and that I do exactly what my Father has commanded me. "Come now; let us leave."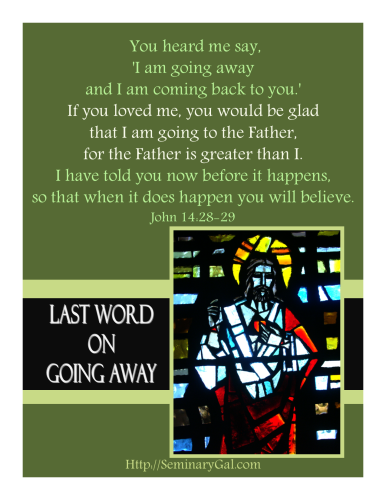 How often we fail to see how greatly Jesus looked forward to being freed from the constraints of the Incarnation and the immense joy He had anticipating a return to His Father!
Jesus was looking forward to this and dearly wanted His disciples to set aside their confusion and worry and instead, to share in His joy.
Wait a minute, are you saying that Jesus was actually looking forward to His own Crucifixion?
Not as an event per se, but for what it signified, yes, He was.
For this heralded several things immediately following His Crucifixion:
He'd be reunited with His Father!
He'd be back in His glory and in the presence of His Father's glory!
He'd have fulfilled His entire mission by finishing perfectly what He'd come here to do!
He'd have offered to the world and to the disciples a complete picture of the full extent of His love. First and foremost, His love for the Father.  But also, His love for us.
In their place of grief, Jesus leaves peace behind.  His peace!  In their place of trouble and fear, Jesus wants them to have joy in the Lord.  In their place of confusion, Jesus wants them to learn just how immensely He loves the Father…and to learn that obedience is the surest evidence of love.
Jesus is leaving soon.  He has done all that He can while the disciples are With Christ in the Upper Room to prepare them for the events to come which surely will be a shock to them.  He doesn't want their faith to fail even as He continues to prepare them for His leaving.
* * *
Give it Up for Lent: The world revolving around us and our feelings
Put it On for Lent: Peace and Joy because Jesus was reunited with His Father.
For further thought:
Read

Philippians 2:5 Your attitude should be the same as that of Christ Jesus: 6 Who, being in very nature God, did not consider equality with God something to be grasped, 7 but made himself nothing, taking the very nature of a servant, being made in human likeness. 8 And being found in appearance as a man, he humbled himself and became obedient to death– even death on a cross! 9 Therefore God exalted him to the highest place and gave him the name that is above every name, 10 that at the name of Jesus every knee should bow, in heaven and on earth and under the earth, 11 and every tongue confess that Jesus Christ is Lord, to the glory of God the Father."

  Why did God exalt Jesus to the highest place?

Hebrews 12:2 "Let us fix our eyes on Jesus, the author and perfecter of our faith, who for the joy set before him endured the cross, scorning its shame, and sat down at the right hand of the throne of God." 

Is it possible that the joy of doing the Father's will is what gave Jesus perseverance through the excruciating Crucifixion?

Luke 22: 67 "If you are the Christ," they said, "tell us." Jesus answered, "If I tell you, you will not believe me, 68 and if I asked you, you would not answer. 69 But from now on, the Son of Man will be seated at the right hand of the mighty God." 70 They all asked, "Are you then the Son of God?" He replied, "You are right in saying I am."

  Jesus knew He was returning to the Father.  He spoke as if it was already done.  How could He be so sure?
* * *
You can receive these devotional studies in your email (Monday through Saturday during Lent) by entering your email address on the SeminaryGal.com home page in the space provided in the sidebar.  Let's meet With Christ in the Upper Room.