* * *
We're counting down 10 days until
the 2015 Advent Devotional Series
entitled Incarnation begins. 
* * *
If you haven't signed up yet, you can receive these devotional studies in your email throughout Advent 2015 by entering your email address on the SeminaryGal.com home page in the space provided in the sidebar.  Or "Like" the SeminaryGal Facebook page to access them there.
The devotionals will come automatically along with the remaining sermons from Plymouth Church in Racine and perhaps an occasional gardening post.
 * * *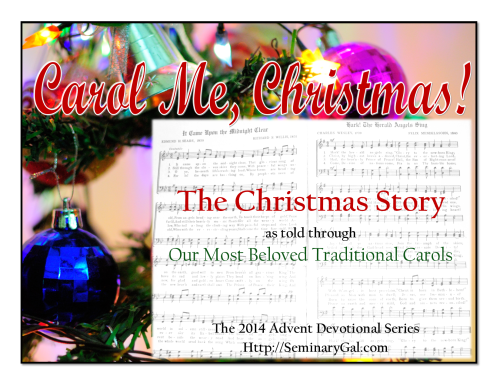 It has come to my attention that some of you are still excited about last year's devotionals entitled Carol Me, Christmas!  Yes, it was a fun series!  If you'd prefer those devotionals, you'll find them in the sidebar archives beginning November 2014.  The announcement was http://seminarygal.com/carol-me-christmas-advent-2014-devotional-series/.  It will require a bit more work to access them, but I know you hymn-folks don't mind a bit of work.  It put a song in the heart of many of us all through Advent last year!  🙂
As long as I was going down memory lane, I located the first one in the 2013 series When Love Showed Up In-Person. It can be found in the archives beginning December 2013  http://seminarygal.com/advent-begins-2013/ .
The Advent season as told through the Gospel of Luke began back in December 2012 with this one http://seminarygal.com/advent-1-2012-expecting-the-unexpected/ and is contained in the archives as well.
I love writing these devotionals for both Advent and Lent.  I hope this year's Incarnation series blesses you with a deeper and more meaningful Advent season to make your Christmas truly merry!  In His grace, Barbara <><