You may have heard the old saying "Familiarity breeds contempt" (which is not today's three-word phrase for daily Christian Living). But it conveys the idea that we tend to take things for granted, having little value for what we believe we can have at any time. Oh, but if we were to lose it! We'd be in such a world of hurt! One of the most familiar phrases in Scripture is John 3:16 "For God so loved the world, that He gave His only begotten Son, that whoever believes in Him should not perish, but have eternal life." We see it so often on placards at sporting events, on tee-shirts, and hear it from evangelists and pastors that it becomes the religious version of Charlie Brown's teacher ("Wahn, wahn, wahn, wahn, wahn") whenever we hear the three words for day-to-day Christian living "God loves you."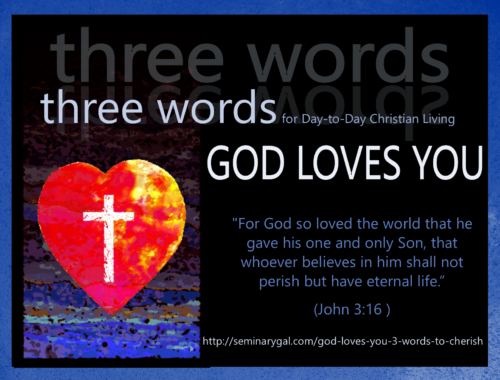 Now I move from the collective (we) to the personal (me), but what about you? I take God's love for granted. In fact, I sometimes doubt it. Life chews me up and spits me into bed at night to toss and turn only to repeat the process the next day. I sometimes wonder:
Is this God's definition of love?
Nope.
John 3:16 defines how God loves you. Stop and re-read it. Let it sink in.
God loves you and He loves me, not just for today, but for eternity. It's just so familiar that I don't value it the way I would if He were suddenly… capable… of withdrawing His love, and decided to because I'm such an ingrate. I'm so glad that everything is possible for God but denying who He is.
Whether times are good or bad; whether life is easy or hard; whether we're experiencing success or failure, health or sickness; whether we remember or forget, God's whole character is love (1 John 4:16) and He can do no other. Let's do our best to cherish those three words for day-to-day Christian living: God loves you!
===
This "three word" series is archived beginning July 22, 2017.