It might seem to you that I've dropped off the planet. It's been a while, that's true. But I should explain that God's work continues, sometimes behind the scenes or completely underground, even in my "ministry of the sewers" of my hometown. The work is kind of gross, really complicated, technical, and rather tedious. It also polarizes a person in the public arena, I suppose. There's only so much of me to go around with time and energy. Which is why I want to focus today on three words to celebrate: God is Good!
As we continue our series of Three Words for Day-to-Day Christian Living, I'd like to share with you how God has been good to me every single day, and maybe you'll see that no matter your daily circumstances, God is good to you too.
God knows our frame. He knows there's only so much we can take so He brings friends and encouragement. He brings information and understanding.
God is good to give helpers because going it alone isn't God's way for us and it isn't good for us.
Even when the positions we must take to be faithful…to Him…and to the truth…make us unpopular with a few, God supplies what we need and friends to share our journey of pressing on. Some friends fall away, but God brings new ones for the steps to come.
God offers His Word as encouragement. Was it a coincidence that one person said "Keep up the good work! You're fighting the good fight!" and then I came home and opened my Bible and a little business card fell out? On one side it said, "No Regrets" and on the other side it said 2 Timothy 4:7 NASB "I have fought the good fight, I have finished the course, I have kept the faith." Surely God knows how tired I get and how ministering to people who've been devastated by flooding taps spiritual reservoirs of compassion until it's pretty easy to feel empty. But my heart is full. God is good to fill us with His encouragement.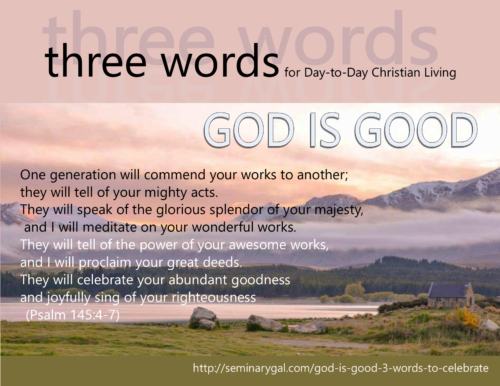 Little winks that it's okay to get back to this work that I love, writing devotionals… instead of the work I find hard and sometimes unpleasant. A new song this morning at church proclaimed how "God is good!" Wink. God loves me and gave me refreshment today in creating Scripture displays, things of beauty and spiritual truth, appealing to the aesthetic part of me that really doesn't like sewers all that well.
Just look at all the communication and celebration from Psalm 145:4-7! How much gratitude I can have! A reminder today of 3 little words that can make any day a bigger, better one. I know who I serve and I know He takes pleasure in reminding me that I'm special because He made me. That I'm really nothing on my own. It's not who I am, but Whose I am. That seal of ownership never changes no matter how many times I let Him down or fail at a task. Or how much I complain or look at someone else's race thinking, "What if…?"
I am His. For that reason, I celebrate all He has done…for me…for you…for mankind…for this earth. We can celebrate all the wonderful ways He touches our lives. And we celebrate who He is. Because God is good. All the time…
===
This "Three Word" series is archived beginning July 22, 2017.