Long before the rainbow was coopted by political movements resulting in its being an "in Your face" to its original meaning, the rainbow was a sign God gave to Noah (Genesis 9:8-17) and indeed to all living creatures that He'd never again punish the world (by flood) for the greatness of man's sin. God is Faithful. Three Words for Day-to-Day Christian Living. Three words to live by and on which to plant our hope.
The rainbow was a sign representing a Covenant made by God to Noah and all of us, a promise God didn't have to make but one He has every intention of keeping. And He will.
Why? Because God is faithful.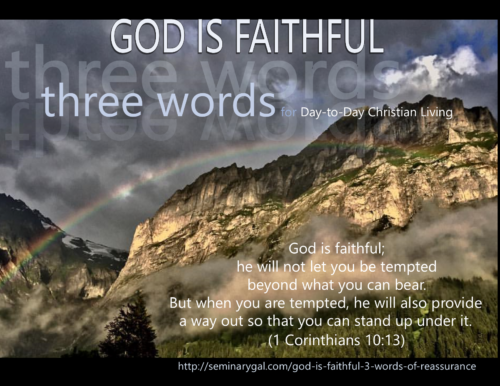 .
Sin is no man's friend.
Sin and its twin brother "Death" will go down swinging in the Last Day, but they will go down nonetheless…way down into the lake of fire (Revelation 20:10-15) to be destroyed once and for all. Why? Because God is faithful.
And yet, what are we to do about sin and temptation in the meantime?
The Bible has this encouragement: 1 Corinthians 10:13 No temptation has seized you except what is common to man. And God is faithful; he will not let you be tempted beyond what you can bear. But when you are tempted, he will also provide a way out so that you can stand up under it.
Well, that's fine and good, you might say. But what about death?
No one escapes that.
We don't escape Death. We conquer it.
Jesus first and then the rest of us. Conquering is better than mere escape. And this is the promise of God, first with the rainbow promise and then with the crimson blood of Christ. God has made a way out, by faith, to keep us out of Hell, from sin and ultimately Death. He did it by His grace in His Son Jesus Christ who conquered death as incontrovertible evidence that God is faithful.
===
This "Three Word" series is archived beginning July 22, 2017.