How truly tragic that the crowds were so blind! Jesus was grieved by it all. He'd understood from the assignment in being sent by the Father that He'd be sent to people who wouldn't welcome Him. He'd be sent to people who would reject Him as the Son of God, reject His message of repentance and deliverance, and even reject God Himself.
That wasn't surprising. After all, Israel had a long and storied history of rejecting the Lord and wanting to be kingmakers of human kings. What Jesus didn't know was how it would feel as fully human to be tempted—since no one can tempt God—and worse, to see how it is to be tempted by the idea of rejecting what is plain to see in front of you.
It was grievous on two levels. First, temptation is really hard to resist for any human. This Jesus sensed and knew now by experience. But the kicker was that the very thing ministering to His need to resist temptation and helping Him to overcome it—time with the Father in prayer and in obedience to Him, full of the Spirit—was the very thing the crowds were rebelling against. They didn't want the only known cure…and that was sad beyond imagining.
So, Jesus told those gathered about the importance of acknowledging what is before your very eyes—the truth—if only they'd see it.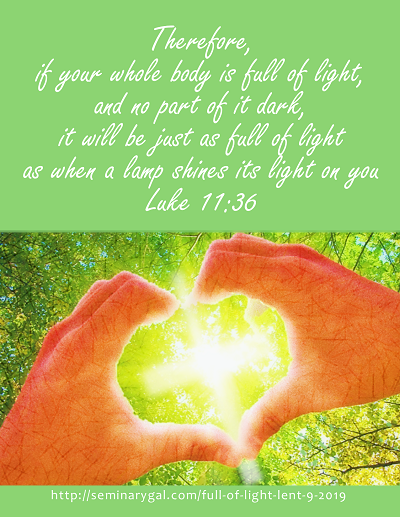 Luke 11:33 "No one lights a lamp and puts it in a place where it will be hidden, or under a bowl. Instead they put it on its stand, so that those who come in may see the light. 34 Your eye is the lamp of your body. When your eyes are healthy, your whole body also is full of light. But when they are unhealthy, your body also is full of darkness. 35 See to it, then, that the light within you is not darkness. 36 Therefore, if your whole body is full of light, and no part of it dark, it will be just as full of light as when a lamp shines its light on you."
That would be the only way to resist temptations throughout each person's life, including His own. He was full of life, the Light of the world, and was the light of men.
Sin had created a death cult in which way too many men preferred darkness to light. And that is why they die.
Think about it:
In what ways does our culture create a "death cult" by rejecting the truth and refusing the things that bring true life?
What issues in our modern world exalt death and the things that bring death (physical and spiritual)?
Why is rejecting the only known cure for something a genuine sign of human hubris?
In what ways do acceptance and normalization of sin exalt ourselves above God?
Thank You, Lord Jesus, for the life You have and the life You give. Thank You for the forgiveness we need and that You would offer it while we were yet sinners. We agree with the Apostle Paul who wrote, "For if, while we were God's enemies, we were reconciled to him through the death of his Son, how much more, having been reconciled, shall we be saved through his life! Not only is this so, but we also boast in God through our Lord Jesus Christ, through whom we have now received reconciliation". Lord Jesus, let us boast in You because the gift is not like Adam's trespass. "For if the many died by the trespass of the one man, how much more did God's grace and the gift that came by the grace of the one man, Jesus Christ, overflow to the many!" (Romans 5:10-15) Thanks be to God! Amen!
= = =
If you're already signed up on my Home Page sidebar to receive posts, you'll get the 2019 Lent Devotionals automatically. Or you can "Like" Seminary Gal on Facebook and they'll be delivered to your Facebook news feed. If you haven't signed up, today is a great day to do so. Advent and Lenten devotionals remain among my most popular offerings. You don't want to miss this great look at the Easter story to prepare your heart for Easter! Understanding that prior years' devotionals remain popular,