How far we are into the "end times" no one really knows. But this we do know: each day we're a day closer to the return of Christ.
And we also know that what Jesus said is now coming true before our eyes. Matthew 24:10 At that time many will turn away from the faith and will betray and hate each other, 11 and many false prophets will appear and deceive many people. 12 Because of the increase of wickedness, the love of most will grow cold, 13 but he who stands firm to the end will be saved. 14 And this gospel of the kingdom will be preached in the whole world as a testimony to all nations, and then the end will come.
It's testimony from the best source possible: Jesus.
Not all sources are equally good, though. You might not know that given the same way other sources of information in America are treated as gospel, though they most certainly are not.
Discernment is the Wisdom of Examining the Sources because we're told false prophets will deceive many…including those who go to church, are employed as pastors, feel good about their optics of compassion, vote Republican, vote Democrat, vote Libertarian, and maybe even the man in the mirror…if we fail to exercise discernment about what we're absorbing as Truth.
1 John 2:20 But you have an anointing from the Holy One, and all of you know the truth.
The Apostle John is speaking about true Christians who know the truth and genuinely acknowledge it through their obedience. The latter part is critical because the antichrists (plural, mentioned in the previous devotional) know the truth. They just don't follow it.
They believe the lie. They act in accordance with the lie.
They fall prey to what is increasingly seeming like the powerful delusion spoken of in 2 Thessalonians 2:11.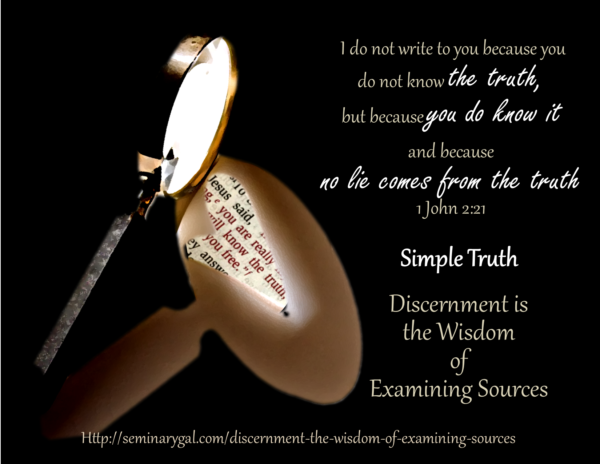 .
1 John 2:21 I do not write to you because you do not know the truth, but because you do know it and because no lie comes from the truth.
Tempting as it is to blip over the Scripture (I understand that it's easy when familiar), but it's far more important to read it than any thought I have. If you need to, go back and read that last one again.
When stories hit the news, do you bolt wildly into action or are you patient? Do you witness a moment, dig into God's Word to examine sources, evaluate whether it is true, and then remain steadfast in Christ?
If the stories are lies, do you prefer that "false narrative" to the full truth which might seem hard or not look quite so compassionate?
"No lie comes from the truth." That's the God-honest reality.
Way too many Christians aren't demonstrating discernment in this regard. Let's endeavor to be better. To show discernment and examine the sources since there is no equal to Scripture.
===
Thank You, Father, for giving us Your Word. It is every bit as reliable and true as are You, Lord Jesus. Thank You that Gospel Truth is rock solid and not a matter of our feelings. Teach us to rely upon You. Teach us to obey You. Teach us what it means to show discernment in all things. Guard us in Your Truth and keep us steadfast in perseverance. We believe Your Word recorded in James 1: 4 Perseverance must finish its work so that you may be mature and complete, not lacking anything. 5 If any of you lacks wisdom, he should ask God, who gives generously to all without finding fault, and it will be given to him. 6 But when he asks, he must believe and not doubt, because he who doubts is like a wave of the sea, blown and tossed by the wind. 7 That man should not think he will receive anything from the Lord; 8 he is a double-minded man, unstable in all he does." We pray for stability in our lives and in our country. We pray for peace, Your peace to flood our lives, as we thank You, Lord, for hearing our prayers. Amen.