In the song "The Finer Things" Steve Winwood sings, "For time is a river rolling into nowhere." While it's a great line and I love the song, rivers don't go "nowhere" and time has a direction leading somewhere. That somewhere acknowledged by Christians (and not affirmed by others) is the end of the world as we know it. The good news is there's a new heaven and a grand entrance of the new Jerusalem and the new earth as we will come to know it … in time rolling on … into eternity.
I was thinking about time and the end times outlined in the Bible. There is a frenzy in America right now, probably even in the world. Like an intervening chaos, a confusion that overarches and smothers. It's easy to get caught up in it. Wise Christians don't.
Patience is the wisdom of witnessing a moment.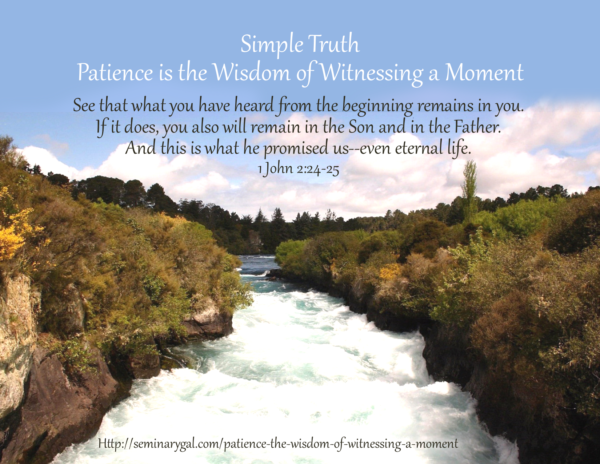 .
This "last hour" will pass and this moment will lead to the next which the Bible tells us involves God's righteous Judgment. Stand firm, Christians. Hold on. This river is not a torrent running wild and leading nowhere. It's leading to Judgment.
You can't outrun it. You can't escape it.
You can't close your eyes and make it go away.
But you can be preserved through it by remaining patiently in Christ.
1 John 2:18 Dear children, this is the last hour; and as you have heard that the antichrist is coming, even now many antichrists have come. This is how we know it is the last hour. 19 They went out from us, but they did not really belong to us. For if they had belonged to us, they would have remained with us; but their going showed that none of them belonged to us.
Time out, Christian friends. What do you read in the passage above? There is "the" antichrist (the man of lawlessness from 2 Thessalonians 2:3) and there are "many antichrists." Who are they? Will you know them?
1 John 2: 19 "For if they had belonged to us, they would have remained with us; but their going showed that none of them belonged to us."
Yikes. They gave every impression of belonging to the family of faith, but they didn't really. Maybe they sit next to you in church, belong to your prayer group, listen to Moody radio, or even teach Bible studies. But they don't remain and don't actually belong to Christ.
Doesn't that scare you? It scares me, so I fix my eyes on Jesus. Are you remaining or going? Are you jumping in and joining the world in its wild and frenzied protests … or are you awake, alert, patiently waiting in Christ, and looking to Him, showing wisdom of witnessing this moment in time?
===
Lord Jesus, You told us while You were among us that You were going away to prepare a place for us and that You would come back and bring us to be with You. You have cautioned us to remain watchful for Your returning, so we will be found ready. May Your Holy Spirit protect us, keep us belonging to You, preserve us by Your power, and bring us to be with You in the fullness of time. In these last days as darkness attempts to claim more souls, remind our adversary that he is a defeated one already, that we are Yours and no one can snatch us out of Your hand. Give us confidence to stand firm. Let nothing move us from belonging to You, Lord, and keep our love for You strong. We ask this in Your mighty Name. Amen.