When I think of abiding, I first picture Mary (of Mary/Martha fame) sitting at the feet of Jesus, learning, and I'm ashamed to say I bristle. Maybe good for her, but it's way too sedentary for me. I hope I would feel differently if Jesus were to show up in my family room to teach. But I still don't believe Jesus wants a bunch of couch potatoes as His definition of abiding. Jesus didn't spend all 33 of His years on earth sitting.
Is it possible to actively abide? Absolutely! Abiding is the Wisdom of Confident Continuance, a Simple Truth.
1 John 2:27 As for you, the anointing you received from him remains in you, and you do not need anyone to teach you. But as his anointing teaches you about all things and as that anointing is real, not counterfeit– just as it has taught you, remain in him. 28 And now, dear children, continue in him, so that when he appears we may be confident and unashamed before him at his coming.
This is where I find myself excusing my activity levels and blaming my action on the Holy Spirit whose indwelling presence can teach me while I work at doing His will. It's an ongoing instruction. It's a back-and-forth of feedback like a pattern of light waves moving through space. I seek and do, He guides and teaches, I respond and do, then He corrects and redirects.
Kind of a nice system, huh? Yeah. It's called abiding.
The system breaks down when I don't seek, don't do, don't respond, and don't apply His instruction. That's why John says to continue in Him, to remain in Him because it's real and His truth becomes our confidence.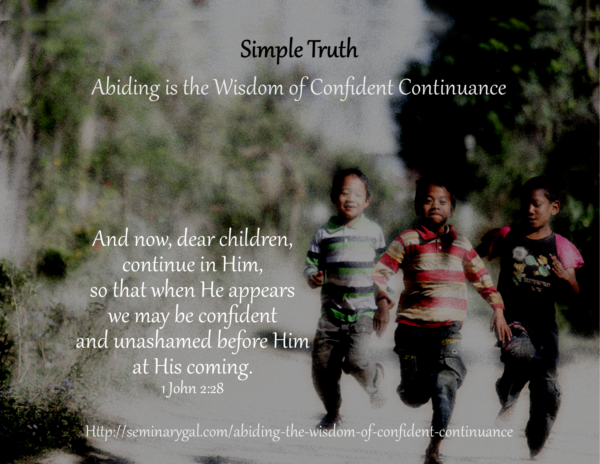 Are you continuing or getting side-tracked? Do you seek Him? Are you running toward Him with abandon? How well do you do what He says? Do you respond when He guides, or do you want to go your own way? John says to continue and it's good advice.
===
Father God, we thank You for Your Word which is Truth on a page and remains Truth in our hearts. Please strengthen us for these last days. Help us to abide, to have confidence and be unashamed at Your return, Lord Jesus. May we not get distracted or carried away by these passing moments and the frenzy of this world. Be our breath of Life when chaos overarches and attempts to smother us, or when fear causes us to seek another way. Remind us by Your Holy Spirit that only You have the Words of Life. Give us confidence to reach out and snatch those we love as burning sticks from the fire so they will not perish. Encourage us with Your Truth in order to teach it and preach it boldly. Keep the evil one far from us, Father. Preserve us in these last days so that we might abide by the power of Your Holy Spirit. Amen.