Reminder: The Lenten devotional series entitled "Up to Jerusalem " began on February 22, 2012 (Ash Wednesday) and will continue until Holy Saturday (the day before Easter). For Chapel viewers, you can still receive devotionals via email by entering your email address in the form provided on my Home Page. Respond to the verification email and you will be scheduled to receive the Lenten devotionals. If you've received this update, you're automatically subscribed. Thank you!
If you would like to explore more about Jesus, consider attending Holy Week and Easter services at any of the churches which have participated in this Chapel ministry. Christ Church Lake Forest's Easter services feature soloist John Easterlin, tenor with the Metropolitan Opera, and my home church, Christ Church Highland Park, will be celebrating a special Maundy Thursday service celebrating Christ Our Passover in which I will provide the historical perspective from the Old Testament.
Service Order for 9:00 AM
Palm Sunday, April 1, 2012
Nemmers Family Chapel at Advocate Condell
Prelude:  Allan Koetz
Welcome: Barbara Shafer, Christ Church Highland Park
Scripture Reading: NIV Mark 11:1 As they approached Jerusalem and came to Bethphage and Bethany at the Mount of Olives, Jesus sent two of his disciples, 2 saying to them, "Go to the village ahead of you, and just as you enter it, you will find a colt tied there, which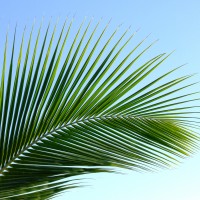 no one has ever ridden. Untie it and bring it here. 3 If anyone asks you, 'Why are you doing this?' tell him, 'The Lord needs it and will send it back here shortly.'" 4 They went and found a colt outside in the street, tied at a doorway. As they untied it, 5 some people standing there asked, "What are you doing, untying that colt?" 6 They answered as Jesus had told them to, and the people let them go. 7 When they brought the colt to Jesus and threw their cloaks over it, he sat on it. 8 Many people spread their cloaks on the road, while others spread branches they had cut in the fields. 9 Those who went ahead and those who followed shouted, "Hosanna!" "Blessed is he who comes in the name of the Lord!" 10 "Blessed is the coming kingdom of our father David!" "Hosanna in the highest!"
Worship in Song:  Allan Koetz 
Message:  "Hosanna…because" by Barbara Shafer (Psalm 147)
Psalm 147:1 Praise the LORD. How good it is to sing praises to our God, how pleasant and fitting to praise him! 2 The LORD builds up Jerusalem; he gathers the exiles of Israel. 3 He heals the brokenhearted and binds up their wounds. 4 He determines the number of the stars and calls them each by name. 5 Great is our Lord and mighty in power; his understanding has no limit. 6 The LORD sustains the humble but casts the wicked to the ground. 7 Sing to the LORD with thanksgiving; make music to our God on the harp. 8 He covers the sky with clouds; he supplies the earth with rain and makes grass grow on the hills. 9 He provides food for the cattle and for the young ravens when they call. 10 His pleasure is not in the strength of the horse, nor his delight in the legs of a man; 11 the LORD delights in those who fear him, who put their hope in his unfailing love. 12 Extol the LORD, O Jerusalem; praise your God, O Zion, 13 for he strengthens the bars of your gates and blesses your people within you. 14 He grants peace to your borders and satisfies you with the finest of wheat. 15 He sends his command to the earth; his word runs swiftly. 16 He spreads the snow like wool and scatters the frost like ashes. 17 He hurls down his hail like pebbles. Who can withstand his icy blast? 18 He sends his word and melts them; he stirs up his breezes, and the waters flow. 19 He has revealed his word to Jacob, his laws and decrees to Israel. 20 He has done this for no other nation; they do not know his laws. Praise the LORD.
Hosanna (Save, I pray) because:
1. The Lord is great and we are broken vv 1-6
2. God's love is unfailing and we hope in Him. vv 7-11
3. His plan has been to save us and give us peace.
4. God reveals Himself through this Jewish Messiah.  Jesus is the hope of Israel and us.
Response in Song:  Allan Koetz
Benediction:  Barbara Shafer