It's a strange double-sided world we live in.  On one hand, Americans seem to thrive on condescension.  Looking down on each other for their intellect, their morals, their beliefs, and their status.  On the other hand, Americans seem mighty eager to proclaim themselves victims.  Victims of "toxic masculinity."  Victims of "systemic racism".  Victims of "economic oppression."  While there are true victims in this world, most people claiming victimhood would be better off learning perseverance, overcoming, and to put on their big boy or big girl shoes and walk like a man or like a woman of God.  And sorry, but the science doesn't give us any other options when it comes to DNA.  I am not a science denier.
Likewise, God distinguishes between true wisdom and true foolishness,
the truly wise and the truly foolish. 
And it's not the ones we might normally think.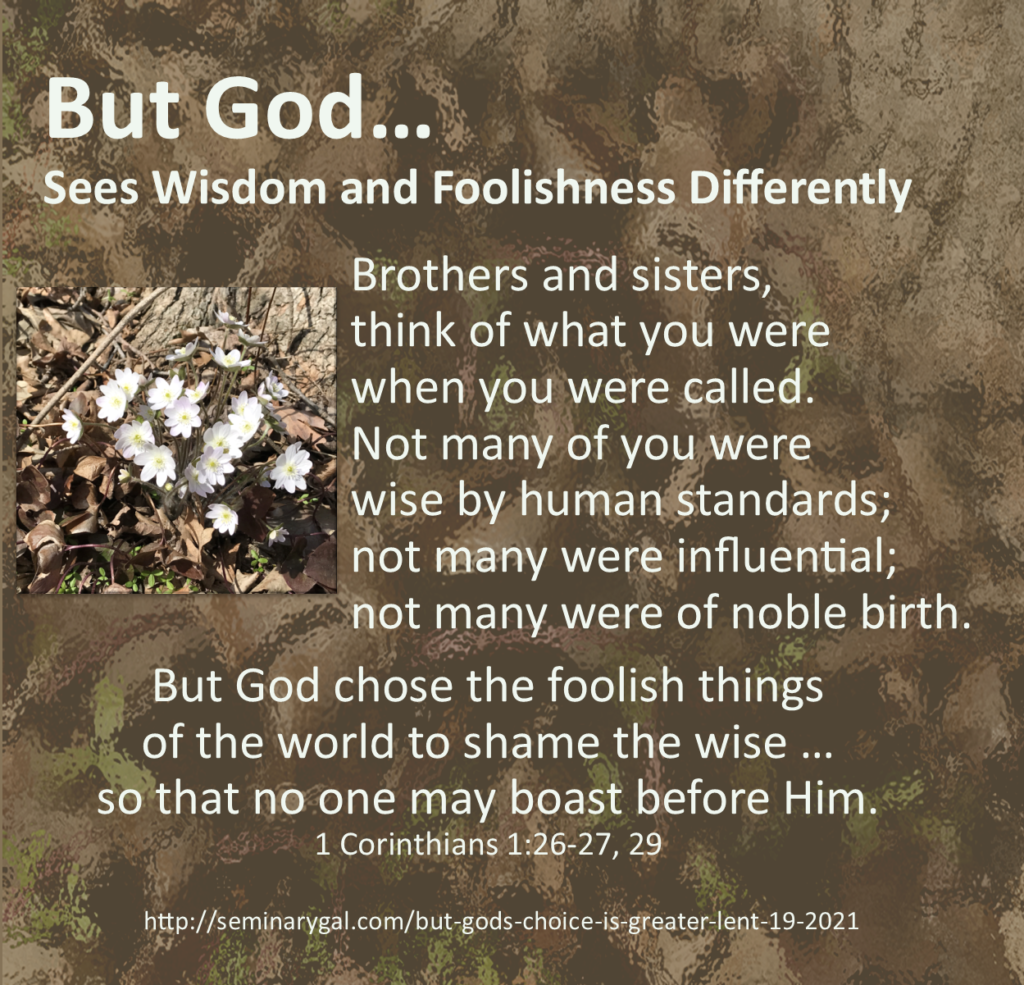 1 Corinthians 1:20 Where is the wise person? Where is the teacher of the law? Where is the philosopher of this age? Has not God made foolish the wisdom of the world? 21 For since in the wisdom of God the world through its wisdom did not know him, God was pleased through the foolishness of what was preached to save those who believe. 22 Jews demand signs and Greeks look for wisdom, 23 but we preach Christ crucified: a stumbling block to Jews and foolishness to Gentiles, 24 but to those whom God has called, both Jews and Greeks, Christ the power of God and the wisdom of God. 25 For the foolishness of God is wiser than human wisdom, and the weakness of God is stronger than human strength. 26 Brothers and sisters, think of what you were when you were called. Not many of you were wise by human standards; not many were influential; not many were of noble birth. 27 But God chose the foolish things of the world to shame the wise; God chose the weak things of the world to shame the strong. 28 God chose the lowly things of this world and the despised things– and the things that are not– to nullify the things that are, 29 so that no one may boast before him. 30 It is because of him that you are in Christ Jesus, who has become for us wisdom from God– that is, our righteousness, holiness and redemption. 31 Therefore, as it is written: "Let the one who boasts boast in the Lord."
Wouldn't it be great if people stopped viewing themselves as victims
by worldly standards and started seeing the wisdom of God?
Lord Jesus, thank You that Your wisdom is greater, Your strength is enough, Your grace is enough, and Your sacrifice is enough.  Thank You that there is no competition among men before You.  No one is good enough, strong enough, wise enough, or gracious enough on our own.  We need You, Lord Jesus.  May we rise to meet the wisdom from God and accept Jesus Christ who is our righteousness, holiness, and redemption.  Christ be our banner!  Amen.
===
If you're already signed up on my Home Page sidebar to receive posts, you'll get the 2021 Lent Devotionals automatically. Or you can "Like" Seminary Gal on Facebook and they'll be delivered to your Facebook news feed. If you haven't signed up, today is a great day to do so. Advent and Lenten devotionals remain among my most popular offerings. You don't want to miss this encounter with God to prepare your heart for Easter! Understanding that prior years' devotionals continue to minister, you may want to have access to a full series ahead of time: