Some Scripture is crystal clear.  Luke 16:13 "No one can serve two masters. Either you will hate the one and love the other, or you will be devoted to the one and despise the other. You cannot serve both God and money." 14 The Pharisees, who loved money, heard all this and were sneering at Jesus. 15 He said to them, "You are the ones who justify yourselves in the eyes of others, but God knows your hearts. What people value highly is detestable in God's sight."
Think about how awful it is to sneer at an all-powerful real, true God all while valuing something so much less valuable, something God doesn't just disfavor… God detests it. Ouch.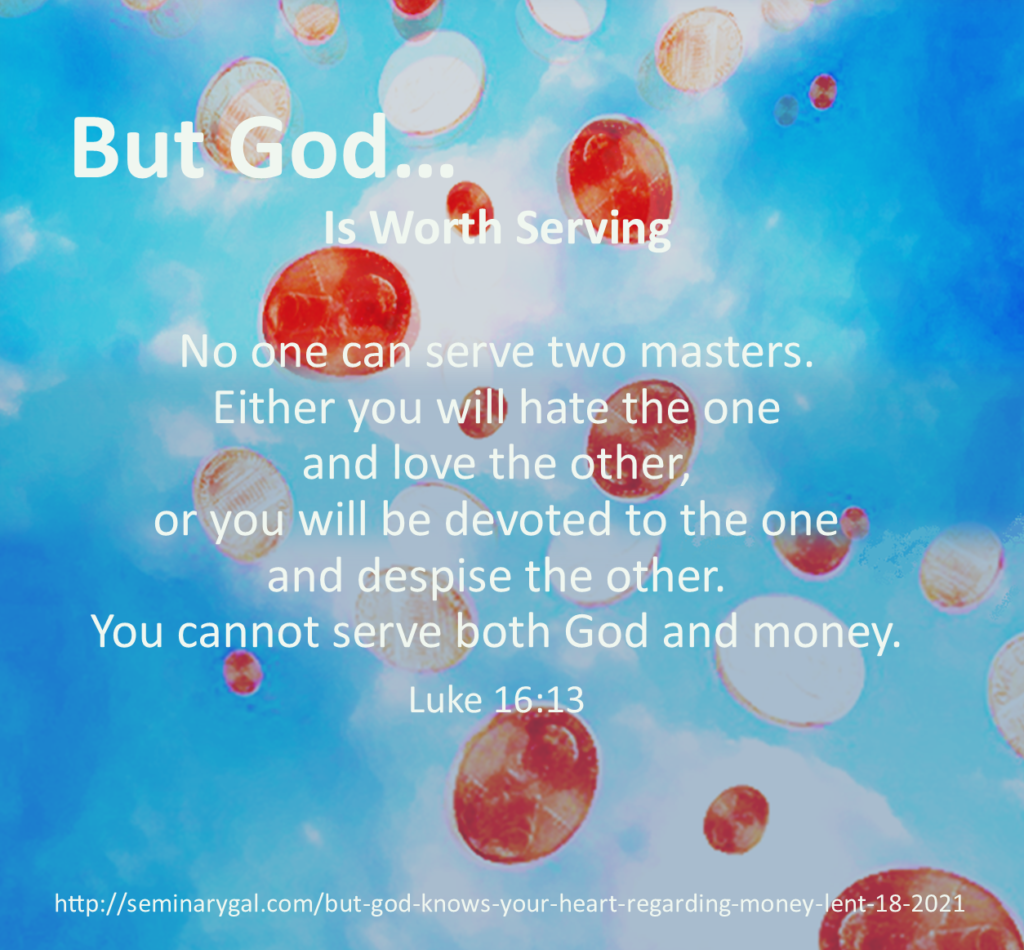 I can't begin to imagine how angry it made Jesus to see this, to know this love of money was happening, and to watch people giving in to worshiping it until a Judgment Day He knows is certain.
Anger.  Sadness. 
Just the sheer waste of worship and of energy
devoted to something that you can't take with you into eternal life,
but it can ensure you endure an endless dying instead of receiving eternal life. 
Have you ever been through a season in which expenses—true necessities and obligations, not just luxuries—overwhelmed your budget?  Maybe COVID has done this to your family.  Made you nervous, worried, or anxious?  With every check you wrote or swipe of a card, your heart sank?  How would the money ever go far enough?  Even if you have the resources saved for a rainy day, "It's only money" you say to yourself as you remember how hard it was to earn it yet how easily it disappears. 
Trusting God should not be this hard,
but it shows the grip that money has on us.  And why God detests it. 
Take a moment to analyze your relationship with money
and whether your hold on it… is roughly equivalent to its hold on you.
Lord God, please give me open hands to hold loosely that which I know has come from You. Help me to see that money and resources and belongings really don't belong to me but have been blessings that have come from You. Help me to live life with open hands and a heart that is free from entanglements associated with material goods. Thank You Lord for the blessings You poured out in my life and for the way that You provide for me and for my family. I ask Lord that I would elevate You in my heart to the only desire I have, so that I might bring glory to You and have a grateful heart that You have chosen to bless me with anything. Anything is more than I deserve. Lord, I thank You that I can be free to worship You without money dragging me down. Please keep my heart safe in the spiritual realm to focus on You as the one true God. It's for Your glory I pray this in Jesus' mighty Name. Amen.
===
If you're already signed up on my Home Page sidebar to receive posts, you'll get the 2021 Lent Devotionals automatically. Or you can "Like" Seminary Gal on Facebook and they'll be delivered to your Facebook news feed. If you haven't signed up, today is a great day to do so. Advent and Lenten devotionals remain among my most popular offerings. You don't want to miss this encounter with God to prepare your heart for Easter! Understanding that prior years' devotionals continue to minister, you may want to have access to a full series ahead of time: