Lent is a good time to think about our priorities. We can be thankful that God doesn't lead us to bad priorities or ignore the ones we self-select. Rather, He straightens them and aligns them with His Word and His will.
Luke 12:13 Someone in the crowd said to him, "Teacher, tell my brother to divide the inheritance with me." 14 Jesus replied, "Man, who appointed me a judge or an arbiter between you?" 15 Then he said to them, "Watch out! Be on your guard against all kinds of greed; life does not consist in an abundance of possessions." 16 And he told them this parable: "The ground of a certain rich man yielded an abundant harvest. 17 He thought to himself, 'What shall I do? I have no place to store my crops.' 18 "Then he said, 'This is what I'll do. I will tear down my barns and build bigger ones, and there I will store my surplus grain. 19 And I'll say to myself, "You have plenty of grain laid up for many years. Take life easy; eat, drink and be merry."' 20 "But God said to him, 'You fool! This very night your life will be demanded from you. Then who will get what you have prepared for yourself?' 21 "This is how it will be with whoever stores up things for themselves but is not rich toward God."
You may have heard that "the one who dies with the most toys wins."  That's not in Scripture … not in Proverbs or Song of Songs.  It's not even hiding in Leviticus.  We can plan and plot, organize and orchestrate, but in the end when we turn dust to dust, the toys go to the next generation, the resale shop, or the trash heap.  Today, as we look at But God….for Lent 2021 and think about living with peace in the space between the City of Man and the City of God, let's remind ourselves that our value is not in our possessions but in … who … owns us.

"My sheep listen to my voice; I know them, and they follow me. I give them eternal life, and they shall never perish; no one will snatch them out of my hand. My Father, who has given them to me, is greater than all; no one can snatch them out of my Father's hand. I and the Father are one." John 10:27-30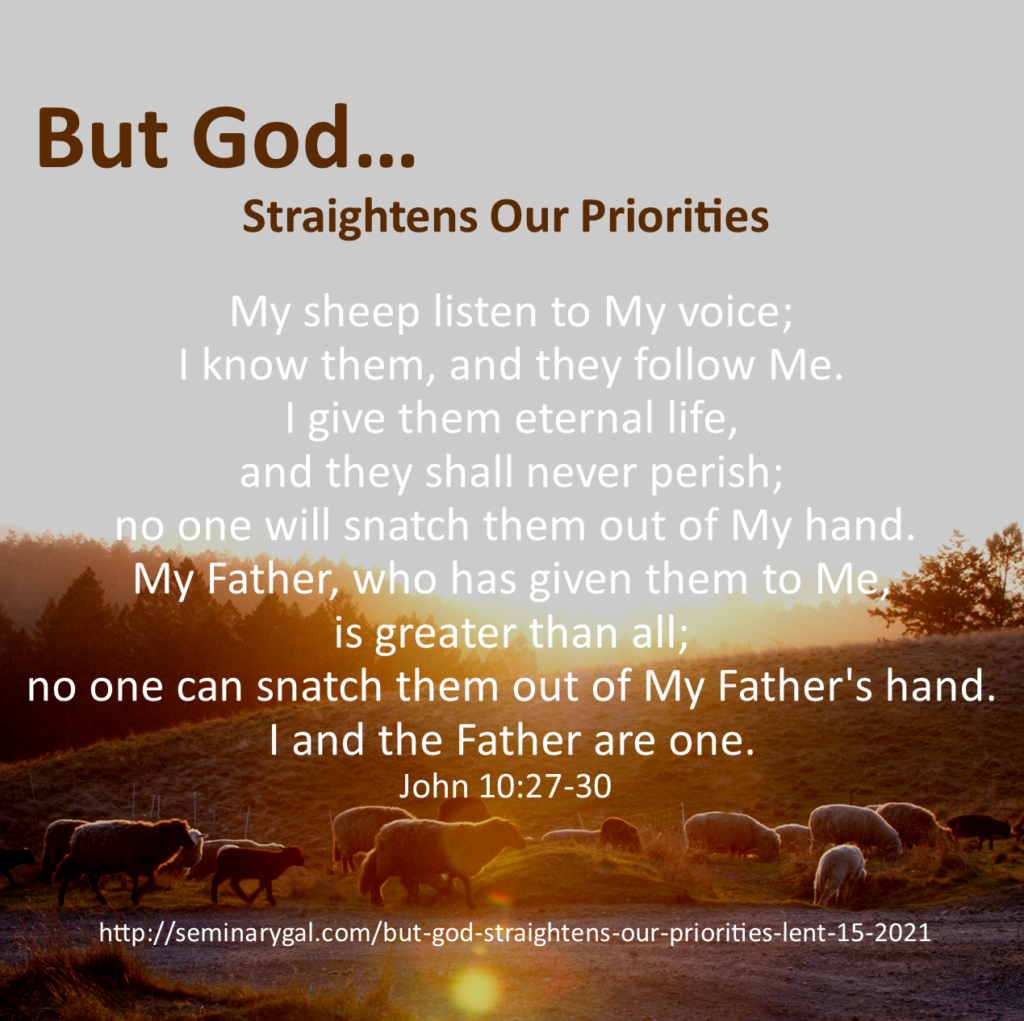 Thank You Lord Jesus that we're the sheep of Your pasture, that You know Your sheep, You call us by name, and those of us who belong to You will never be ashamed. Thank You for rescuing us when we were wandering astray. Thank You for Your Holy Spirit who teaches us to be still, to listen, and to wait upon Your will. We recognize Your voice and hear it in the words of Scripture, hear it upon the pages of our hymnals, and hear it in the days of our lives. We praise You for being the Good Shepherd. In Jesus' Name. Amen.
===
If you're already signed up on my Home Page sidebar to receive posts, you'll get the 2021 Lent Devotionals automatically. Or you can "Like" Seminary Gal on Facebook and they'll be delivered to your Facebook news feed. If you haven't signed up, today is a great day to do so. Advent and Lenten devotionals remain among my most popular offerings. You don't want to miss this encounter with God to prepare your heart for Easter! Understanding that prior years' devotionals continue to minister, you may want to have access to a full series ahead of time: