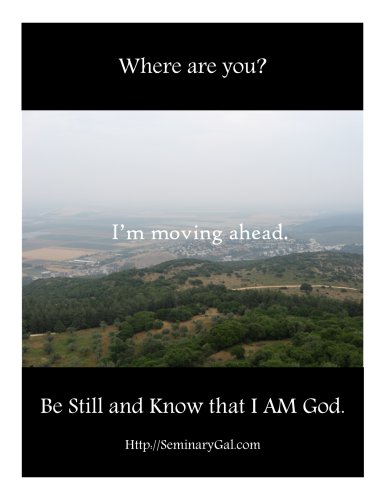 Moses was a hard act to follow and Joshua, having been Moses' right hand man all these years, knew that better than most.  It's no wonder that he might have experienced a bit of trepidation about the whole lead-the-Israelites-into-the-conquest-of-the-Promised-Land thing.
God gives him the bad news…
…and then He gives him the good news.
Joshua 1:1 After the death of Moses the servant of the LORD, the LORD said to Joshua son of Nun, Moses' aide: 2 "Moses my servant is dead. Now then, you and all these people, get ready to cross the Jordan River into the land I am about to give to them– to the Israelites. 3 I will give you every place where you set your foot, as I promised Moses. 4 Your territory will extend from the desert to Lebanon, and from the great river, the Euphrates– all the Hittite country– to the Great Sea on the west.
The bad news is that Moses is dead. 
The good news is that the LORD was going to have Joshua lead the people in the succession plan. 
Or was that bad news, too?
The Israelites weren't known for being easy to lead.  Joshua had already seen that up close and personal.  But the good news was that as the LORD was with Moses, He was prepared to be with Joshua.
Joshua 1:5 No one will be able to stand up against you all the days of your life. As I was with Moses, so I will be with you; I will never leave you nor forsake you. 6 "Be strong and courageous, because you will lead these people to inherit the land I swore to their forefathers to give them."
There's just this little bit of advice:
 Be strong and very courageous. Be careful to obey all the law my servant Moses gave you; do not turn from it to the right or to the left, that you may be successful wherever you go." (Joshua 1:7)
Obedience is the key to being still.
Be Still.  I AM prepared to lead you all the way.
Be Still.  I AM not going to leave you.  I AM not going to forsake you.
Be Still and Know that I AM God.  I AM going to fulfill all that I have sworn and promised.  I AM the very essence of faithfulness.
Be Still and Know that I AM God.  Remain faithful to Me and you will have strength and courage for anything I call you to do.
Questions for reflection:
How are you doing in the obedience-to-God's-ways category?
What steps could you take today to become more obedient?
Why do you think people resist being obedient to God?
Read

Joshua 2

.  How did Rahab show obedience to the LORD, confessing His greatness, even though she was a prostitute? What does that say about human imperfection and what matters to God?