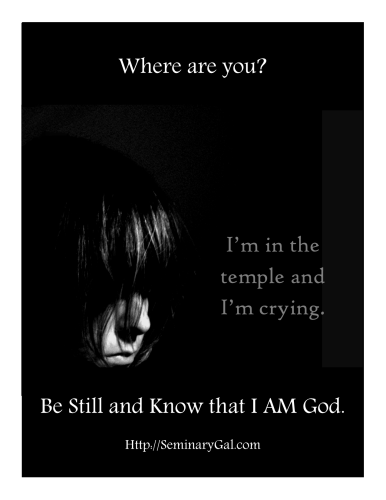 Hannah was brokenhearted.  She faced the exultations of her husband's other wife again and again over Hannah's infertility and this other wife's bearing of many sons and daughters.  Hannah wept.  She couldn't help it.  The love of her husband was profound, but her own failings as a wife—to give him children—loomed great in her eyes. 
1 Samuel 1:8 Elkanah her husband would say to her, "Hannah, why are you weeping? Why don't you eat? Why are you downhearted? Don't I mean more to you than ten sons?"
It was true, but to the grieving Hannah, it was insufficient consolation for all the judgment, inferiority, and barrenness she faced.
Have you ever been judged?
Hannah knew it all too well.  She was grieving, came to God in her grief and what did she get?  More grief—from the priest!
1 Samuel 1:12 As she kept on praying to the LORD, Eli observed her mouth. 13 Hannah was praying in her heart, and her lips were moving but her voice was not heard. Eli thought she was drunk 14 and said to her, "How long will you keep on getting drunk? Get rid of your wine." 15 "Not so, my lord," Hannah replied, "I am a woman who is deeply troubled. I have not been drinking wine or beer; I was pouring out my soul to the LORD. 16 Do not take your servant for a wicked woman; I have been praying here out of my great anguish and grief."
I am not going out on a limb here by suggesting that religious people can be among the most judgmental ones.  In ways both subtle and overt, religious people can place themselves as judges over their neighbors, friends, and families. 
And it's wrong.
Be Still.  I see your heart and know your grief.
Be Still.  I know what it feels like to be judged by others.
Be Still and Know that I AM God.  I'm the only real Judge out there.  Everyone else will eventually be called to account by Me.
Be Still and Know that I AM God.  This is what I think of judging:  Romans 14:10 You, then, why do you judge your brother? Or why do you look down on your brother? For we will all stand before God's judgment seat. 11 It is written: "'As surely as I live,' says the Lord, 'every knee will bow before me; every tongue will confess to God.'" 12 So then, each of us will give an account of himself to God. 13 Therefore let us stop passing judgment on one another. Instead, make up your mind not to put any stumbling block or obstacle in your brother's way."
Questions for Reflection:
 When others judge you, does is say more about them or you?  Why do you think that?
Hannah, in today's Scriptures, brought her grief to the LORD.  1

Samuel 1:17 Eli answered, "Go in peace, and may the God of Israel grant you what you have asked of him." 18 She said, "May your servant find favor in your eyes." Then she went her way and ate something, and her face was no longer downcast." 

Hannah's womb was opened and she gave birth to Samuel whom she devoted to the LORD.  How did worship of the LORD and prayer to Him in the face of judgment turn into blessing?
What is the best approach to take when others are passing judgment on you?  What did Hannah do?