Stephen, in his famous speech (just before he was martyred for it) lays it all bare.  He was a true fact checker before fact checking was cool.
He preached, "This is the Moses who told the Israelites, 'God will raise up for you a prophet like me from your own people.' 38 He was in the assembly in the wilderness, with the angel who spoke to him on Mount Sinai, and with our ancestors; and he received living words to pass on to us. 39 But our ancestors refused to obey him. Instead, they rejected him and in their hearts turned back to Egypt.
40 They told Aaron, 'Make us gods who will go before us. As for this fellow Moses who led us out of Egypt– we don't know what has happened to him!' 41 That was the time they made an idol in the form of a calf. They brought sacrifices to it and reveled in what their own hands had made. 42 But God turned away from them and gave them over to the worship of the sun, moon and stars. This agrees with what is written in the book of the prophets: "'Did you bring me sacrifices and offerings forty years in the wilderness, people of Israel? 43 You have taken up the tabernacle of Molek and the star of your god Rephan, the idols you made to worship. Therefore I will send you into exile' beyond Babylon." (Acts 7:37-43)
Let's review the facts Stephen said: God raised up a prophet. God was with them. The angel of the Lord spoke to Moses and all the people. They'd all received living words to pass on to the next generation to keep the faith alive. And then what did they (we) do? Reject it all.
"Gee, Barb, does Lent have to be such a downer?" you might ask. 
I might reply, God wouldn't have to "But God…" anything
if we were on the right track, prone to 24/7 worship of God in purity and devotion, and part of a culture that was known for faithfully following Christ with whole hearts reflecting pure words, minds, souls, and bodies.
Our ancestors turned back to ways of sin, false gods, idols to worship that denied the living God.  Before we point our accusatory gaze and proclaim them fools, let's ask ourselves, "Are we any different?"  As we continue our Lent 2021 series, "But God…" and look at the things God does to stop us in our tracks and turn us back to the way we ought to go, let's remind ourselves that we are living between the City of Man and the City of God. Unpleasant as reminders of our sin, rebellion, and evil are, God gives us these lessons so that we'll turn back to Him.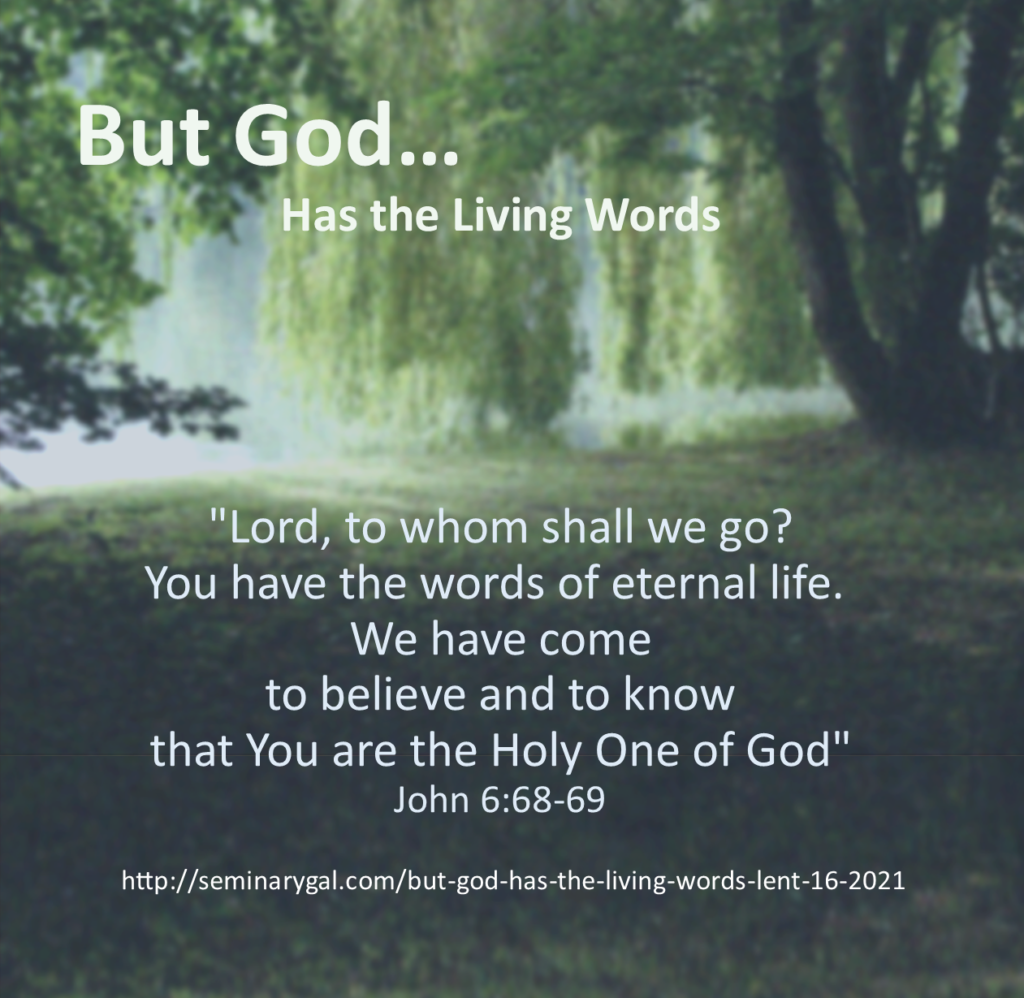 There's a really sad moment in the record of Jesus' ministry.  Jesus had to ask if all the other disciples wanted to leave Him too.  (Isn't that sad?) "Simon Peter answered him, "Lord, to whom shall we go? You have the words of eternal life.  We have come to believe and to know that you are the Holy One of God" (John 6:68-69).  But even Peter would deny Him before it was all over.
Lord God, we're so sorry for grieving You.  It's easy to feel like You turned away from us in the United States, that You've given us over to all the things that are evil, and Lord, that You are sending us into a spiritual exile beyond Babylon.  How could the world turn so wrong so quickly?  We know we have grieved You with our actions, our rebellion, and our choices to sin, elevating man to a point of worship. We have let what is evil run unchecked throughout this nation.  We confess we have not stood for You as we should, we have not been bold, but rather cowardly.  We have not appreciated the way You have blessed this country through the decades, and so while we have no standing before You, we ask Lord that You would hear these prayers offered in humble repentance.  We are grieved by what we see, Lord and we feel so helpless.  We ask, Lord, that You would turn to us again by Your grace.  There are faithful ones of Yours, Lord, depending on Your Covenant and promises, repenting of our national sin that we can do so little to stop because its root is in those who do not love You.  But for the sake of those who are Your sheep, we ask Lord, for You to hear our prayers.  Out of the greatness of Your mercy please forgive us and our nation, in Jesus' Name. Amen.
If you're already signed up on my Home Page sidebar to receive posts, you'll get the 2021 Lent Devotionals automatically. Or you can "Like" Seminary Gal on Facebook and they'll be delivered to your Facebook news feed. If you haven't signed up, today is a great day to do so. Advent and Lenten devotionals remain among my most popular offerings. You don't want to miss this encounter with God to prepare your heart for Easter! Understanding that prior years' devotionals continue to minister, you may want to have access to a full series ahead of time: