God has an enemies list of people who set themselves against God—mock Him, ridicule Him, diminish Him, and brazenly flaunt sin in His face.  (Of course no one wants to think that God would have such a running account, but maybe we'd be wise to consider God's holiness a bit more seriously.) These enemies of God may think that just because they get away with it today, no one is watching or God doesn't even exist. Some who do this will go from bad to worse as God gives them over.  God, however, is patient and desires they turn from their wicked ways (2 Peter 3:9). 
Sad to say, many will never turn back to God. They love sinning way too much.
God gives them what they want which bears a striking resemblance to what they deserve.
But God refines us. And discipline isn't the same as hardening or judgment.
As we continue exploring "But God…" during Lent 2021 and the ways God helps us live with His peace in the midst of a difficult world, it's helpful to see that bad things happening are not always indicative of our being enemies or not right with God. Sometimes it's because we are living right with Him. The entire book of Job is about this very idea.

God has a discipline list for those He loves and wishes to refine.  He tests us, not because He needs to know the results.  We do.  We need to know that we will stand firm in adversity and that by faith, we will be rescued as His cherished people.  Our faith is proven strong not by receiving everything we want, but by holding on even when circumstances are confusing or painful.  God doesn't leave us hanging by our own strength during these tests.  But He hears us and proves Himself (and by His grace, us!) to be faithful. And we learn just how reliably we belong to Him. Blessed Assurance!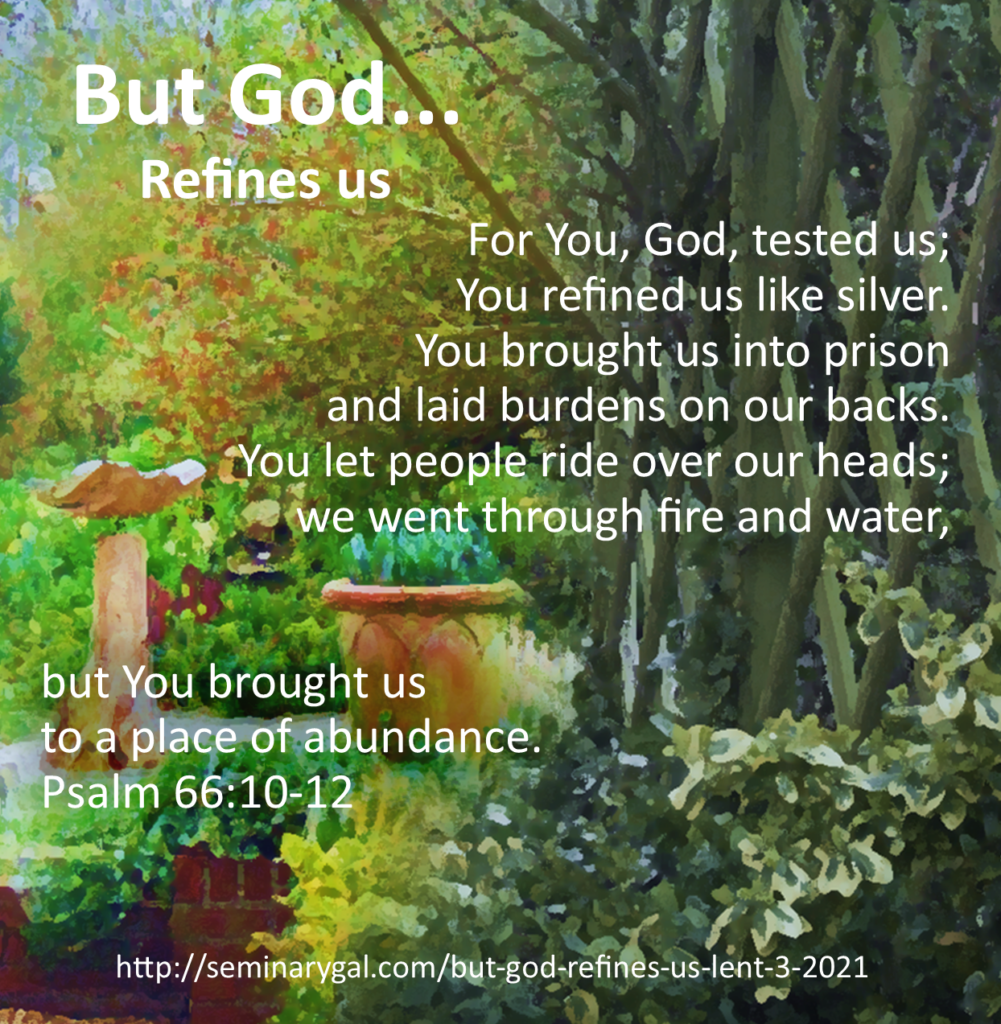 Psalm 66:1 For the director of music. A song. A psalm. Shout for joy to God, all the earth! 2 Sing the glory of his name; make his praise glorious. 3 Say to God, "How awesome are your deeds! So great is your power that your enemies cringe before you. 4 All the earth bows down to you; they sing praise to you, they sing the praises of your name." 5 Come and see what God has done, his awesome deeds for mankind! 6 He turned the sea into dry land, they passed through the waters on foot– come, let us rejoice in him. 7 He rules forever by his power, his eyes watch the nations– let not the rebellious rise up against him. 8 Praise our God, all peoples, let the sound of his praise be heard; 9 he has preserved our lives and kept our feet from slipping. 10 For you, God, tested us; you refined us like silver. 11 You brought us into prison and laid burdens on our backs. 12 You let people ride over our heads; we went through fire and water, but you brought us to a place of abundance. 13 I will come to your temple with burnt offerings and fulfill my vows to you– 14 vows my lips promised and my mouth spoke when I was in trouble. 15 I will sacrifice fat animals to you and an offering of rams; I will offer bulls and goats. 16 Come and hear, all you who fear God; let me tell you what he has done for me. 17 I cried out to him with my mouth; his praise was on my tongue. 18 If I had cherished sin in my heart, the Lord would not have listened; 19 but God has surely listened and has heard my prayer. 20 Praise be to God, who has not rejected my prayer or withheld his love from me!
Father God, thank You so much that You've given us such a precious message of the Gospel to share with those who don't know You. May we always be prepared to tell what Jesus Christ has done for us and the hope we have. We thank You that You do not reject our prayers, You do not withhold Your love, but rather You bring us safely to a place of abundance. We endure discipline and times of testing knowing that You are faithful to bring us through to eternal life in You. We praise You, Lord Jesus, Amen .
If you're already signed up on my Home Page sidebar to receive posts, you'll get the 2021 Lent Devotionals automatically. Or you can "Like" Seminary Gal on Facebook and they'll be delivered to your Facebook news feed. If you haven't signed up, today is a great day to do so. Advent and Lenten devotionals remain among my most popular offerings. You don't want to miss this encounter with God to prepare your heart for Easter! Understanding that prior years' devotionals continue to minister, you may want to have access to a full series ahead of time: