It's easy to feel like a forgotten man or woman.  Sometimes life just isn't fair at all.  Into such a time, God gives us this reassurance that no hope in Him can ever be extinguished.  God rules.  End of story. While some men of evil intent may have temporary triumphs—which serve to harden their arrogance—in their story's end, all men will be judged mortal and God will be known by His justice.  As we continue our look in devotionals for Lent 2021, "But God…" will never forget the needy, the oppressed, and the afflicted.  Those who look to Him for their hope and their help will never be forgotten.
Psalm 9:7 The LORD reigns forever; he has established his throne for judgment. 8 He rules the world in righteousness and judges the peoples with equity. 9 The LORD is a refuge for the oppressed, a stronghold in times of trouble. 10 Those who know your name trust in you, for you, LORD, have never forsaken those who seek you. 11 Sing the praises of the LORD, enthroned in Zion; proclaim among the nations what he has done. 12 For he who avenges blood remembers; he does not ignore the cries of the afflicted. 13 LORD, see how my enemies persecute me! Have mercy and lift me up from the gates of death, 14 that I may declare your praises in the gates of Daughter Zion, and there rejoice in your salvation. 15 The nations have fallen into the pit they have dug; their feet are caught in the net they have hidden. 16 The LORD is known by his acts of justice; the wicked are ensnared by the work of their hands. 17 The wicked go down to the realm of the dead, all the nations that forget God.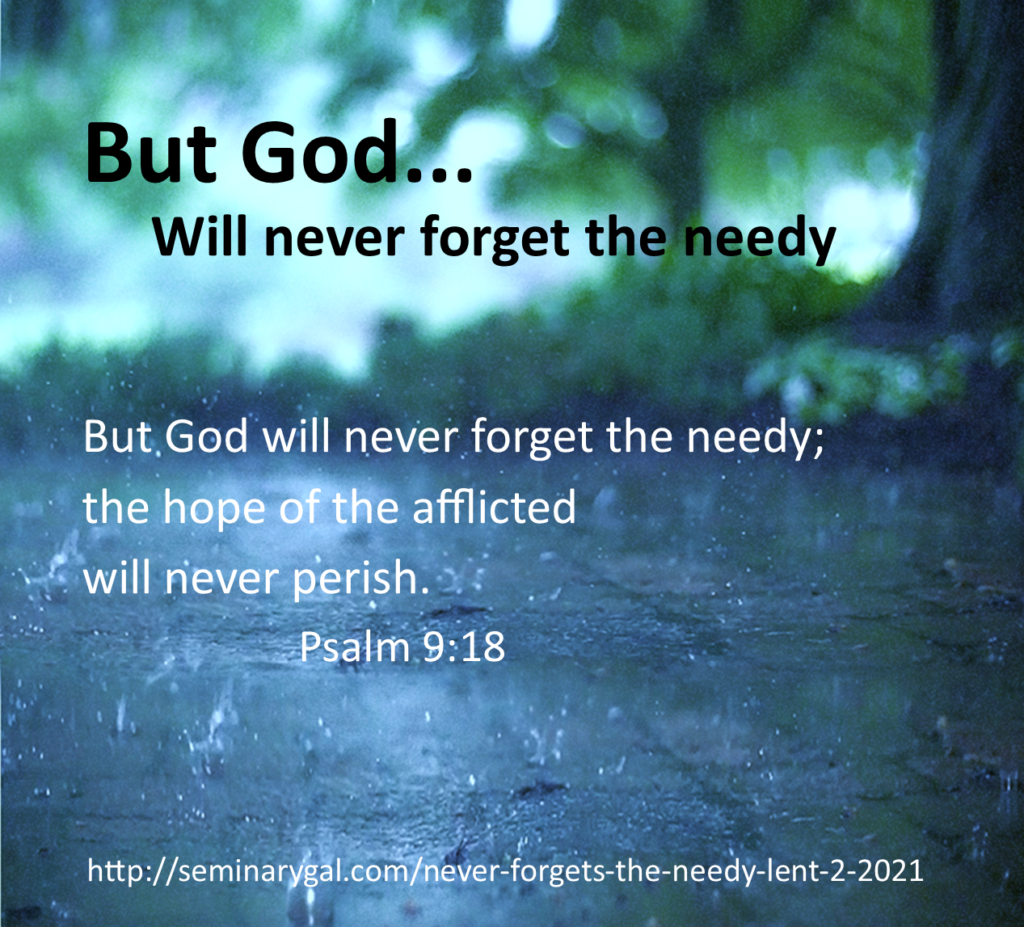 18 But God will never forget the needy; the hope of the afflicted will never perish. 19 Arise, LORD, do not let mortals triumph; let the nations be judged in your presence. 20 Strike them with terror, LORD; let the nations know they are only mortal. (Psalm 9:7-20)
Lord Jesus when our hope starts to fail, when the circumstances of this life oppress us and discourage us, remind us, Lord, that even though we are like flowers of the field… here today and gone tomorrow … You have no beginning and no end. We praise You and thank You that our hope founded in You is certain. It can never be extinguished. We thank You that by Your grace, Your great mercy, and the forgiveness You purchased for us, we can enter into eternal life. Help us to hold onto our courage, help us to remain hopeful, and help us to faithfully keep our eyes fixed on You, the Eternal God and Judge of nations. Amen.
If you're already signed up on my Home Page sidebar to receive posts, you'll get the 2021 Lent Devotionals automatically. Or you can "Like" Seminary Gal on Facebook and they'll be delivered to your Facebook news feed. If you haven't signed up, today is a great day to do so. Advent and Lenten devotionals remain among my most popular offerings. You don't want to miss this encounter with God to prepare your heart for Easter! Understanding that prior years' devotionals continue to minister, you may want to have access to a full series ahead of time: