Narrow. Intolerant. Exclusive, not at all inclusive.
Misogynist. A 1950s white family religion. 
Not nearly woke enough for the modern mindset.
These are some of the criticisms of Christianity.
Yet the Bible paints a very different picture. 
Acts 10:25 As Peter entered the house, Cornelius met him and fell at his feet in reverence. 26 But Peter made him get up. "Stand up," he said, "I am only a man myself." 27 While talking with him, Peter went inside and found a large gathering of people. 28 He said to them: "You are well aware that it is against our law for a Jew to associate with or visit a Gentile. But God has shown me that I should not call anyone impure or unclean. 29 So when I was sent for, I came without raising any objection. May I ask why you sent for me?" 30 Cornelius answered: "Three days ago I was in my house praying at this hour, at three in the afternoon. Suddenly a man in shining clothes stood before me 31 and said, 'Cornelius, God has heard your prayer and remembered your gifts to the poor. 32 Send to Joppa for Simon who is called Peter. He is a guest in the home of Simon the tanner, who lives by the sea.' 33 So I sent for you immediately, and it was good of you to come. Now we are all here in the presence of God to listen to everything the Lord has commanded you to tell us." 34 Then Peter began to speak: "I now realize how true it is that God does not show favoritism 35 but accepts from every nation the one who fears him and does what is right."  
Read that last verse again. Christianity is the most racially and ethnically diverse (and come as you are, open to all humanity irrespective of any demographic category) faith tradition out there.  The only aspect in which it's narrow is:  Jesus is God, Son, and Savior.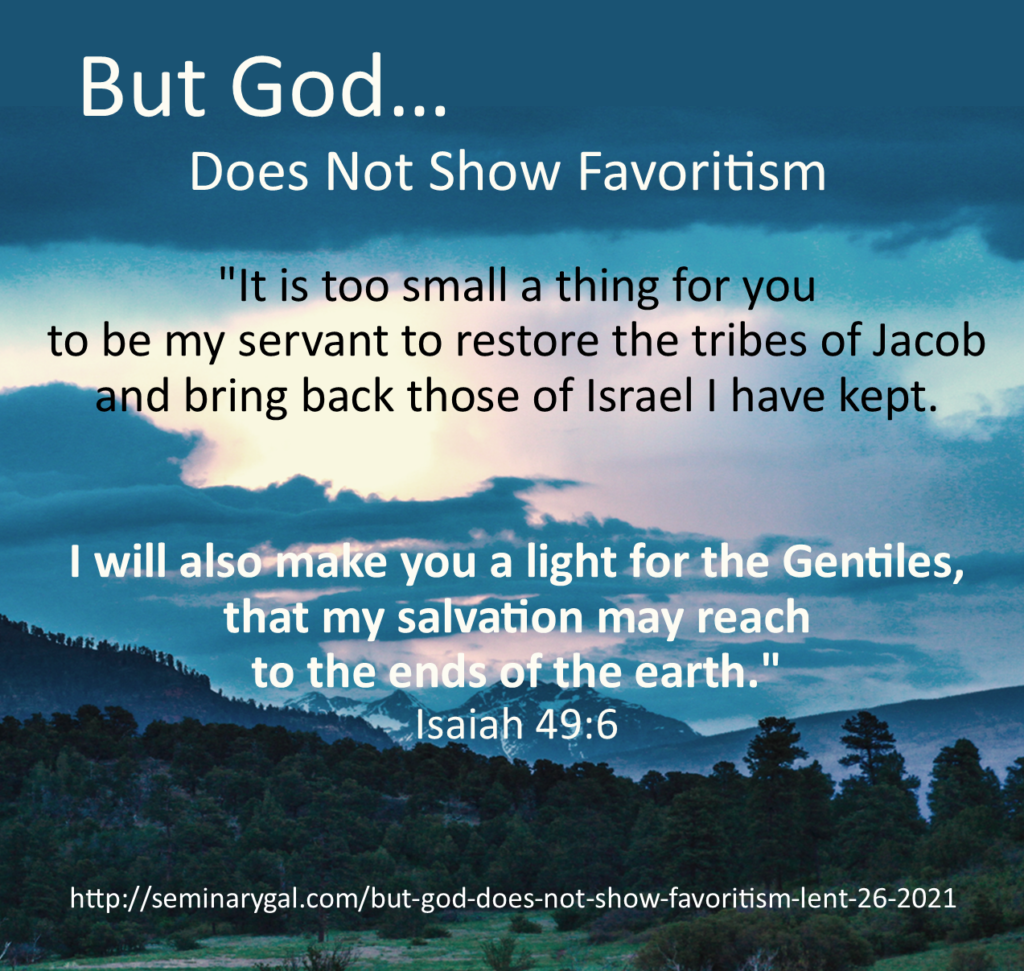 Peter learned from God Himself that traditions that kept the Jewish community pure until the arrival of Christ were never meant to replace faith in Christ or salvation of the world. The Jewish community was always meant to be a light for the Gentiles not a fence around Messiahville.
Isaiah 49:6 God says: "It is too small a thing for you to be my servant to restore the tribes of Jacob and bring back those of Israel I have kept. I will also make you a light for the Gentiles, that my salvation may reach to the ends of the earth."
God shows no favoritism when it comes to access to Him.  Do you?
Lord Jesus, thank You that You opened a way through the curtain so by faith and through prayer, we could enter the Holy of Holies and have access to You.  Thank You for the salvation You made possible because You so loved the world.  But for Your grace, we could not have hope between the City of Man and the City of God. Let our look at this mercy and grace during Lent stay in our hearts forever. Give us courage to share You with an unbelieving world and not keep You to ourselves.  Help us to have a missional outlook in obedience to the Great Commission.  For Your glory.  Amen.
===
If you're already signed up on my Home Page sidebar to receive posts, you'll get the 2021 Lent Devotionals automatically. Or you can "Like" Seminary Gal on Facebook and they'll be delivered to your Facebook news feed. If you haven't signed up, today is a great day to do so. Advent and Lenten devotionals remain among my most popular offerings. You don't want to miss this encounter with God to prepare your heart for Easter! Understanding that prior years' devotionals continue to minister, you may want to have access to a full series ahead of time: