Being told your descendants would have an inheritance might seem really odd to a very old and very childless man.  As we focus on living between the City of Man and the City of God during Lent 2021, maintaining peace in God's promises in the absence of God's clear action is pretty hard to do. It happens only by faith and Scripture holds Abraham as a model this, credited as righteousness. He believed God.
Acts 7:5 God gave him no inheritance here, not even enough ground to set his foot on. But God promised him that he and his descendants after him would possess the land, even though at that time Abraham had no child.
No inheritance for Abraham.
Not even enough ground for one foot.
All he had was a promise from God and that was enough.
Hebrews 11:1 Now faith is confidence in what we hope for and assurance about what we do not see. 2 This is what the ancients were commended for…13 All these people were still living by faith when they died. They did not receive the things promised; they only saw them and welcomed them from a distance, admitting that they were foreigners and strangers on earth.    
Delayed gratification is an undervalued trait by the Want-It-Now generation
that can get anything at any time, delivered anywhere in the world,
even largely in spite of a pandemic! 
But unrealized promises and hope delayed can be the very soil in which faith grows.
There is a faith-building power in patience.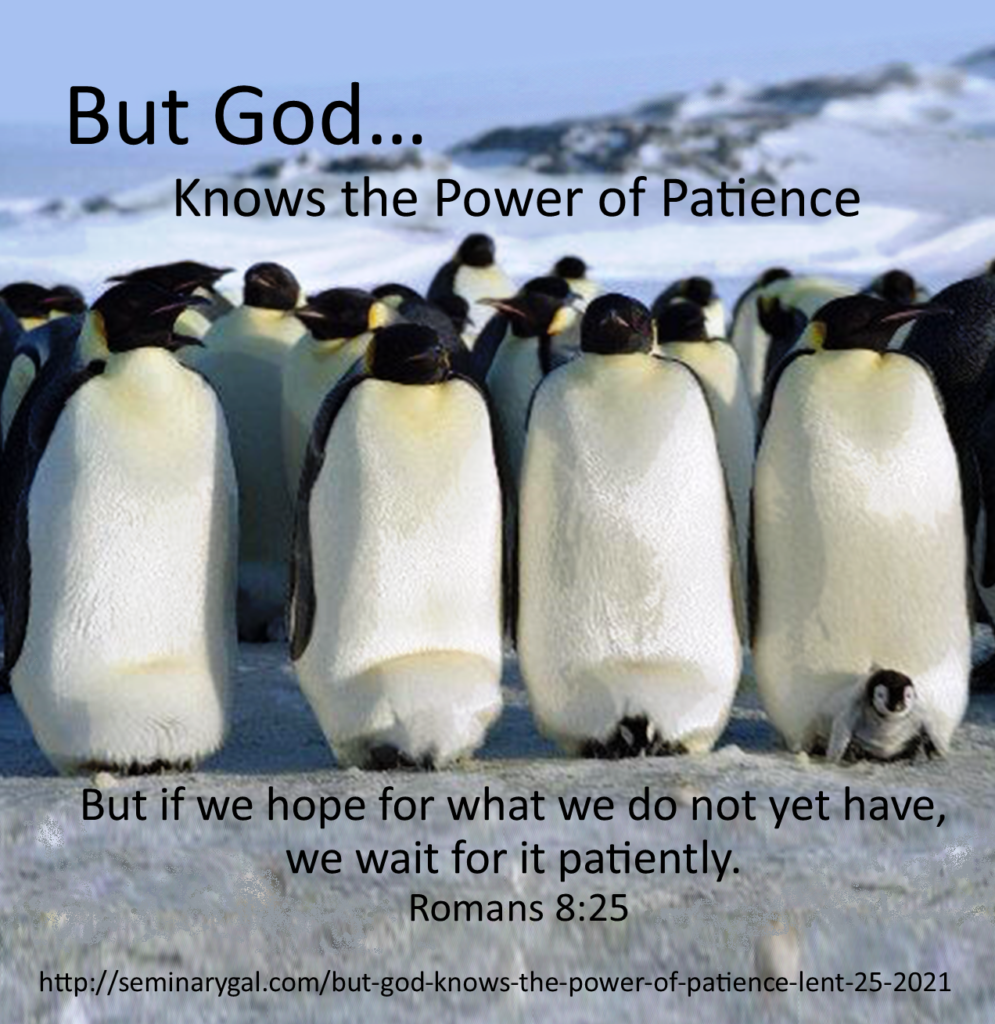 Romans 8:24 For in this hope we were saved. But hope that is seen is no hope at all. Who hopes for what they already have? 25 But if we hope for what we do not yet have, we wait for it patiently.
Lord Jesus, help us to wait patiently for the redemption You have promised.  Help us to hold the line in view of our friends and neighbors so they will see our faith and believe also.  We ask, Lord, that if it be Your will, You will come soon.  We watch and wait for You.  Lord Jesus, we love You. Amen.
===
If you're already signed up on my Home Page sidebar to receive posts, you'll get the 2021 Lent Devotionals automatically. Or you can "Like" Seminary Gal on Facebook and they'll be delivered to your Facebook news feed. If you haven't signed up, today is a great day to do so. Advent and Lenten devotionals remain among my most popular offerings. You don't want to miss this encounter with God to prepare your heart for Easter! Understanding that prior years' devotionals continue to minister, you may want to have access to a full series ahead of time: