Conflicts between one's work and one's spiritual life are nothing new. They're as old as the Garden of Eden. Adam was put in the Garden to work it, but the competing voice to be one's own master called out, "You will be like God."
How is it possible to protect yourself from letting your work be your god, and convincing you that all blessings come from yourself and your hard work? Is it only Americans who fight this I-am-my-own-master-and-the-world-is-my-oyster mentality?
Self-made men and women soon become self-destroyed men and women.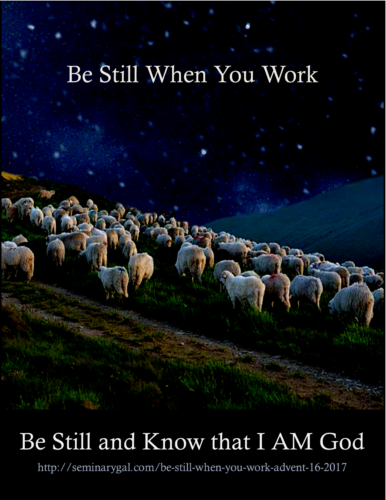 I see it all the time. Even people who once followed God lose sight of Him when all they see is themselves.
Only those who have learned to Be Still When You Work know the joy of fruitful employment and prosperity as blessing. As we look at Still Christmas, Advent Devotionals for 2017, let's look at how to Be Still When You Work in Luke 2:8
"And there were shepherds living out in the fields nearby, keeping watch over their flocks at night."
Maybe the challenge is a modern problem because these shepherds didn't have the dings, bings, chirps, and fanfare of a bazillion emails and text messages calling them off-task to the electronic brush fires that seem to command our every attention.
Maybe there's something about living in the fields without modern conveniences that allowed these shepherds to Be Still. Turning off the noise.
Watching over their sleeping sheep.
It was night and the sky was filled with stars.
* * *
Be Still, shepherds. Keep watch over your sheep, but never lose the awe of the star-filled sky I put there.
Be Still. You may be shepherds and considered bottom of employment ladder by your culture, but you haven't lost sight of what's important and that makes you winners in My book.
Be Still and Know that I AM God. I created everything. It's My joy to share it with you. I placed the awe in your heart. Indeed, My character and nature demand it. Never lose sight of that for the sake of work I gave you to do. All are blessings from My hand. Worship the Giver, not the gift.
Be Still and Know that I AM God. Isaiah speaks from Me to you. Isaiah 40:26 "Lift your eyes and look to the heavens: Who created all these? He who brings out the starry host one by one, and calls them each by name. Because of his great power and mighty strength, not one of them is missing."
Questions for Reflection:
In what ways does work command our attention and pull us from God? Does it always? Must it?

Even in ministry, is it possible to be so focused on performance that what we gain in familiarity with the Scriptures, we lose in awe of God?

How big is your God? What types of things diminish the size of God in your eyes?

What types of noise are present in your life, particularly at Christmas?

How does performance present noise that calls our attention away? Is this noise spiritual or earthly or both?

What noise can you turn off in order to Be Still, recapture your awe of God, and focus on the meaning of Christmas?
===
Still Christmas, Advent 2017 Devotionals began December 3, 2017 and are archived from that date.