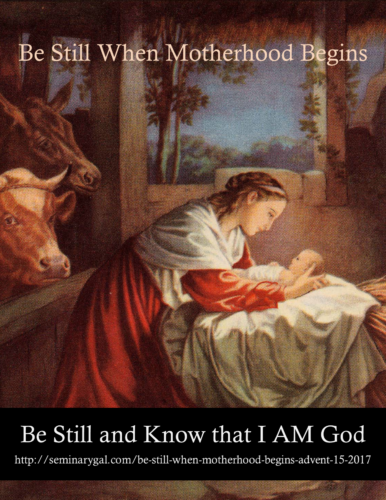 Luke 2:6 "While they were there, the time came for the baby to be born, 7 and she gave birth to her firstborn, a son. She wrapped him in cloths and placed him in a manger, because there was no room for them in the inn."
For women who have given birth, we know that birthing the baby is only part of the event. After Joseph received the Christ Child in his hands, he probably gave Jesus to Mary to hold while the rest of the birth process unfolded. The cord. The placenta or afterbirth. We don't normally think about these things and you might be thinking, "Hey, Barb, this is a bit too much information. Gross. We don't need to think about this at Christmas."
Still yourself in the moment, in the reality, because there's beauty in it, and a lesson for our lives. Jesus didn't just pop out looking like a fully swaddled, plastic baby Jesus in a plastic Nativity set.
Unlike the whitewashed moment in the picture for today, in bloody reality, God HAS experienced—and in Jesus alone—WILL experience birth only once. He was Mary's firstborn. And in His real, normal, and beautifully gross birth, He goes through the first of two events that mark humanity that previously God did not know … by experience. In Jesus (and Jesus alone!) He'd know them both: Birth and Death. Inaugurated into humanity in a bloody birth event. And His life ending with His own blood shed for mankind.
Seeing that Jesus' birth was both normal and human reminds us of what He entered when He was born.
Mary would deal with first and only experiences too. Firstborn children are sometimes considered "practice children" because we make all our parenting mistakes with the first one and hopefully learn our lessons when the others come along. Jesus was firstborn and yet, the only One we could ever call the Son of God. And yet, think of how humbling it is: the God of the universe, entering the world from the womb of Mary just like any other baby enters through his/her mother's birth canal.
Just as first-time fatherhood happened for Joseph and he's dealing with midwifery … for Mary, first-time motherhood began. Just like that.
* * *
Be Still, Mary. Just because He's My Son doesn't mean He won't be cared for or raised as any other firstborn son would be.
Be Still, Mary. There's beauty in this miracle, the intersection of the supernatural and the natural. Enjoy how the miraculous can seem so entirely normal. The miraculous and the natural are both in My wheelhouse and I can perform both with the same ease.
Be Still and Know that I AM God. In this birth, I AM not expecting you to do miraculous, only accept that I'm entering your ordinary in "Christ Jesus: Who, being in very nature God, did not consider equality with God something to be grasped, but made himself nothing, taking the very nature of a servant, being made in human likeness." Philippians 2:5-7
Be Still and Know that I AM God. You will never become gods, but I AM fully God and fully man in My Son Jesus.
Questions for Reflection:
God may know all things, but there are things God will never experience. What things will God never experience? (Hint: many are summed up in a 3-letter word rhyming with pin).

In what ways do the miraculous and the natural collide? Was Mary's 9-month pregnancy natural after the initial miracle?

I have gone to great lengths to describe Joseph's likely role. In Leviticus 12:1-7, the purification rites for post-childbirth are mentioned. What sacrifice was Joseph making?

Knowing that her baby is God's Son, how might Mary have been tempted to treat Him differently?
===
Still Christmas, Advent 2017 Devotionals began December 3, 2017 and are archived from that date.
PS. Again, please note (and forgive, perhaps) the inference of what Joseph would be dealing with, since it is not explicitly stated in Scripture. I merely intend this as a corrective to a sanitized version of the birth of Christ that removes what is human in favor of what is superhuman. Scripture tells us Joseph and Mary were there … and we know childbirth is what it is, Jesus' included. Normal Joe, normal Mary, and now normal Jesus from a very normal birth. It all adds to the mystery and ought to bring us through stillness to the place of marveling at what Jesus gave up in order to be "God with us."