1 Timothy 6:6 But godliness with contentment is great gain.
Among the things you don't really care about: I typically use the NIV's English translation for my work for no reason other than it's a pretty easy read. Why do I tell you this if you don't care? Because today, I've gone with a different translation: the New American Standard Bible. And why, if they all say basically the same thing? Because it's fuller in pointing to contentment.
NAS 1 Timothy 6:6 But godliness actually is a means of great gain, when accompanied by contentment.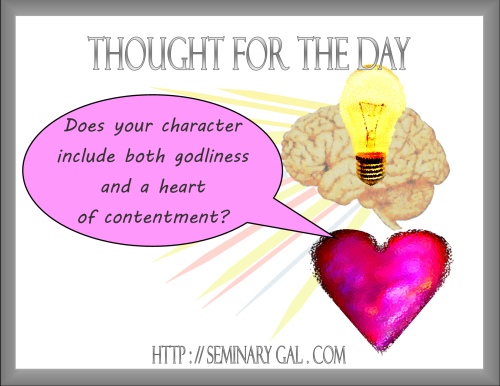 The opposite of that statement reminds us that godliness by itself doesn't necessarily produce great gain. If we're Bible scholars who are not content with what God has provided along the way, we're just being holy rollers. Bible thumpers. Christian legal beagles with a crosses for collars.
I'd argue contentment is the litmus test that reveals whether we truly believe God loves us and trust that He provides for us.
So how do we rekindle a character of contentment?
By routinely looking up, letting go and opening our hands to receive what God has to give instead of focusing on this earth and working so hard with our own two hands that we have tight fists regarding our future.
Contentment requires a character of focus and priority on God.
NAS Hebrews 13:5 Let your character be free from the love of money, being content with what you have; for He Himself has said, "I will never desert you, nor will I ever forsake you," 6 so that we confidently say, "The Lord is my helper, I will not be afraid. What shall man do to me?"
See? Contentment is when we stop striving and worrying and simply trust
that God loves us,
He is our helper,
He is our provider,
He will never abandon us,
and He will preserve us even in circumstances that might not be our preferred ones.
It doesn't mean laziness. Tune in tomorrow for that one, but for now…
Give it up for Lent: A character that begrudges God's provision
Questions for 1 Tim 6:6 and Hebrews 13:5-6
For context read all of 1 Timothy 6. It's pretty amazing. You'll recognize some familiar lines (NIV this time).

1 Timothy 6: 6 "But godliness with contentment is great gain. 7 For we brought nothing into the world, and we can take nothing out of it. 8 But if we have food and clothing, we will be content with that. 9 People who want to get rich fall into temptation and a trap and into many foolish and harmful desires that plunge men into ruin and destruction. 10 For the love of money is a root of all kinds of evil."

Why is money such a lure?
In Matthew 6:24 Jesus says,

"No one can serve two masters. Either he will hate the one and love the other, or he will be devoted to the one and despise the other. You cannot serve both God and Money."

How does this explain why we need to be content?
In Hebrews 13:5-6, the contentment we have is by allowing ourselves to be free of the love of money. By analogy, if the love of money is what we actively put into our character like forcing air into a balloon, contentment is externally applied to us like the air pressure around the balloon when we deflate it.  A full balloon is at constant pressure with the air around it and waiting to pop.  A balloon emptied of air is at rest.  Look at what God promises to us and in response, note what we can confidently do when our character is emptied of competing pressures and loves.  Why can we do it confidently?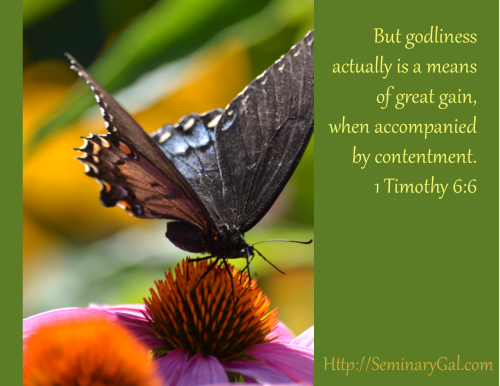 ReKindle is the 2016 Lenten devotional series from Seminary Gal.
To receive these devotionals to your email inbox throughout Lent, please fill in your email address in the space provided on my Home Page in the sidebar (right) and respond to the verification email.  If you already receive devotionals and articles, no need to do anything else.  You'll get them automatically.  Thank you!  Or log onto the SeminaryGal Facebook page and see them reprinted there.
Acknowledging that former years' devotional series remain popular, Be Still and Know that I AM God can be obtained through the archives beginning in March 2014 and With Christ in the Upper Room  is archived beginning February 18, 2015.