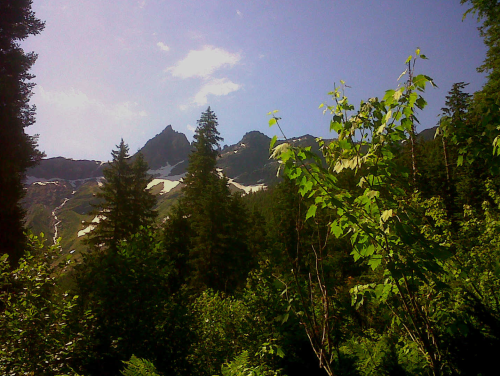 I look over the political landscape and my heart weeps.  So this is my prayer:
Sovereign Lord, I look over the American landscape and over American history and see the blessings You have given us for so long.  I see the freedom You gave us in our laws and the grace You have shown us in our free worship of You.  I see majestic mountain ranges—the rugged youthfulness of the Rockies and the wise rounded Appalachians… the snow-capped Sierra Nevada and the towering Cascades.  Ancient forests and sprawling beauty of our fields and deserts.  Abundance of lakes and streams teeming with fish and birds and butterflies overhead doing a migratory ballet.  Gifts from You!
I love this country and I know You do too.
I look over the political landscape and my heart weeps.
On one side, there is a Jewish socialist who desires to punish those You have blessed—as well as those whose success has been ill-gotten as if they are morally equivalent.  His Jewish heritage apparently doesn't come with a legacy of love for You as G-d Almighty.  There is a woman who believes it is her right to be President though her record of lies in Your face and to Your people is much longer than her accomplishments for You.  People are dead because of her policies including countless unborn.  Even among so-called Christians and so-called churches, there is a willing population who looks to the superficial and the political, the skin color and the gender, and stands ready to cast their votes, totally ignoring how those moral failings are the reason Your hand of judgment has come upon us.  We're fools.  And You, O Lord, look at the heart.
I can only conclude that You are raising up instruments of judgment because of what we see on the other political side too.  Sure, there have been some whose lives reflect a humble repentance and a focus on obeying You.  The "fruit salad" of their lives is full of the Fruit of the Spirit.  Yet, they are passed over.  Look how many others, Lord, proclaim Christ yet easily sink into the mud, calling down fire upon their fellow Christians, all the while losing sight of the goal of our faith!  Christianity becoming nothing but another political tool. We see an ascendancy of every action, word, and attitude that must grieve Your heart.  There is a population who looks to the superficial and political, the loud, the celebrity, and the worldly, and fails to see Your hand of judgment is upon us because… decades ago… we turned our backs on You.
So many Christians–even pastors nationwide–wringing their hands today are the very ones who folded them in silence during the past decade, unwilling to speak and so ushering in further decay, and letting the hearts of this nation be darkened.
Are we electing a god, a Pope, or a President?
Why do they speak now and only about one?  Are we not all sinners?
Shall we cast the first stone?  Forgive us, Lord.
So now You, O Lord, look at us.  Where is the heart of Your people?  Why do we fail to see?  Our sin has birthed this consequence.
I do not believe You have forgotten those who love You, turning Your back on us.  Nor have You forsaken those who call upon Your Name.  Are You raising a modern Pharaoh, Nebuchadnezzar, Cyrus, or Xerxes to wake us up to see our bondage so that You may increase a harvest, gather us, and bring us back to what truly matters?
I pray, Lord, that Your discipline will last only as long as necessary and You will restore us to Your favor for the sake of those who love You.  Show us how Your chosen instrument of judgment can be for our good and Your glory in spite of how impossible it seems to us that he or she could bring any glory to You at all.
Preserve us from judging others' hearts since only You know the full picture. Any president will be a sinner and if a donkey can used as You did with Balaam, a donkey or an elephant today will suffice for bringing Your discipline.
I am reminded of Your servant Nehemiah and his prayer recorded in Nehemiah 1:5-11.  In it Nehemiah addresses Your faithfulness: "Remember the instruction you gave your servant Moses, saying, 'If you are unfaithful, I will scatter you among the nations,  but if you return to me and obey my commands, then even if your exiled people are at the farthest horizon, I will gather them from there and bring them to the place I have chosen as a dwelling for my Name.'"
Yes, this was written for the time of exile, but I believe You still desire our return to You in humble repentance no matter what age or time, especially as the last days are here.
We have been unfaithful, Lord, and the truth is we know it.
Your Word has been clear and we've done worse than disobey it.  We've trampled it.  We've decorated our White House with the flagrancy of our sin and disobedience.  We've had court celebrations of that which You find abhorrent.  I confess the sins of this nation, including those of myself and my household.  We have acted wickedly as a nation.  Against whom have we sinned?  We have sinned against You and against those You have created.  We have failed to uphold the two most important commandments You have given us: to love You and to love our neighbor.  We stand with nothing to cover our shame.
I trust Your sovereign hand and will not squirm under the judgment we deserve.  I only ask for Your grace and Your forgiveness upon the United States of America.  As You raise up another leader and You continue to judge this nation in these days, Lord, please remember those who seek You.  Please give us hearts of discernment and wisdom.  Remember Your people who love You and fear You and desire this nation and this world to do likewise.
Lord Jesus, be our Light in these dark times.  Amen.