In the rush of Christmas preparations, do you ever stop and Be Still in order to ponder the true meaning of Christmas? There's so much noise regarding Christmas that we can miss what should be truly treasured. To ask ourselves, "What Child is this?"
In Luke 2:19, we read,
But Mary treasured up all these things and pondered them in her heart."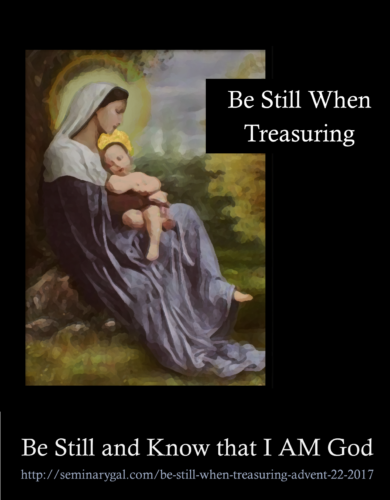 Maybe having nursed her baby (with Jesus now soundly sleeping) Mary might have looked at her son and thought about his being God's Son.
What does it mean that she treasured these things up or that she pondered them?
Maybe: "But he looks like any other baby. It could seem like just a weird dream if it weren't for all the angels and the shepherds who came and what they said. What does it mean that He will save our people? How will He do it? What's expected of me? It's a lot of pressure raising a baby who is the Son of God. Hey Joseph, this is so strange, isn't it? What do you think of all this? Does He kind of look like you? Does He kind of look like me?"
How can He possibly be God's Son if the LORD is One as 'The Shema' has always taught us?"
If you think we have questions about the Incarnation we have only heard about, just imagine the questions in the heart of the woman who was holding Him. The Word made flesh. A wriggling little baby. Fully God, but fully man.
* * *
Be Still, Mary. Just treasure the moment. You've worked hard for this event and the shepherds are evidence that I see humility as a plus and low status in a way that people do not understand.
Be Still. Jesus is sleeping. You will know Him someday as the Great High Priest about whom the author of Hebrews writes, Hebrews 4:15 "For we do not have a high priest who is unable to sympathize with our weaknesses, but we have one who has been tempted in every way, just as we are– yet was without sin." For now, you don't need to do anything special, Mary. Just Be Still. Enjoy the moment and believe that what I have promised I will do.
Be Still and Know that I AM God. I don't see things the way people do, Mary. It's how I already know this lowly baby, wrapped in strips of cloth whom you're holding, is Messianic royalty. He has been born King of the Jews. Matthew 2:1 "After Jesus was born in Bethlehem in Judea, during the time of King Herod, Magi from the east came to Jerusalem 2 and asked, 'Where is the one who has been born king of the Jews? We saw his star in the east and have come to worship him.'"
Be Still and Know that I AM God. Jesus will not return as a baby. He will return as My appointed Judge. He will return as the King of Kings and the Lord of Lords. Revelation 19:11-16
Questions for Reflection.
When you think of Je

sus, do you think of royalty? Do you think of supremacy? Do you think of the final Judgment?

In what ways is it marvelous that all these aspects were hidden, wrapped up with a tiny baby in the arms of a teenage mother?

On this Christmas Eve, is it any wonder Mary would treasure them up and ponder them? Shouldn't we?
===
Still Christmas, Advent 2017 Devotionals began December 3, 2017 and are archived from that date.