Luke 2:20 "The shepherds returned, glorifying and praising God for all the things they had heard and seen, which were just as they had been told."
What is the Christmas miracle the shepherds celebrated? It's not that virgins give birth or that women wrap their babies in cloths and put them in mangers. Nothing is impossible for God.
God could give us a million pregnant virgins and a million lowly babies without ever giving us … Himself.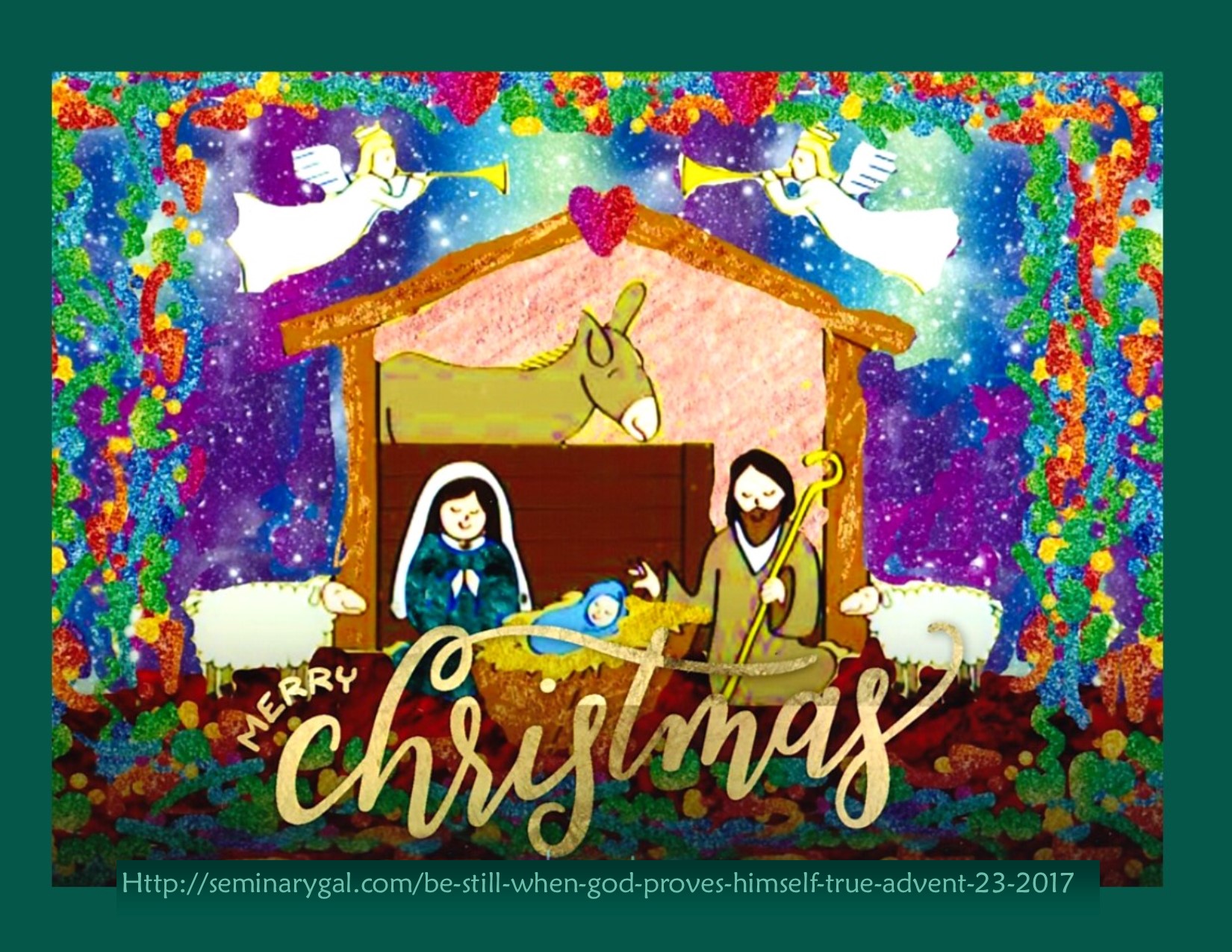 * * *
Stop for a moment. Be Still and appreciate this miracle: The Word became flesh. Jesus is "God with us"—Immanuel (Matthew 1:23).
Jesus is God giving us of Himself…
… at Christmas in His birth
… continually giving from Himself and revealing the Father during 30 years of ministry on this earth
… giving Himself for us all the way to death on a Cross,
… and giving us shelter in Himself when we come to Him for forgiveness.
Because there was no other way to reunite sinful man with a Holy God in mercy and forgiveness, the Christmas miracle is God gave us Himself.
* * *
Be Still, people. The miracle that began at Christmas in Bethlehem makes the miracle in your heart even more profound. Luke 2:11 "For there is born to you this day in the city of David a Savior, who is Christ the Lord."
Be Still, shepherds and all who listen. My faithfulness lasts for generations. My patience is longsuffering.
Be Still and Know that I AM God. I have brought My salvation. I am returning to judge. My judgments are always true and what I have promised I will always do.
Be Still and Know that I AM God. Psalm 98:1 A psalm. Sing to the LORD a new song, for he has done marvelous things; his right hand and his holy arm have worked salvation for him. 2 The LORD has made his salvation known and revealed his righteousness to the nations. 3 He has remembered his love and his faithfulness to the house of Israel; all the ends of the earth have seen the salvation of our God. 4 Shout for joy to the LORD, all the earth, burst into jubilant song with music; 5 make music to the LORD with the harp, with the harp and the sound of singing, 6 with trumpets and the blast of the ram's horn– shout for joy before the LORD, the King. 7 Let the sea resound, and everything in it, the world, and all who live in it. 8 Let the rivers clap their hands, let the mountains sing together for joy; 9 let them sing before the LORD, for he comes to judge the earth. He will judge the world in righteousness and the peoples with equity.
Reflect today on these thoughts:
Jesus Christ is Immanuel, God with us, Lord from His birth.

He ministered to us and brought His salvation because there was no other way.

He revealed the Father's love for us supremely on the Cross.

He waits patiently for the full number of faithful to enter in to forgiveness.

He will return as King of Kings and Lord of Lords and will judge the quick and the dead.

All of which are certain because God ordained it.

Will you open your heart to His forgiveness? Still Christmas, Still time, Still waits with open arms to welcome you to His mercy.

Luke 2:11 "For there is born to you this day in the city of David a Savior, who is Christ the Lord."
Merry Christmas!
===
This concludes our series Still Christmas, Advent 2017 Devotionals which began December 3, 2017 and are archived from that date. I will be posting other devotional thoughts periodically and resume a regular posting for Lent 2018.