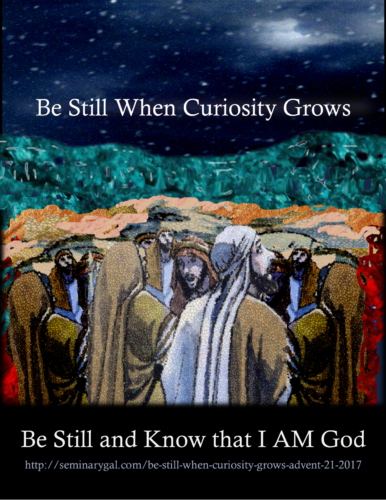 Would you drop everything and leave it all behind to see what had been announced to you?
The shepherds did.
They even double-timed it to get there.
Curiosity can be a great motivator.
But angelic messengers were a definite plus.
"When the angels had left them and gone into heaven, the shepherds said to one another, 'Let's go to Bethlehem and see this thing that has happened, which the Lord has told us about.' So they hurried off and found Mary and Joseph, and the baby, who was lying in the manger." (Luke 2:15-16)
Just as the angels had told them…
Luke 2:17 "When they had seen him, they spread the word concerning what had been told them about this child, 18 and all who heard it were amazed at what the shepherds said to them."
When the shepherds returned and spread the word, we read that all who heard it were amazed, not that they dropped everything and ran to have a look, too. Stop and think about it: they had the opportunity to witness a moment in world history, in eternal history. Yet they were only amazed. Were people amazed at the news itself or that it was shepherds who had been tasked with sharing that good news?
Same good news of great joy for all people. Different messengers. Different levels of curiosity and response. A once-in-a-lifetime event and who knows how many responded to the good news?
* * *
Be Still, shepherds. Yeah, it IS a really big deal. Let your curiosity invite you to meet My Son.
Be Still. The good news is good not because of the messengers or evangelists, but because of the Savior.
Be Still and Know that I AM God. I AM not a baby in a manger. Unlike a million babies who could be in mangers, I have always been God. Even my Son Jesus, who experienced the Incarnation—being sent in human likeness (Philippians 2:7)–has been God and foreordained Savior since before the foundation of the world (1 Peter 1:20). Without going all theological on you, know this: He was only revealed as Savior in the sign of the baby in a manger. He and I have been One long before the Incarnation.
Be Still and Know that I AM God. If curiosity won't drive you to consider My Son, perhaps a warning like recorded for you in the Book of Hebrews 2:1 "We must pay more careful attention, therefore, to what we have heard, so that we do not drift away. 2 For if the message spoken by angels was binding, and every violation and disobedience received its just punishment, 3 how shall we escape if we ignore such a great salvation? This salvation, which was first announced by the Lord, was confirmed to us by those who heard him. 4 God also testified to it by signs, wonders and various miracles, and gifts of the Holy Spirit distributed according to his will. 5 It is not to angels that he has subjected the world to come, about which we are speaking. 6 But there is a place where someone has testified: 'What is man that you are mindful of him, the son of man that you care for him?'"
Questions for Reflection:
Would we drop everything or find excuses why our work is too important to leave?

Was the good news better news when it was announced by angels than when it was announced by shepherds or to you?

Why is it important that we remember God didn't become man, that only Jesus was Incarnated (but fully God and fully man)?

What is it about mankind that makes us special to God's heart, even more special than the angels He created (see Genesis 1:26-27)?
===
Still Christmas, Advent 2017 Devotionals began December 3, 2017 and are archived from that date.