Now it's not just one angel doing the proclaiming and worshiping. As we continue our look at the birth narrative of Christ in our Advent 2017 Devotional Series, Still Christmas, we see the angel count has grown. Now, it's a multitude.
Suddenly a great company of the heavenly host appeared with the angel, praising God and saying, "Glory to God in the highest, and on earth peace to men on whom his favor rests." (Luke 2:13-14)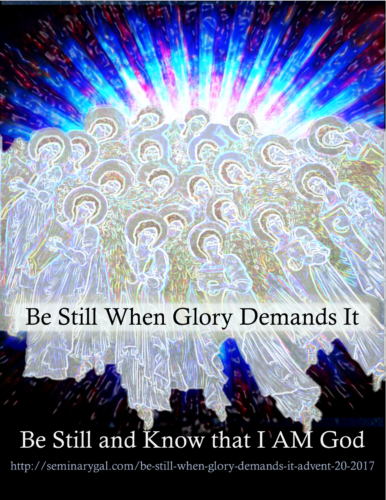 If one angel wasn't quite enough to convince the shepherds that this was a really big deal, this is the cherry on the top.
And doesn't God deserve that kind of praise?
The angels are giving God glory for the peace He's bringing to men (not themselves) who are recipients of God's favor. It's all about Him. It's not about them. Be Still. It's not about us either even if we experience all the peace.
Psalm 86:12 "I will praise you, O Lord my God, with all my heart; I will glorify your name forever."
When God is glorified, all the earth can be still in His presence. Even the angels praising God are, in a sense, still before Him.
* * *
There's no need to show off or draw attention to themselves.
Glorifying God, indeed worshiping Him, ought never to draw attention away from God to make it all about us.
God's glory demands it. Be Still.
* * *
Be Still, angels. Silencing of everything "you" highlights the glory.
Be Still, angels and men. Shhh…. Habakkuk 2:20 But the LORD is in his holy temple; let all the earth be silent before him."
Be Still and Know that I AM God. Glorify Me. It isn't arrogance for Me to deserve it. It ought to be a natural response of genuine awe when your heart is truly still. You see Me for who I AM.
Be Still and Know that I AM God. Isaiah 44:24 "This is what the LORD says– your Redeemer, who formed you in the womb: I am the LORD, who has made all things, who alone stretched out the heavens, who spread out the earth by myself, 25 who foils the signs of false prophets and makes fools of diviners, who overthrows the learning of the wise and turns it into nonsense, 26 who carries out the words of his servants and fulfills the predictions of his messengers, who says of Jerusalem, 'It shall be inhabited,' of the towns of Judah, 'They shall be built,' and of their ruins, 'I will restore them,' 27 who says to the watery deep, 'Be dry, and I will dry up your streams,' 28 who says of Cyrus, 'He is my shepherd and will accomplish all that I please; he will say of Jerusalem, "Let it be rebuilt," and of the temple, "Let its foundations be laid."'
Questions for Reflection:
Do we have a tendency to make worshiping God about us (our preferences)? Why is that?

Scripture says that when Jesus was coming into Jerusalem and the disciples were praising God, there's always someone to criticize. But… Luke 19:40 "I tell you," [Jesus] replied, "if they keep quiet, the stones will cry out."

Does the critic count when it comes to praise?

How is it possible to Be Still and yet praise and glorify God? What would that look like?
===
Still Christmas, Advent 2017 Devotionals began December 3, 2017 and are archived from that date.