Psalm 126:1 A song of ascents. When the LORD brought back the captives to Zion, we were like men who dreamed. 2 Our mouths were filled with laughter, our tongues with songs of joy. Then it was said among the nations, "The LORD has done great things for them." 3 The LORD has done great things for us, and we are filled with joy. 4 Restore our fortunes, O LORD, like streams in the Negev. 5 Those who sow in tears will reap with songs of joy. 6 He who goes out weeping, carrying seed to sow, will return with songs of joy, carrying sheaves with him (NIV).
We're nearly half way through our Songs of Ascents.  This is Discipleship Lesson #7: Reap a Harvest of Joy.  In a world where we Expect Opposition and Cry Out 'Have Mercy,' we can still Seek God's Presence and Know His Peace.  We Gaze Beyond the Hills and Remember God's Way of Escape.
He gives us Blessings of Security and we Reap a Harvest of Joy.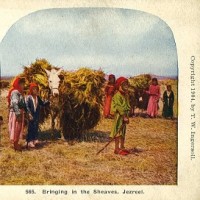 How much of your Christian life has felt like sowing in tears, going out weeping?  Suffering is a huge part of the faithful Christian life and yet, it doesn't have the final say.  As God brings each of us along on this pilgrim's journey, we may experience difficulties.  But after the suffering we endure, He gives us joy.  He restores us.
So many passages of Scripture speak of this turning weeping into joy!  Consider these words of encouragement:
Sing to the LORD, you saints of his; praise his holy name.  For his anger lasts only a moment, but his favor lasts a lifetime; weeping may remain for a night, but rejoicing comes in the morning… You turned my wailing into dancing; you removed my sackcloth and clothed me with joy, that my heart may sing to you and not be silent. O LORD my God, I will give you thanks forever" (Psalm 30:4-5, 11-12 NIV)
The Spirit of the Sovereign LORD is on me, because the LORD has anointed me to preach good news to the poor. He has sent me to bind up the brokenhearted, to proclaim freedom for the captives and release from darkness for the prisoners,  to proclaim the year of the LORD's favor and the day of vengeance of our God, to comfort all who mourn,  and provide for those who grieve in Zion– to bestow on them a crown of beauty instead of ashes, the oil of gladness instead of mourning, and a garment of praise instead of a spirit of despair. They will be called oaks of righteousness, a planting of the LORD for the display of his splendor" (Isaiah 61:1-3 NIV). 
I tell you the truth, you will weep and mourn while the world rejoices. You will grieve, but your grief will turn to joy.   A woman giving birth to a child has pain because her time has come; but when her baby is born she forgets the anguish because of her joy that a child is born into the world. So with you: Now is your time of grief, but I will see you again and you will rejoice, and no one will take away your joy  (John 16:20-22, NIV).
It is no wonder that pilgrims would turn their thoughts to a Harvest of Joy that awaits saints heading to Jerusalem to be in the presence of God.  He has freed the captives and given us life.  There is rejoicing among the saints on earth and rejoicing in heaven.  There is a Harvest of Joy.
Therefore my people will know my name;  therefore in that day they will know that it is I who foretold it.  Yes, it is I."   How beautiful on the mountains are the feet of those who bring good news,  who proclaim peace,  who bring good tidings,  who proclaim salvation,  who say to Zion,  "Your God reigns!"   Listen!  Your watchmen lift up their voices;  together they shout for joy.  When the LORD returns to Zion,  they will see it with their own eyes.   Burst into songs of joy together,  you ruins of Jerusalem,  for the LORD has comforted his people,  he has redeemed Jerusalem.   The LORD will lay bare his holy arm in the sight of all the nations,  and all the ends of the earth will see the salvation of our God.    (Isaiah 52:6-10)