Angels play a significant role in the Christmas story and many hymns point to this fact.  An angel, Gabriel, brought good news to Mary about the favor she had with God and how she would be the one—the only one—in all human history to bear the Christ Child.  Angels were the host of heaven as a mighty army of singers praising God and announcing the Good News to the shepherds when Jesus was born.
We make a mistake when we view angels as being like Precious Moments figurines.  They are mighty warriors of God and it's why Mary was greatly troubled and why the shepherds were terrified.
Luke 1:26 In the sixth month, God sent the angel Gabriel to Nazareth, a town in Galilee, 27 to a virgin pledged to be married to a man named Joseph, a descendant of David. The virgin's name was Mary. 28 The angel went to her and said, "Greetings, you who are highly favored! The Lord is with you." 29 Mary was greatly troubled at his words and wondered what kind of greeting this might be. 30 But the angel said to her, "Do not be afraid, Mary, you have found favor with God. 31 You will be with child and give birth to a son, and you are to give him the name Jesus. 32 He will be great and will be called the Son of the Most High. The Lord God will give him the throne of his father David, 33 and he will reign over the house of Jacob forever; his kingdom will never end.
Today's hymn in Carol Me, Christmas (2014 Advent Devotional Series) is Angels from the Realms of Glory.  What a classic!  It was written by a Scottish poet and newspaper editor by the name of James Montgomery.  On Christmas Eve in 1816, Montgomery's poem was published in his Sheffield newspaper called The Iris though it didn't receive much notice until it was republished in the Christian Psalmist nine years later.
Montgomery, aside from his editorial work, was deeply devoted to humanitarian causes such as the efforts to abolish slavery and to end the exploitation of child labor.  He is most noted, however, for his hymn writing and this Christmas carol is one of his best.
The tune from the majority of my hymnals is called Regent Square and was written by composer Henry Smart.  He wrote Regent Square during the part of his life when he had lost his sight and composed his music by dictation to his daughter Ellen.  Regent Square is one of his best known hymn tunes and has been called "splendid…with lots of lift"—most fitting for angelic worship of God Almighty.
Theologically, this poem is superb, except perhaps for this verse (being picky that I am):
Sinners, wrung with true repentance,

 Doomed for guilt to endless pains,

 Justice now revokes the sentence,

 Mercy calls you; break your chains.
Justice didn't "revoke the sentence" except that it was paid by another:  God's Christ.  We could not break our own chains, but God could!  And that's why the Gospel is such Good News for those of us doomed for guilt but who place our faith in this Messiah celebrated at Christmas.
As you listen to this version on organ, ponder our Thought for Today's Focus.
Thought for Today's Focus:
We do not worship angels, but they are powerful heralds of God.  Jesus didn't die to save any of the angels who have fallen, but in God's mercy He sent Jesus, the Christ, the Messiah, to save us.
Angels from the realms of glory,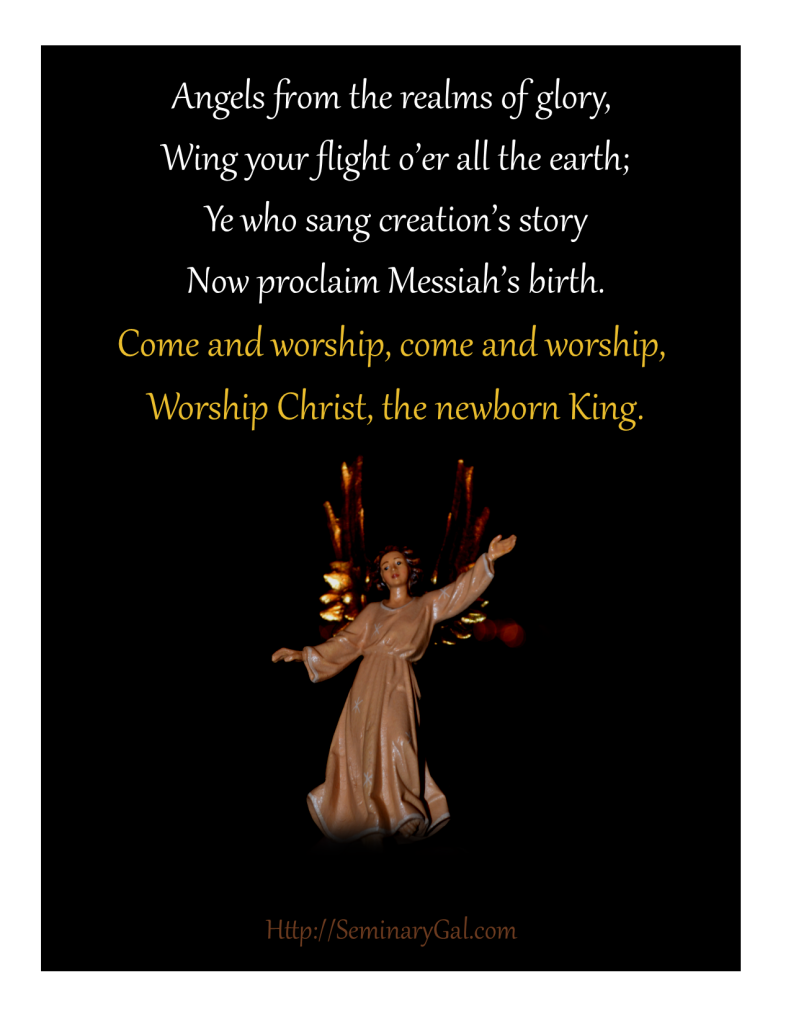 Wing your flight o'er all the earth;
Ye who sang creation's story
Now proclaim Messiah's birth.
Refrain   
Come and worship, come and worship,
 Worship Christ, the newborn King.
Shepherds, in the field abiding,
Watching o'er your flocks by night,
God with us is now residing;
Yonder shines the infant light:
Refrain
Sages, leave your contemplations,
Brighter visions beam afar;
Seek the great Desire of nations;
Ye have seen His natal star.
Refrain
Saints, before the altar bending,
Watching long in hope and fear;
Suddenly the Lord, descending,
In His temple shall appear.
Refrain
Sinners, wrung with true repentance,
Doomed for guilt to endless pains,
Justice now revokes the sentence,
Mercy calls you; break your chains.
Refrain
Though an Infant now we view Him,
He shall fill His Father's throne,
Gather all the nations to Him;
Every knee shall then bow down:
Refrain
All creation, join in praising
God, the Father, Spirit, Son,
Evermore your voices raising
To th'eternal Three in One.
====
Carol Me, Christmas (2014 Advent Devotional Series) began November 30th.  By way of reminder, if you haven't signed up yet, you can receive these devotional studies in your email throughout Advent 2014 by entering your email address on the SeminaryGal.com home page in the space provided in the sidebar.  Or "Like" the SeminaryGal Facebook page to access them there.  If you like these devotionals, I'd really appreciate your letting others know so I can continue to spread the Good News far and wide.  Blessings to you, in Christ always, Barbara <><