So many recent articles have broached the topic of whether the Church should be political. I read opinions from pastor after pastor of why or why not as well as the no-debate-pastors who simply say we must because it's a spiritual battle for the survival of the Church.
I tend to agree with Pastor J.D. Greear who writes, "The question of politics has always been a tough one for me. On one hand, I often feel guilty for not doing more. Doesn't obedience require standing up for truth and justice? But on the other hand, as a Christian leader, I often feel guilty for having said too much. Am I putting too many obstacles in the way of the gospel?"
Ultimately it involves having–and practicing–a highly developed, theologically grounded, and carefully guarded biblical worldview about controversial topics and political ideas in all sensitive areas of our cultural existence.
One such topic used to be called "Abortion" and is now called "Reproductive Justice" thanks in large part to "Women's, Gender, and Sexuality Studies" at universities like Yale, seminars on women's equity at Yale's Divinity School, and at seminaries like Union Theological Seminary whose President Serene Jones tweeted the following:
"Do not trust folk who tell you reproductive freedom isn't truly on the line" as a follow-up to her tweet "I'm just so sick and tired of men appointing men to strip women of our rights. Lord, deliver us from evil. #SCOTUSPick."
Dr. Jones is but one of many "progressive theologians" who have capitulated to the culture and of course, you know what I say?
As go the seminaries…so goes the Church and so goes the culture.
But a biblical worldview recognizes that God values the life He gives us because He values the Image of God in which every human being is created.
God said, "Let Us make man in Our Image" (Genesis 1:26 ) and

The LORD God formed the man from the dust of the ground and breathed into his nostrils the breath of life, and the man became a living being. (Genesis 2:7)
That's why God cares more about the most basic of rights—life itself—than He does about any court-derived human right for a woman to do what is right in her own eyes…and with her body what she alone wants.
.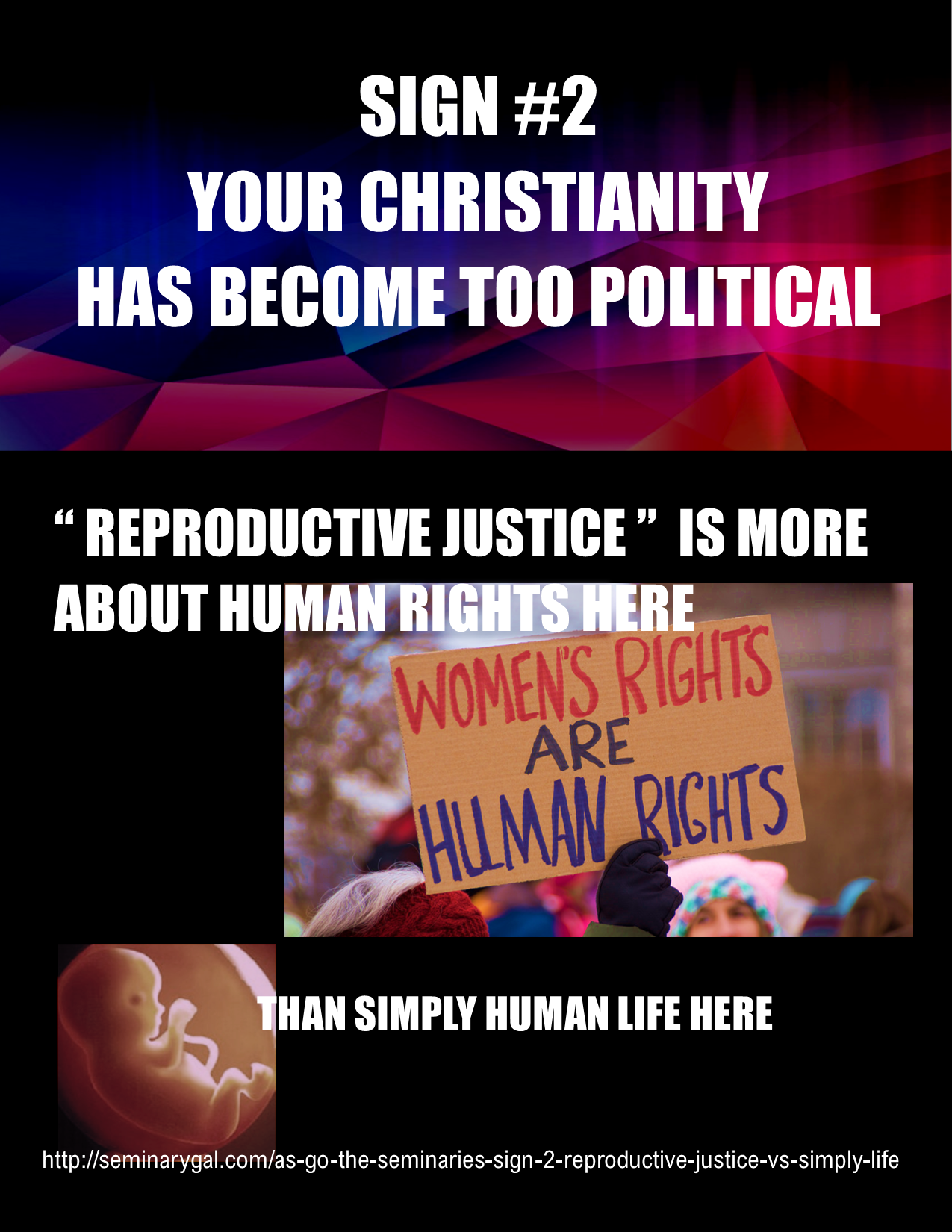 .
Chances are good that if your politics of red-and-blue about abortion do not first yield to the Royal color purple of the King of Kings, your worldview lacks eternal standing on the Eternal Word and is sadly, too political. Ah, but it's not just women in the seminaries and it's not just Presbyterians…(to be continued)
Think about it:
On Yellowhammer, interviewer Tom Lamprecht asks Dr. Harry L. Reeder III (Senior Pastor of Briarwood Presbyterian Church in Birmingham) about a Pew Research Study: "Harry, I look at this list of the different denominations and those who support abortion. Presbyterian Church in America 54 percent, Southern Baptist Convention 30 percent, Assemblies of God 26 percent. Assemblies of God have the best numbers but, still, a quarter of the membership of that Bible-believing denomination would support abortion. Where do we go when our evangelical churches are so lost on this issue?" Good question.

How about this one: Where is God's purple Justice in a red or blue "Reproductive Justice"?

Which justice is more like real Justice? And whose have you been considering in your vote?
===
Lord Jesus, please forgive us for exalting human rights in a superficial Christianity that doesn't revere Your righteousness and Your supreme rights as our Sovereign. Forgive us for minimizing Your Image present in the unborn, the poor, the sick, the unlovely, the alien, and the elderly. Forgive us for seeking gods of selfish freedoms, voting outcomes we want, and political figures we like to satisfy our ears instead of prayerfully seeking You, the One True God, the Desired of Nations, and the Living One who satisfies our souls.