Submission and sacrifice are tough topics for women.  A few years ago, I led a weekend retreat for an adult ministry and ended up using the word submission as it appeared in one of the Scriptures we were using for a different purpose.  Though it was totally off-point, a Q&A exploded upon the scene and the word submission expanded into a full-blown discussion.  Submission and Sacrifice are pressure-cooker words and I'd argue that it's because we begin at the wrong starting point.
Of the Ten Undeniable Truths of Womanhood, Number 9 is 'Submission and sacrifice aren't bad words for women.'"
They aren't bad words for any of us.
But Submission and Sacrifice are too often presented as words of authority and control, of one person's will ruling over another.
In truth, however, Submission and Sacrifice are words of love. 
That's what the Scriptures say.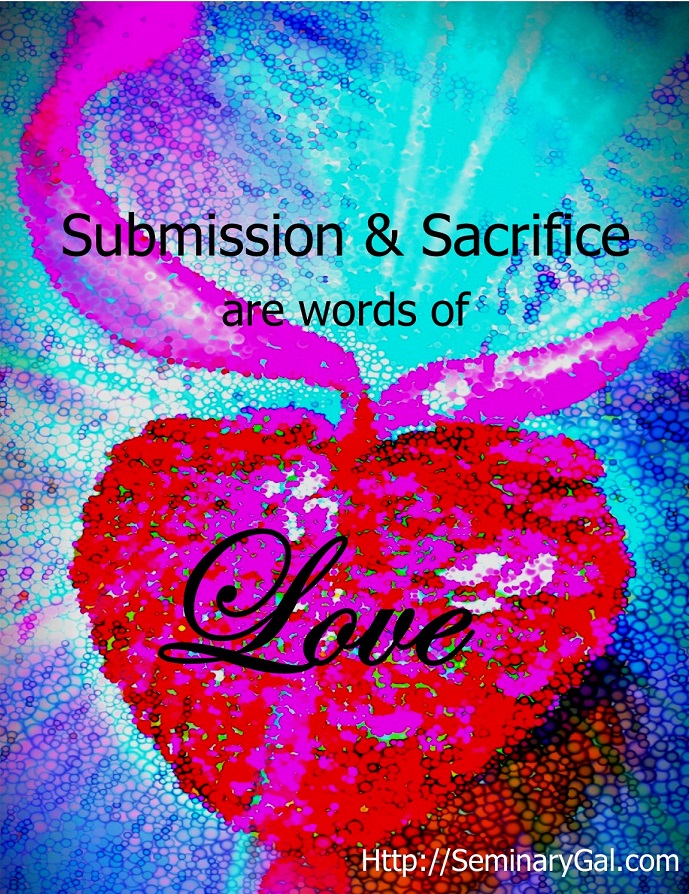 In evangelical Christian circles, a great debate has arisen about the "eternal subordination of the Son (Jesus) to the Father."  (Translated for real human beings, these evangelical theologians posit that the Father is in control, the Son Jesus always submits, there is a hierarchy where the Father rules, this is the pattern from eternity past, and it will continue into eternity future.  Therefore women should get used to the fact that this pattern means women will be in submission and subordinate to authorities as men for all eternity.)
Personally, I think theirs is a human-derived and grave error, going wrong from a wrong starting point: power.  Subordination, like Submission and Sacrifice, is a word that makes Jesus appear to be in a station beneath that of the Father, and His position that of under the thumb of the Father when nothing could be farther from the Truth.
All of these (Submission, Sacrifice, and Subordination), as words of love, paint a picture of beauty in a relationship of love within the Godhead in which no one is exerting authority or control…as a tug of war…between conflicting wills. 
Instead, there is an excellence and perfection in unity of mind and purpose.  There is a common will and a shared goal.  These words, then, are ancient words of love that existed in the Godhead, words of love indicating a free will to shoulder more of the burden for the sake of the other.  Eternal Sacrifice.
If more of us earned submission by virtue of our love than demanded submission by means of our authority, we'd bear God's image in far truer resemblance.
While I could write volumes on this and make everyone angry with me, I'd rather let God's Word speak for itself on the issue of submission, sacrifice, and yes, even subordination.  Think of these words as ancient words of love as you Research, Reflect, and Respond.
Research:
Genesis 1:26

Then God said, "Let Us make man in Our image, according to Our likeness; and let them rule over the fish of the sea and over the birds of the sky and over the cattle and over all the earth, and over every creeping thing that creeps on the earth." 27 And God created man in His own image, in the image of God He created him; male and female He created them.

John 1:3

Through him all things were made; without him nothing was made that has been made. …10 He was in the world, and the world was made through Him, and the world did not know Him.

1 Corinthians 8:6 yet for us there is but one God, the Father, from whom are all things, and we exist for Him; and one Lord, Jesus Christ, by whom are all things, and we exist through Him.
Hebrews 2:10

For it was fitting for Him, for whom are all things, and through whom are all things, in bringing many sons to glory, to perfect the author of their salvation through sufferings.

John 3:16

"For God so loved the world, that He gave His only begotten Son, that whoever believes in Him should not perish, but have eternal life. 17 "For God did not send the Son into the world to judge the world, but that the world should be saved through Him.

John 10:17 The reason my Father loves me is that I lay down my life– only to take it up again. 18 No one takes it from me, but I lay it down of my own accord. I have authority to lay it down and authority to take it up again. This command I received from my Father."…29 "My Father, who has given them to Me, is greater than all; and no one is able to snatch them out of the Father's hand. 30 "I and the Father are one."
John 15:9 "Just as the Father has loved Me, I have also loved you; abide in My love. 10 "If you keep My commandments, you will abide in My love; just as I have kept My Father's commandments, and abide in His love. 11 "These things I have spoken to you, that My joy may be in you, and that your joy may be made full. 12 "This is My commandment, that you love one another, just as I have loved you. 13 "Greater love has no one than this, that one lay down his life for his friends. 14 "You are My friends, if you do what I command you. 15 "No longer do I call you slaves, for the slave does not know what his master is doing; but I have called you friends, for all things that I have heard from My Father I have made known to you.
Reflect: 
In Creation, who made mankind: Father, Son, or both?  With equal authority?  Equally in practice and outcome?  Who responded to whose will?
When God sent Jesus to die for the sins of the human world, was the Father condemning Jesus to incarnation and to death apart from the will of the Son?  Whose will was done when Jesus came and when Jesus died?
Imagine for a moment that the Father sent an unwilling Son to die for us.  Is that a picture of love?  Or a picture of brutality?
Did the Father sacrifice anything to send Jesus to die?  Who submitted to the Father's will?
What is the connection between love and sacrifice and submission?
Most of our views of subordination come from the world of work or from a power framework.  It's no wonder we find the concept of subordination a difficult one. One notable exception we can relate to is that of a family.  In a loving family (acknowledging that some of you did not come from ones that fit that description) what kind of relationship would parents have to their children?  What kind of relationship would children have to their parents?  Does this confer an status of a child's inferiority to one's parents even into adulthood?  Or is the bond of love–in such a family–a bond that helps adult children to love and care for their parents because their parents loved and cared for them when they were little children?  What ought to make a parent's treatment of a child adapt as children go from infancy to adulthood?  Did a child's humanity change or simply mature?  How does a parent feel seeing a child mature into a kind, talented, diligent, considerate, and generous adult?
Another helpful picture to reframe subordination, submission and sacrifice in terms of love would be a doorway wide enough for only one.  You don't know what is on the other side of the door.  What would love do?  Lead the way through the one-person opening to protect those behind or would love send the children and women first to see what happens to them?  Leadership doesn't need to be a power play.  It can be a sacrifice of love.
Respond:
Are you a man?  Look at the way you treat those around you.  Does love characterize your actions?  Do you earn submission by your loving protection of those in your midst?  How do you wield power?  What is your attitude toward power and love?  Which one is a sign of genuine strength?
Are you a woman?  Look at the way you treat those around you.  Does love characterize your actions?  Do you submit to the loving protection of parents, your husband, or those who lead through the one-person opening in the wall for your safety?  If you have children, do you protect your children in that same loving way?  What types of things make you bristle at words like submission, sacrifice and subordination?  Write down your thoughts on: "Those words make me feel like womanhood is _(fill in the blank)_."  Bring that to the Lord in prayer and ask Him to show you Jesus' view, in love and truth.
Are you a pastor?  Look at the way you treat those around you.  Does love characterize your actions?  Do you earn submission by your loving protection of those in your midst?  Are you all about power and control?  Would those in positions of responsibility under your authority say that you are all about power and control?  What types of things keep you from pursuing submission, sacrifice and subordination as words of love?  If the Father treated you the way you treat others, would you know the fullness of joy, the freedom of worship as living sacrifice, and the happiness of fruitful service?  Do you lay down your life for the sake of others?
=====
Ten Undeniable Truths of Womanhood
A Christian woman is still a complete woman, even without marriage.
No man can teach a woman what is the truth of womanhood, even Christian womanhood.
The Bible clearly outlines what womanhood is…and it isn't always synonymous with motherhood.
Once a mother, always a mother.
Superwomen don't exist except in the comics.
All women make choices of no return.
Biology affirms what the Bible teaches.
The Christian woman must learn to artfully balance following Christ while honoring the men in her life.
Submission and sacrifice aren't bad words for women.
The Lord's maidservants bring glory to Christ by their obedience.