As we continue to Carol Me, Christmas, we'll look at one which is a bit lesser known.  Lift Up Your Heads O Mighty Gates may be used for Advent and is present in a few hymnals for that purpose, but it's not as well known as many other Advent hymns.  It's another one from the Germanic chorale tradition, yes, translated by Catherine Winkworth.  Georg Weissel (1590-1635) wrote this as Macht hoch die Tür, originally to be performed on the first Sunday of Advent.  Of the twenty or so hymns written by Weissel—a pastor of a church at Königsberg—this is his only hymn to endure.
The hymn music is the anonymously written Truro as recorded in Psalmodia Evangelica, a hymnal published by Thomas Williams and intended for use by churches that had broken away from the Church of England.
Some verses of Lift Up Your Heads O Mighty Gates have fallen by the wayside in many hymnals.   Of the six verses, verse two is often omitted which may be due to its being less theologically grounded.  The final two verses are often rewritten as
4 Redeemer, come!  I open wide
my heart to Thee, here, Lord, abide! 
Let me Thy inner presence feel:
Thy grace and love in me reveal
5 So come, my Sovereign, enter in!
Let new and nobler life begin! 
Thy Holy Spirit guide us on,
until the glorious crown be won.
Although they may have been rewritten as a greater reflection of the "personal Lord and Savior" idea, shown in the particular use of first person pronouns.  (Me oh my!  Maybe not an improvement).  Here are the original six verses from the German, including the second verse.  As you read these words of Psalm 24, listen to this version by West Side Presbyterian Church of Ridgewood NJ's choir singing verses 1, 4, and 5 as part of their 2010 Lessons & Carols tradition, then ponder our Thought for Today's Focus.
Psalm 24:1 Of David. A psalm. The earth is the LORD's, and everything in it, the world, and all who live in it; 2 for he founded it upon the seas and established it upon the waters. 3 Who may ascend the hill of the LORD? Who may stand in his holy place? 4 He who has clean hands and a pure heart, who does not lift up his soul to an idol or swear by what is false. 5 He will receive blessing from the LORD and vindication from God his Savior. 6 Such is the generation of those who seek him, who seek your face, O God of Jacob. Selah 7 Lift up your heads, O you gates; be lifted up, you ancient doors, that the King of glory may come in. 8 Who is this King of glory? The LORD strong and mighty, the LORD mighty in battle. 9 Lift up your heads, O you gates; lift them up, you ancient doors, that the King of glory may come in. 10 Who is he, this King of glory? The LORD Almighty– he is the King of glory. Selah
Thought for Today's Focus:  Jesus is King of Glory and Lord from before His birth.  Ponder the majesty He deserves as the King of Glory and the kind of reverence one would show to such a Sovereign. 
How might your heart become a more suitable temple for Him to enter?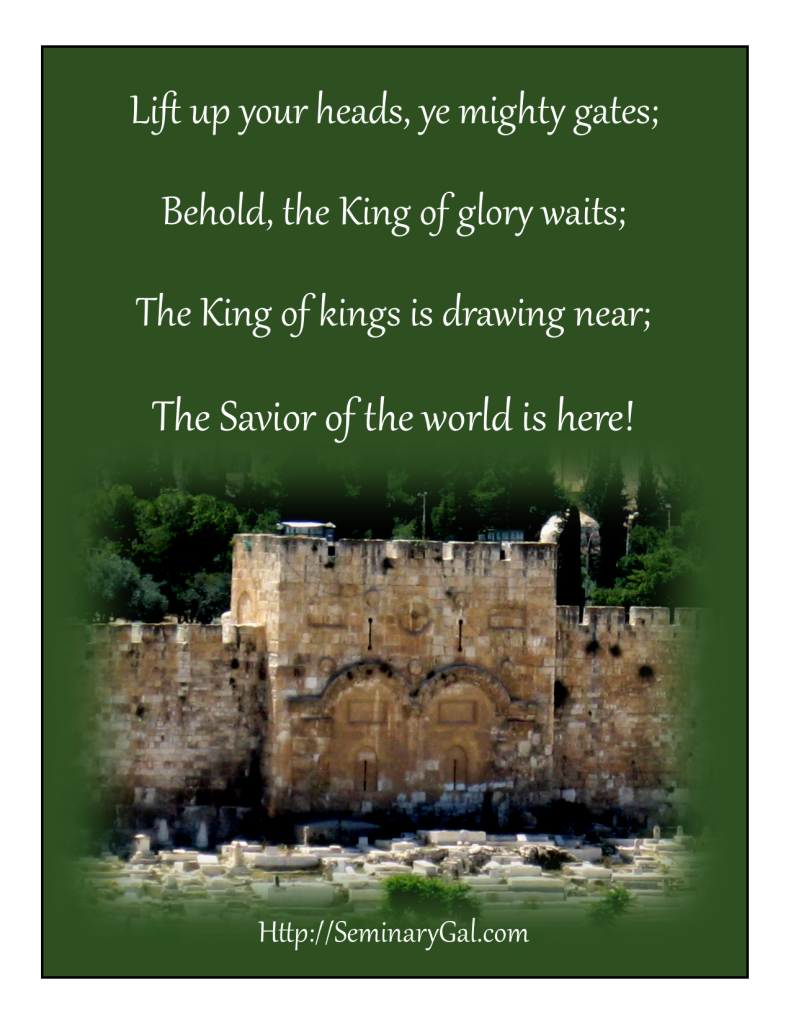 Lift up your heads O mighty gates;
Behold, the King of glory waits;
The King of kings is drawing near;
The Savior of the world is here!
A Helper just He comes to thee,
His chariot is humility,
His kingly crown is holiness,
His scepter, pity in distress.
O blest the land, the city blest,
Where Christ the Ruler is confessed!
O happy hearts and happy homes
To whom this King in triumph comes!
Fling wide the portals of your heart;
Make it a temple, set apart
From earthly use for heaven's employ,
Adorned with prayer and love and joy.
Redeemer, come, with us abide;
Our hearts to Thee we open wide;
Let us Thy inner presence feel;
Thy grace and love in us reveal.
Thy Holy Spirit lead us on
Until our glorious goal is won;
Eternal praise, eternal fame
Be offered, Savior, to Thy Name!
====
Carol Me, Christmas (2014 Advent Devotional Series) began November 30th.  By way of reminder, if you haven't signed up yet, you can receive these devotional studies in your email throughout Advent 2014 by entering your email address on the SeminaryGal.com home page in the space provided in the sidebar.  Or "Like" the SeminaryGal Facebook page to access them there.  If you like these devotionals, I'd really appreciate your letting others know so I can continue to spread the Good News far and wide.  Blessings to you, in Christ always, Barbara <><